School resource deputy recounts first chaotic moments of Freeman High shooting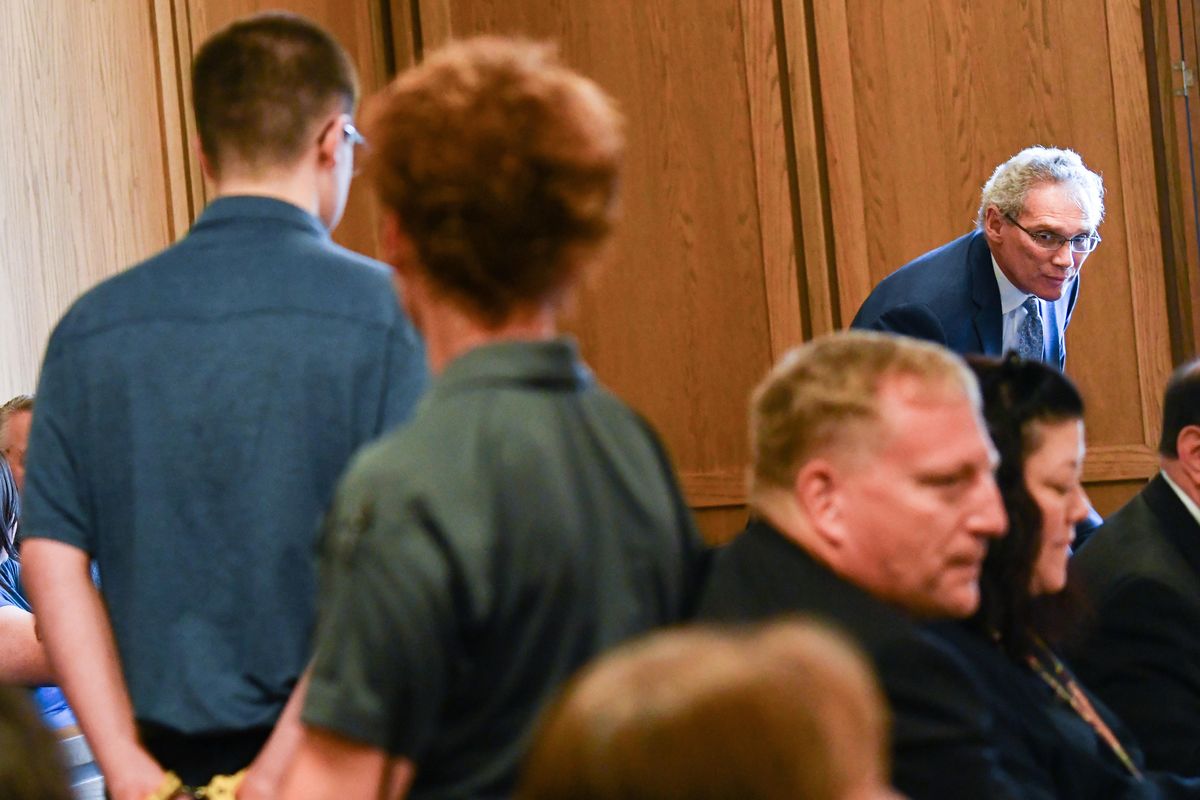 Armored with weathered skin and a hint of sunburn, Spokane County Sheriff's Deputy Ron Nye looked down and went silent Friday when the prosecutor asked how the shooting at Freeman High School affected the only adult carrying a gun that day.
Nye had just started his 12th year as a school resource officer when the Sept. 13, 2017, shooting call came out. He labored to find his words before replying to Spokane County Prosecutor Larry Haskell's question.
"It made me wonder if I wanted to do this job anymore," the 22-year veteran said, "because it affected my family."
Haskell asked him if he wanted to elaborate about what he meant. "We'll leave it at that," Nye said.
Nye's testimony came on the final day of evidence that Superior Court Judge Michael Price will use to decide whether 17-year-old Caleb Sharpe will stand trial as a juvenile or an adult for first-degree murder in connection to the killing of 15-year-old Sam Strahan on the second floor of Freeman High School. Sharpe was 15, too, at the time of the shooting.
Sharpe also faces three counts of attempted first-degree murder for wounding three girls and 51 counts of second-degree assault for all of the students that prosecutors argue could have been hit by shots fired that day.
Attorneys will give closing arguments Monday, before Judge Price issues a written decision some time later. If he keeps the case in juvenile court, Sharpe would be released at age 21 with no required supervision. If he "declines" the case to adult court, Sharpe could face life in prison if he is convicted.
On the day in question, Nye testified that he was at the middle school when he heard what he thought was the bell announcing the late start.
But the bell continued. It was the lockdown alarm.
"I didn't know where the emergency was," Nye said. "Nobody knew in the middle school."
Nye rushed to the foyer between the middle and elementary schools and saw teachers scrambling to get the younger students inside. "Then I heard the call come over the radio … shots fired at Freeman High School."
Nye said he previously knew Sharpe as a quiet kid. He had no other significant interactions with him prior to the lockdown alarm.
After hearing the shots fired call on the radio, Nye said he raced to his patrol car, unstrapped his AR-15 rifle and put it across his lap as he drove the short distance across campus to the high school.
"At first I was in disbelief," he said. "Then I just reacted. When I got inside … I just heard, 'Upstairs,' " he said.
Nye went up the flight of stairs and peeked down the second-floor hallway. He saw custodian Joe Bowen, who "had an individual down the ground, and I ran towards him. There was another student down in the hallway with a staff member attending to her."
Then he saw another body farther down the hallway. It was Strahan.
He said he "handcuffed the individual" he later identified as Sharpe. Then, he said, "I asked Joe, 'How many were injured?' He said, 'Four. I think one is dead, though.' "
Nye turned his attention to Sharpe. "I asked him three or four times, 'Is there anybody else?' He said, 'No. I am by myself.' "
The deputy said it seemed like forever until Deputy Brian Lawler arrived. In the meantime, Nye radioed out that he had one in custody and needed medical responders to help with victims.
When Lawler arrived, Nye directed him to take Sharpe to a squad car and Nye grabbed the suspect's AR-15-style rifle and the jammed .32-caliber semi-automatic pistol that later was determined to have killed Strahan.
By the time he secured the weapons in his car, other deputies were flooding the rural school located in south Spokane County.
"I started with clearing the building," he said. "We had different teams clearing the rooms to make sure there was nobody else or anyone injured."
Spokane County Sheriff's detectives Scott Bonney and Mike Drapeau both got the frantic call of a school shooting while at the Public Safety Building in Spokane. They became part of a caravan of responding deputies, Spokane police officers and federal agents who raced to the scene.
Drapeau was supposed to be the investigator who interviewed the shooter. But he got to the scene just as medical personnel were bringing out one the girls who had been shot.
"I spoke briefly to her. She had an apparent gunshot wound to the arm," he said.
Drapeau then ran up to the second floor where he saw a body, blood stains from another shooting victim, spent casings and a stocking hat. Deputies still had not cleared the classrooms near where the shooting took place.
"As they came out, we would all stand in a line so they couldn't see the body in the hallway," Drapeau said.
He later inspected the AR-15-style rifle that witnesses said had been brought in by Sharpe in a duffel bag that also contained 20 boxes of ammunition and golf clubs.
The magazine of the rifle had 28 rounds, but two were jammed inside the rifle, making it inoperable. Drapeau explained that the first bullet got stuck and someone shoved a second bullet into the action so hard that it peeled the brass casing open, exposing the powder.
In the meantime, Detective Bonney ended up doing the job that had been originally assigned to Drapeau: interviewing the suspected shooter.
Bonney and Detective Marc Melville took Sharpe in a patrol car and parked in a dirt lot near grain silos located near the school campus. Melville awkwardly filmed the interview from the front seat as Bonney sat in the back of the cruiser and asked Sharpe questions, Bonney said.
The detectives asked Sharpe if he committed the shooting, which he admitted he did.
"I asked him, 'Are you pretty sure you killed Sam?' " Bonney said. "He said, 'Yeah.' How do you feel about that? He said, 'I didn't really care if he was dead or anything so I left.' "
As Bonney read the recorded words from Sharpe, only two people in the packed courtroom leaned forward. One was Ami Strahan, who continues to grieve the loss of her son, and Benjamin Sharpe, who is watching the legal system try to take his.
"I asked Mr. Sharpe, 'What do you think about today. Do you feel remorse? Do you feel anger?' " Bonney said. Sharpe answered "No" to both.
"What are your parents going to think?" Bonney asked. "I don't know," he replied. "I know I did something for once and I'm not a failure at it," according to court testimony.
Sharpe said he had been thinking about the school shooting for "probably two years."
"Just one day, this plan popped in my head. I kept the plan in my head," Sharpe told Bonney. "It was just exactly what I did. I just walked up the stairs and did what I wanted to do."
A later search of the Sharpe home discovered a hand-drawn map of the hallway where the shooting took place. Detectives also found a loaded .22-caliber revolver and another piece of paper with the written words: "Wait Till School." Down the page was a hand-drawn skull-like logo of the Punisher, a Marvel Comics character who uses violence in his campaign against crime.
During the shooting, Sharpe wore a T-shirt under his black jacket. The T-shirt had a similar Punisher logo on it, Drapeau said.
School officials had pulled Sharpe from school after he gave two notes to girls on Sept. 5, 2017, indicating that he soon would be dead or in jail. According to previous testimony, Sharpe's parents took him to a mental health counselor who twice suggested they change the lock to their gun safe.
During his interview with detectives, Sharpe told them about his visit to the counselor and his parents' reaction. Based on the father's word, defense expert Dr. Richard Adler said, school officials let Sharpe return to school. Sept. 13 was his first day back.
"They didn't seem concerned, but that's mainly because I put on a happy facade," Sharpe said about his parents. As for the counselor, "I pretended to cry so I wouldn't be caught for a bigger thing like this. He was looking at the wrong problem."
The detectives asked Sharpe if he was hesitant to tell the counselor about his plan to shoot up Freeman High School. Sharpe replied, "He never asked, so."
Sharpe didn't cry during the interview and told the detectives that he had not cried during the chaos and aftermath of the shooting, either.
Melville asked him, as part of the transcript read by Bonney, what he intended to accomplish by shooting into the crowd of students.
"I don't think I had any intention. 'You people are … being mean to everyone,' " Sharpe said, referring to his classmates. " 'This is what you get.' "
---