'Looking at these kids, I'm seeing my grandfather': Babe Ruth's granddaughter visits Hutton alumni game Before Babe Ruth's granddaughter, Linda Ruth Tosetti, threw out the first pitch at the Hutton Settlement's alumni baseball game on Saturday, she heard a story about her grandfather's 1924 visit to the Spokane Valley home for children.
Ruth, an orphan himself, had heard the Hutton Settlement's story while in Vancouver, British Columbia: Founded by Levi Hutton in 1919, the self-supporting settlement would never turn away a child without a home.
So Ruth came to visit the campus, where brown brick buildings stand surrounded by hills of trees and farmland. Not only did he play pickup baseball at the sandlot diamond in the front of the grounds, he also ate lunch with the girls who lived there in their dorms.
It was a story she hadn't heard before, and she heard it while standing on the same ground that he once stood.
It's a story that sounds like classic Babe Ruth.
"I like that he had lunch with the girls," Tosetti said, who's been studying every facet of her grandfather's life for 50 years. "He didn't discriminate, boy or girl."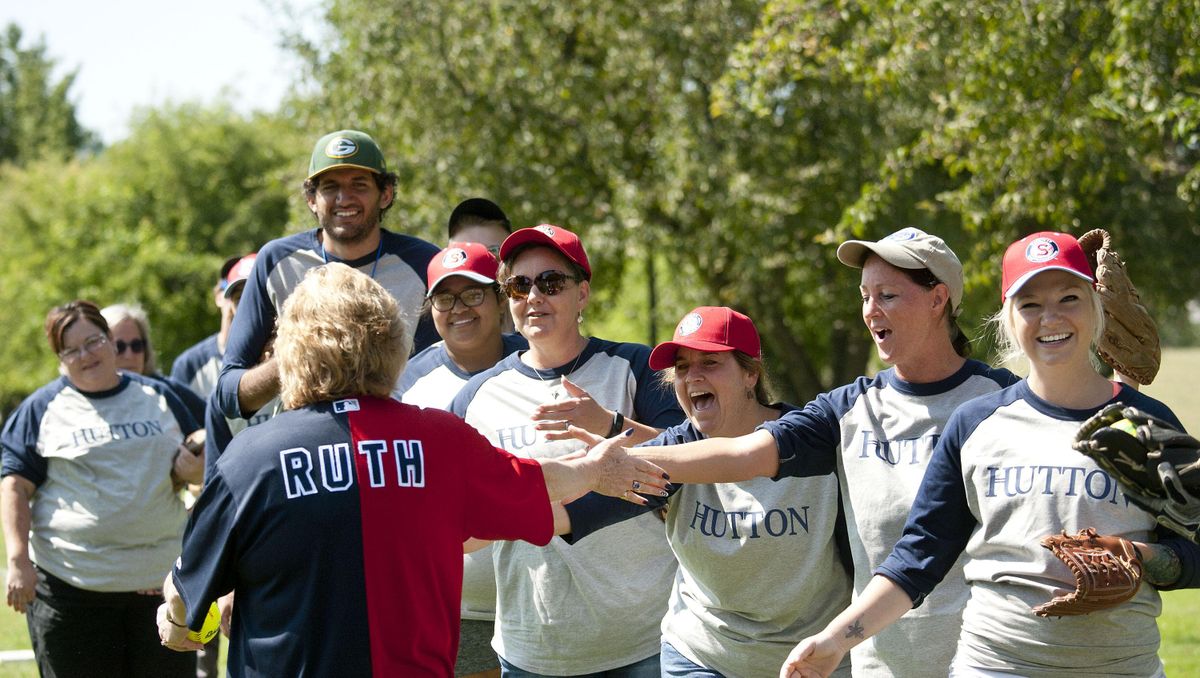 After throwing out the first pitch at the alumni game – part of a weekend-long celebration of the 100-year anniversary of the Hutton Settlement – Tosetti understood why her grandfather visited: He loved the kids.
"Looking at these kids, I'm seeing my grandfather," she said. "I don't know if you can understand that."
One of the alumni players in the baseball game, Michael Goleeke, 21, lived at the Hutton Settlement for about six years and left to work for the U.S. Army about four years ago.
He was born in Beijing, China, where police found him underneath a bridge, he said. He lived in a Chinese orphanage from age 4 to 8, then was adopted by an American family and moved to the U.S. But things didn't work out with the adopted family, he said, so he moved to the Hutton Settlement at age 11.
"It was definitely the best period of my life," he said about living at the Hutton Settlement. "By far. This is a great place and all, but what makes it special is the people. It's a safe place for kids to grow."
Goleeke is now stationed at the U.S. military's Joint Base Lewis-McChord, where he works as a signals intelligence analyst. His job includes identifying enemy targets, gathering intelligence on them and deciding "whether or not they're worth it to get rid of," he said.
Whenever he gets leave, including every Christmas, he makes the five-hour drive to the Hutton Settlement.
"The job of the alumni is to tell (the children) our experiences," he said, standing in bare feet near the baseball diamond and wearing a Hutton baseball shirt. "I like to help kids solidify what their goals are. They definitely get to see my face around."
Roxy Fredericksen, 15, played for the team made up of the current residents. She's lived at the Hutton Settlement for about 7 1/2 years.
"Once you get used to it, it's a really great place to live," she said. "It helps kids become more adaptive."
Her favorite thing to do on campus is play on the tennis courts, she said.
Before she came to the Hutton Settlement, her biological father, Jobe Fredericksen, fell into addiction and decided that Hutton would be a better place for her to live. The settlement now makes an effort to help build Roxy and Jobe's relationship, and it allows him to visit and take her on the weekends, he said.
"This became part of the family," he said, motioning to the campus and the people watching and playing in the baseball game. "It gave me an opportunity to get right."
Chud Wendle, executive director of the Hutton Settlement, said he values the alumni who came to visit during the centennial celebration.
"It's cool to see the kids out here," he said. "And then you get to see the alumni out in life doing amazing things."
Tosetti said she was honored to be a part of a celebration of the children's home, where her grandfather went out his way to visit and be there for the kids – just like she did Saturday.
"I'm just feelin' the Babe," she said.
---