Spokane housing market among hottest in country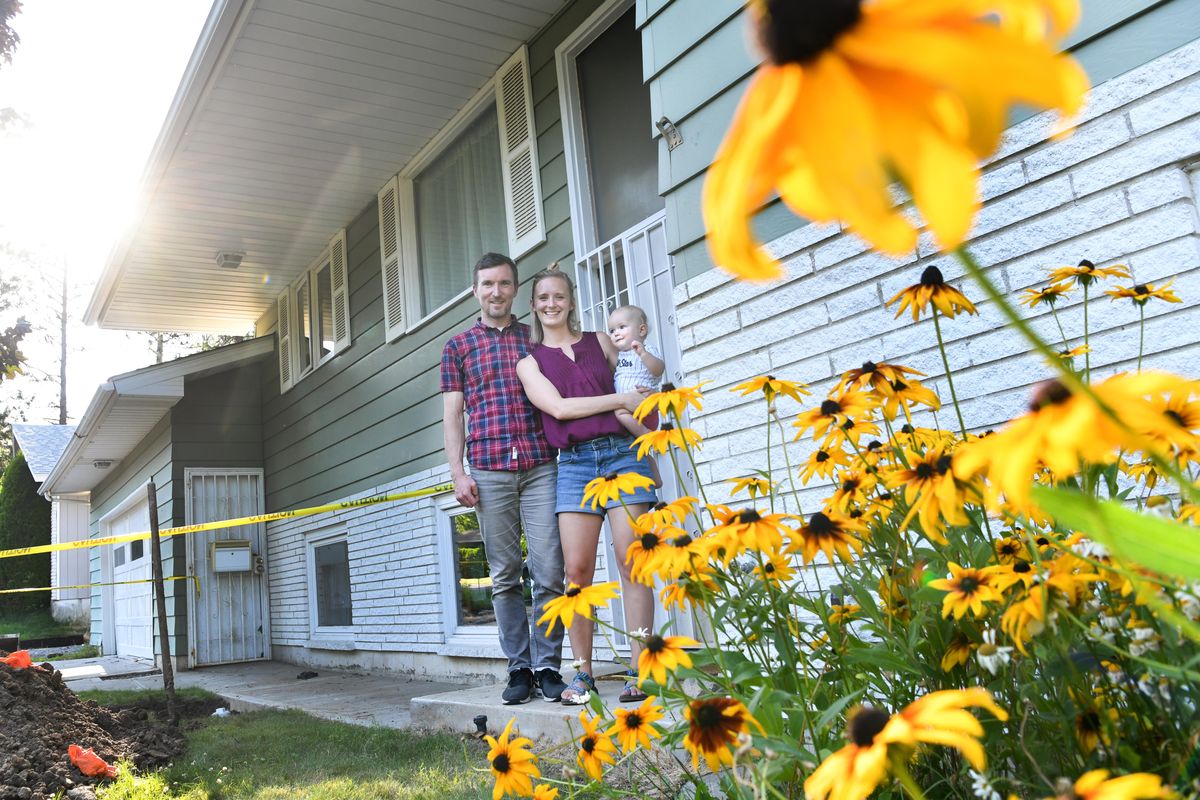 When Brian and Morgan Zaro were looking to buy their first home in Spokane, they took a patient approach.
The couple began their home search on the South Hill six months ago. They closed on a home in the Comstock Neighborhood last week, but not before making previous offers on two properties, both of which had a fair amount of competition from other buyers.
One home received five offers within 24 hours – in addition to the Zaros' offer – and all were above asking price.
"We offered what was competitive and what we thought we could afford – which was fine – but at the same time, there was some discouragement," Brian Zaro said. "We were saying, 'Is this what we are going to have to go through every time we find a home?' "
High demand, low inventory and multiple offers on homes are common in Spokane, which has become one of the hottest real estate markets in the nation.
"Spokane in general is booming. It was a well-kept secret for a long time, and I think the cat is out of the bag. Spokane is on the map now," said Joni Buyser, a broker with John L. Scott Real Estate. "Anywhere you live in Spokane, it's a tough market because a lot of people are moving here and there's not a lot of inventory."
Spokane's median sales price was $265,000 in June, a more than 8% increase over the median price of $245,000 in June 2018, according to the Spokane Association of Realtors.
Spokane's housing inventory has dropped more than 6% since June 2018, leaving a 1.7-month supply. A healthy housing market typically contains a six-month supply of homes.
Realtor.com named Spokane the third-hottest housing market in the nation in April – the most current data available from the online real estate listings website – based on how fast homes are selling and how many page views each listing received, which reflect buyer demand.
Ten of the hottest neighborhoods in the state are in Spokane County, with some seeing more demand than others, according to Realtor.com.
The Audubon-Downriver, Emerson Garfield, Garland and Shadle neighborhoods are all within the 99205 ZIP code, the hottest ZIP in the state, according to Realtor.com data.
Homes in 99205 remained on the market about 19 days with an average sale price of $210,000 in the past month, an increase of more than 11% year over year, according to Redfin, an online real estate brokerage.
Affordability, proximity to parks and walkable neighborhoods are driving buyer demand in that area, said John Leland, a broker with RE/MAX Inland Empire.
"The Garland District has the walkability aspect, and we're seeing lots of multiple offers around there," he said.
Leland said it's common for homes in northwest Spokane to receive eight to 10 offers. Real estate agents have listed homes toward the end of the week, collected multiple offers over the weekend and had the property sold within four days, he added.
Homes priced from $150,000 to $350,000 are moving very quickly in the Shadle and Garland neighborhoods, said Cindi Miraglia, a broker for John L. Scott Real Estate.
"I'm selling to a lot of first-time homebuyers in that area," she said, adding that many were priced out of the South Hill. "They've been excited and doing well getting their first homes there. They love the Garland area. It's a good feel for younger folks, especially with things to do right there, with restaurants and entertainment."
The 99212 ZIP code – which includes east Spokane, a western portion of Millwood and Spokane Valley – ranked as the second-hottest market in the state on Realtor.com.
The area had an average home-sale price of $262,000 the past month, a more than 7% increase over last July, with homes remaining on the market an average of 20 days, according to Redfin.
"Some people shy away from the Millwood area, but there's little bungalows like in northwest Spokane and the Garland District, and you are close to the river," Leland said, adding Spokane Valley's housing market has always been strong because of its school districts and job market.
Demand for homes on the South Hill remains very strong in the 99203 ZIP code – the state's third-hottest market according to Realtor.com – which includes the Manito, Rockwood and Comstock neighborhoods.
Home prices have increased more than 10% since last July. The average home price was $330,000 last month with properties remaining on the market for about 23 days, according to Redfin.
Buyser said homes near Cannon Hill, Comstock and Manito parks are in high demand, and sales are sometimes pending before homes are listed on the market.
"The closer you are to parks, the less time (a home) is on the market," she said. "If it's listed at a good price, it's going to be gone in two days."
Buyers are drawn to the South Hill because of its proximity to downtown, Interstate 90, parks, schools and restaurants, Buyser said.
"What is unique about the South Hill is that no matter where you live, you are within walking distance of a bakery or a park, or you can jump on your bike and you are there," she said. "There's just so many beautiful things on the South Hill that are within a bicycle ride."
The Zaros chose the Comstock Neighborhood for their first home based on its proximity to family and friends as well as its community environment.
"That area fit a lot of those things for us," Zaro said.
The South Perry District, East Central and the University District – all in the 99202 ZIP code – constitute the fourth-hottest market in Spokane, according to Realtor.com.
"The Perry District has been going strong for three to four years now because of a mix of commercial and retail development," Leland said. "Any place where you see a walkable neighborhood is going to be a hot spot."
Realtor.com shows other hot markets in Spokane County are in Colbert, Spokane Valley and east Spokane.
Leland said it's important for buyers to understand that Spokane is a seller's market and it helps to secure financing for a strong down payment when purchasing a home.
"Anytime you can have ideally 20% or higher for a down payment, it puts you in a good bargaining position," Leland said.
Miraglia said buyers should have their financing in order and be ready to put in an offer immediately, because it might take several attempts to secure a home. She also encourages buyers to be open to looking at homes in other neighborhoods, because each area of the city has something unique to offer.
"Don't be afraid to explore lots of neighborhoods, because I'm finding with people that I'm bringing to northwest Spokane, they think it's great," she said. "It's close to downtown and there's a wide variety of public and private schools on the North Side."
Buyser said real estate agents are beginning to accept backup offers on homes, which is helpful to potential buyers.
"If you are offered a backup position, grab it," she said. "I have seen quite a few people get the house of their dreams because they were in a backup position."
The Zaros wrote letters accompanying their offers to two sellers that shared what they liked about each particular home and why they wanted to live there.
Brian Zaro advises potential homebuyers to have financing, be patient and be willing to accept an imperfect house.
"It's a wild experience. As much advice as someone might give you, it's still a personal and emotional experience," he said, referring to the homebuying process. "We're really pleased with our home. We now have a long list of projects we need to do, but we are happy to move into a home and put down some roots."
---