News > Spokane
Hope House women's shelter plans expansion in new space downtown
Mon., July 22, 2019 Four showers for 44 women.
A kitchen equipped to feed a family of five in a space with eight times that many guests.
Laundry in the basement, but no elevator to help transport heavy loads.
Hope House can't build its new facility fast enough.
The women's shelter plans to break ground on an expanded facility with improved amenities on the corner of Third Avenue and Adams Street in September, and hopes to open in fall 2020.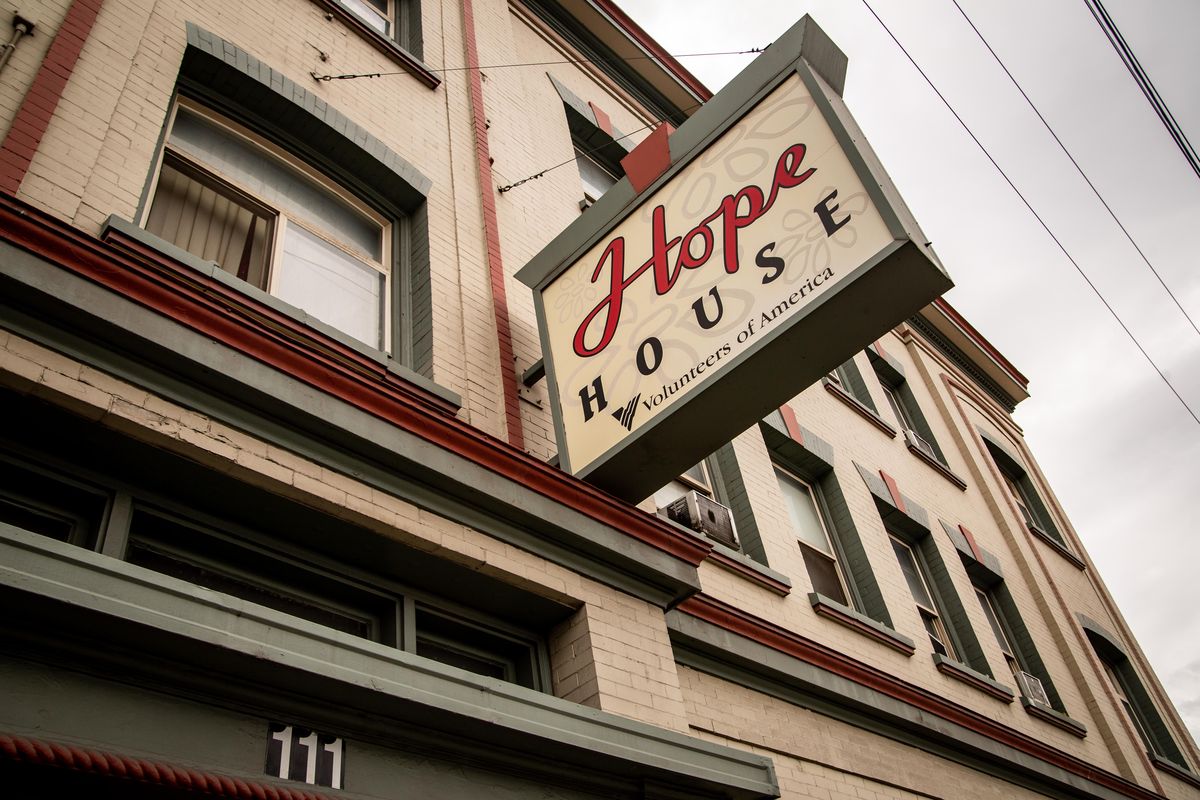 The current Volunteers of America-run Hope House exists at 111 W. 3rd Ave. as a shelter exclusively for anyone identifying as a woman or nonbinary individual. The building contains 36 shelter beds plus eight respite beds, but a new Hope House is set to open in fall 2020 at Third and Adams with 100 beds, a great deal more bathroom amenities and is set to feature a courtyard plus TV and computer rooms. (Libby Kamrowski / The Spokesman-Review)
Hope House currently operates as a 44-bed shelter on West 3rd Avenue in a building so crowded, it's a regular occurrence for more than a dozen women to be turned away. What was formerly a lobby has been filled with bunks, and any staff office with a window has long been repurposed as a bedroom.
"That staff works so hard in literally the worst working conditions you could ever offer them. Those women who stay there make the very best out of a building that was never meant to serve as a women's shelter," said Fawn Schott, president and CEO of Volunteers of America of Eastern Washington and Northern Idaho, which operates Hope House.
The shelter's capacity will be expanded to a total of 100 beds for women at the new facility.
The new shelter was made possible with a $1 million grant from Premera Blue Cross, the Washington-based health insurer, announced in 2018. The project was also supported with $500,000 awarded by the state legislature in its capital budget. That funding led to an additional $600,000 in private donations.
The organization has spent the months since the funding was first announced choosing a location and developing a site plan.
They landed on what locals know as the former location of The Shack restaurant, 1301 W. Third Ave., which will be razed and replaced with a new four-story building.
There will be 80 beds in the main shelter and an additional 20 beds reserved for medical respite.
Two flexible classrooms will be used by service providers who partner with Hope House to provide assistance to women. There will be a full kitchen and dining room, a clothing bank and other amenities.
"We didn't even have office space at our existing shelter," Schott said.
The layout of the new facility includes a fenced-in courtyard that aims to protect the privacy of the women, 50% of whom are fleeing domestic violence, according to the Hope House.
"Keeping them secluded was a really important design element," Schott said.
Although it stresses that city funding accounts for only about 12% of its funding, Hope House stresses that it will be crucial for the city to step in and provide support for the new shelter.
In order to reach full capacity, the organization needs about $250,000 to $300,000 from the city.
"If that doesn't happen, we may have to open our shelter serving less women," Schott said.
City Council President Ben Stuckart said "we all know there's a need and we'll be working" to identify funds. He noted that the source will likely be the same the city uses on an emergency basis to fund 50 additional beds for women at House of Charity while the city waits for the new Hope House to open.
Above the first-floor shelter, the plans include 60 units of dedicated affordable housing – funded by low-income housing tax credits – on the building's second, third and fourth floors. The apartments will be accessed by a separate entrance and are reserved for those who have been chronically homeless and have a documented disability.
Computer access, classrooms and staff offices will be available on each floor.
"All of these individuals who are living there have their case manager right outside their door to really help them access the resources they need," Schott said.
It's all part of the nonprofit's model of transitioning from being an overnight shelter to being a housing-focused shelter, determining what barriers remain to a woman having stable housing.
In taking that new approach within the past few years, Schott said the nonprofit has been able to house 40% of the women who came into the shelter. Last year, that totaled 105 women who moved into affordable or market-rate housing.
With the new building, the nonprofit will operate a total of 242 apartments throughout Spokane.
"The folks we serve are survivors. They are strong. They have a lot of capacity to do a lot of things if you can get the mess out of the way. Housing does that," Schott said.
Volunteers of America will not abandon the old Hope House. Instead, the first floor that offered shelter will be converted into affordable housing, adding roughly 15 apartments to the 25 units of affordable housing already above it.
"Our goal will be to do a full rehab and maintain the existing affordable housing and additional units," Schott said, noting that the building requires about $800,000 in capital needs.
Local journalism is essential.
Give directly to The Spokesman-Review's Northwest Passages community forums series -- which helps to offset the costs of several reporter and editor positions at the newspaper -- by using the easy options below. Gifts processed in this system are not tax deductible, but are predominately used to help meet the local financial requirements needed to receive national matching-grant funds.
Subscribe now to get breaking news alerts in your email inbox
Get breaking news delivered to your inbox as it happens.
---