Sports
A Grip on Sports: This year's Mariners are all bark and no bite, giving us a lot of free time in the evenings
Tue., July 23, 2019 A GRIP ON SPORTS • What are you reading this summer? Any titillating paperbacks? Any mesmerizing novels on your iPad? Anything sports related? After all, you must have free time. I can't believe many of you are spending the usual few hours on summer evenings watching the Mariners play. Why would you?
•••••••
• I tried last night. Really tried. My goal was to get through the entire Mariners game until the end. I failed. I left somewhere in the middle, when Aaron Goldsmith and Mike Blowers were deeply involved in a discussion about "Bark in the Park" and all the visuals were of the variety of dogs in the stands.
It was a cornucopia of dogs, from the poky little puppy to Clifford to that one we all urged to go dog, go.
It was also, sadly, more exciting than what's been happening on the field.
Still, what was happening last night was pretty good, so when the broadcast began focusing on the pups in the stands it irked me a bit. I actually wanted to see the action, to hear Blowers dissect Marco Gonzales' start, to watch Austin (fixed from earlier) Nola swing, to see Tim Beckham misplay a ground ball or a fly ball or something.
But we got big dogs and little dogs, happy dogs and sad dogs, good dogs and, well, good dogs. It was at this point I lost control of the channel changer – and never got it back. It was impossible to argue.
I went upstairs and exercised. Then picked up a book. Waited for my phone to ding with a notification of the final score. And then went to bed.
It was Mariner baseball at its finest, circa 2019. A year we won't remember. A season to file away in the circular file along with 2011, 2010, 2008, 2005, 2004 … and many others.
• At least those of us who live in Spokane have a winning team to cheer. The Indians have already assured themselves a spot in the Northwest League's postseason, having won the North Division's first-half title.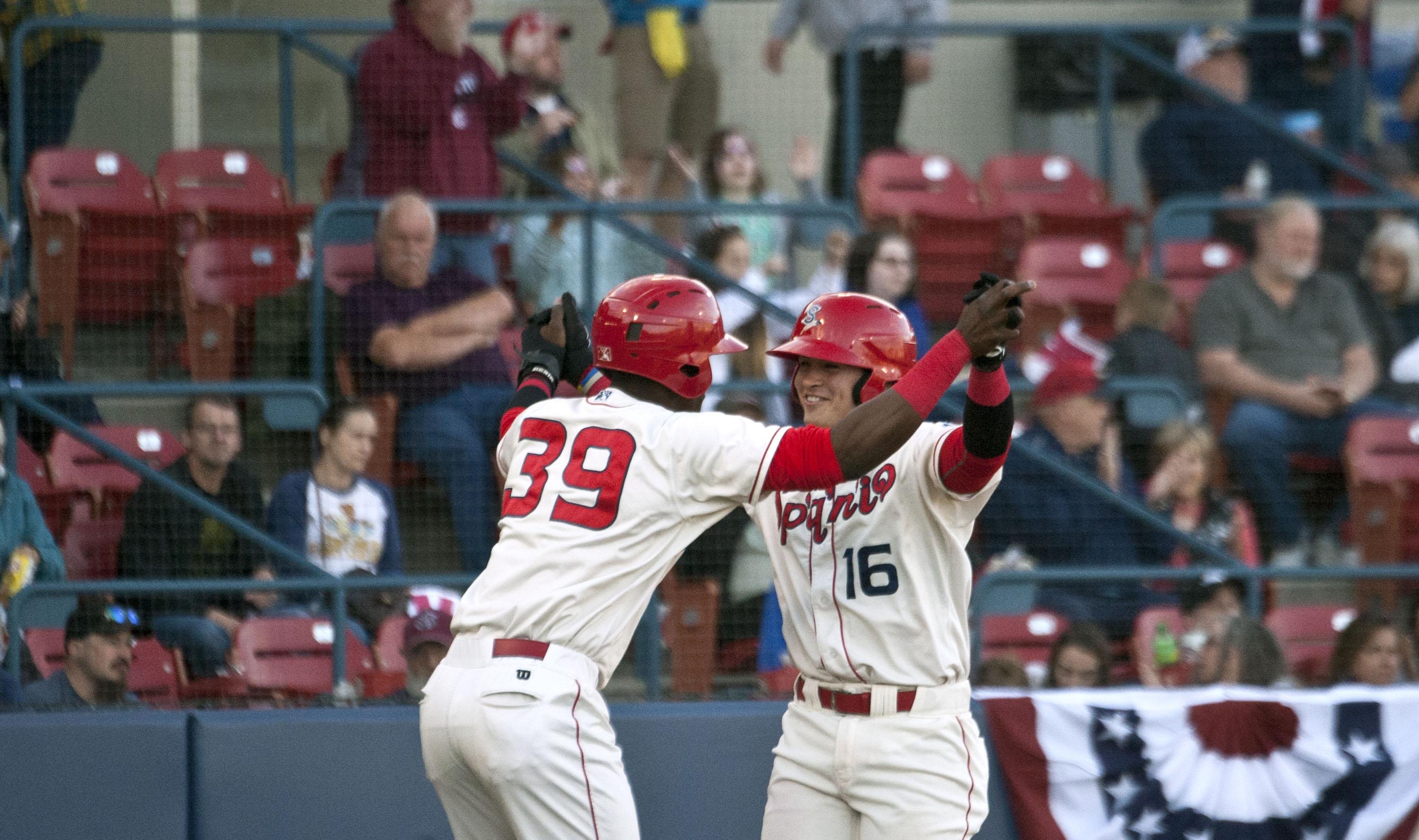 They may not have the league's best record (that honor goes to Salem-Keizer, who won the South with a 26-12 mark), but the Indians did win their division going away (their four-game margin was twice Salem-Keizer's).
Come September, when the Northwest League's postseason is held, the Indians will have to decide whether they want to host the North's second-half champion (or whoever is designated as such of Spokane wins again) in the first game of the three-game series, or host games two and three.
With the Interstate Fair opening Sept. 6, the day reserved for game three, my guess is the Indians will opt for the opener Sept. 4. After that, with the Interstate Fair in full swing, the Indians could become road warriors. Good thing they are 13-6 on the road thus far this season.
•••
WSU: Around the Pac-12, the football media day is tomorrow in Hollywood. Fitting. The lead actor will be Larry Scott and Jon Wilner tells us what we can expect to hear from the commissioner. And what we won't hear. … Washington had a pretty darn good year last year in the major sports. … Utah is hoping to have its best playmaker, receiver Britain Covey, back for BYU. But it could be later. … Colorado has kickers. Good kickers. … A Colorado assistant basketball coach also has other duties. … The first NCAA basketball recruiting camps are this weekend. Two local players, Gonzaga Prep's Liam Lloyd and Mt. Spokane's Tyson Degenhart, have been invited.
Gonzaga: Jim Meehan has two stories today about folks who have left GU recently. One concerns Ricardo Fois, who has left the Zags' coaching staff to join the Phoenix Suns. The other is about Geno Crandall signing a pro contract with a Czech Republic team. … Jim also took time to talk with Larry Weir for the latest Press Box pod.
Idaho: The Vandals will welcome former Moscow High basketball player Gabe Quinnett to the roster next season.
Indians: Spokane finished up the first half with a 9-7, 10-inning road win over Everett. … Elsewhere in the Northwest League, Hillsboro topped Eugene again but it wasn't enough for it to win the South.
Mariners: You want a bright spot this year? Gonzales supplies it. He's had his ups and downs, but the Gonzaga left-hander is tied for second in the American League with 11 wins. He picked his latest last night. … Scott Servais is still focused on the "big picture." Maybe even he is not watching the M's games as closely as in the past. … There is another new face in the bullpen.
Seahawks: The loss of Jarran Reed for six games – the NFL suspended the defensive lineman to start the season – is not good for the Hawks in so many ways. … How many draft picks will have a big impact to start the season?
•••
• If you aren't watching the M's as much this season, what are you doing instead? Crochet? Painting an Edgar Martinez mural? Catching up on Big Little Liars? Maybe the better question is, if you are watching the M's as much this season, why? Until later …
Subscribe to the sports newsletter
Get the day's top sports headlines and breaking news delivered to your inbox by subscribing here.
You have been successfully subscribed!
There was a problem subscribing you to the newsletter. Double check your email and try again, or email
webteam@spokesman.com
---