News > Spokane
Family of woman whose body was found alongside her fiance's in the Ridpath remembers her rocky life
UPDATED: Wed., July 24, 2019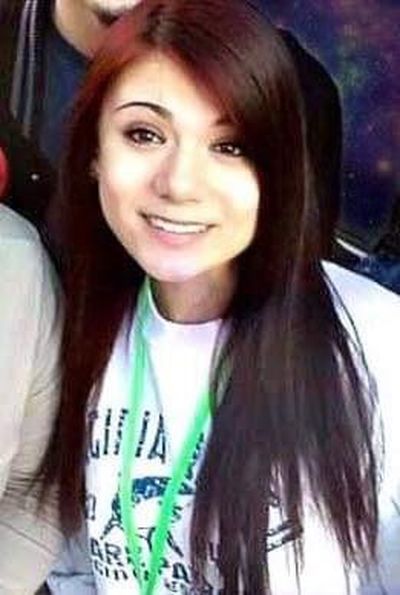 Galina Hensz's life was full of ups and downs.
After being adopted from Russia when she was 4 years old, she dealt with homelessness and drug abuse. But family members say Hensz was working to stay sober for her son when, on July 3, her body and that of her fiance, Joshua Bassett, were found in the apartment they shared in the Ridpath Club Apartments in downtown Spokane.
Hensz, 21, was shot and killed, and police are still investigating.
Bassett also died from a gunshot to the head, but the Spokane County medical examiner has yet to rule whether his death was a suicide or a homicide.
She was trying so hard to make her life better, said Oksana Velkov, one of Hensz's sisters.
"She is very missed," Velkov said.
Hensz and her four siblings were adopted in 2002 from an orphanage in Vladivostok, a city in eastern Russia. At first, the sisters say, life was good with their new family.
"They're great people, but I think we weren't ready," said Elena Hensz, another sister. "We were from the orphanage, and we didn't have that whole family lifestyle."
One by one, the children moved out to live with friends or boyfriends. Hensz became homeless and started doing drugs in her early teens, Elena said.
Elena Hensz describes her sisters Natasha Hensz and Galina as "little hoodlums" who always looked out for each other.
Galina Hensz gave birth to her son, Elijah, when she was 19. After breaking up with her boyfriend a few months ago, she became homeless and Elijah went to live with her sister Oksana Velkov.
Then in May, Hensz called Elena and told her she was getting married.
"My sister, out of nowhere, told me, 'I'm engaged,' " Elena said.
Her sisters say the new relationship was good at first: Hensz was off the streets, living with Bassett and working on staying sober. He worked three jobs and supported her, Elena said.
She was like the person she was before she started doing drugs, beginning to come back, Elena said.
Then on June 17, Hensz's son was put into foster care after her sister, Velkov, lost custody.
"She didn't take it well," Velkov said.
Things also had started to sour in Hensz's new relationship with Bassett, Elena said.
"She was unwilling to talk about anything that had to do with him," Velkov said.
Hensz told Elena that she was scared. According to Elena, Bassett and his friends all carried guns, and Hensz would call one of her family members whenever her fiance had friends over, just to be safe.
Bassett once told Hensz's sisters that she had left him and was back on the streets. Then, a few days later, Hensz was back with Bassett like nothing had happened, Elena said.
He frequently would answer the phone for her, Velkov said.
"He was controlling and made her distant," Elena Hensz said. "She was trying to leave, but she couldn't."
"We tried to convince her to leave and come home," Velkov said.
The couple lived in the Ridpath Club Apartments, a former hotel. The building on Sprague Avenue in downtown Spokane is still under construction. On a recent day, stairwells remained unfinished with old carpet, butdoors had shiny new keypad locks. The halls smelled of marijuana and fresh paint.
On June 28, a neighbor heard gunshots from the apartment where the couple lived.
The neighbor called management but didn't contact the police.
"Whoever watched a bullet go through their wall should have called 911," Velkov said. "This is the United States, you don't hear gunshots often."
NAI Black, the corporation that manages the building, did not respond to multiple requests for comment about the incident.
On July 3 – five days after the neighbor apparently heard the gunshot – Bassett's mother filed a missing person's report for her son, which prompted a welfare check that led to the discovery of the pair's bodies.
Multiple attempts to reach Bassett's family were unsuccessful.
Velkov is uncertain what exactly happened to her sister.
"I don't think it makes it easier either way. It doesn't bring her back," Velkov said. "His family is also suffering."
The family is pulling together for Hensz's son, Elijah, and working to get custody.
"Now that she's gone, I'm hoping that the judge will see that he needs to be with family more so than before," Velkov said.
Editor's note: Elena Hensz is the sister of Galina Hensz. This article was changed on July 24, 2019 to correct the relationship. Also, an earlier version of this story reported that Elena Hensz had not been contact by police. However, police did contact her after she was interviewed for this story but before this report was published.
Local journalism is essential.
The journalists of The Spokesman-Review are a part of the community. They live here. They work here. They care. You can help keep local journalism strong right now with your contribution. Thank you.
Subscribe to the Coronavirus newsletter
Get the day's latest Coronavirus news delivered to your inbox by subscribing to our newsletter.
---