Sports
A Grip on Sports: From predictions to awards and everywhere else in-between, Pac-12 football media day tells us how close the season really is
Wed., July 24, 2019 A GRIP ON SPORTS • College football season hasn't officially begun, but the hype for the 2019 season is in full trot. Today in Hollywood, the Pac-12 fires its opening salvos, with the conference once again holding a media day. It should be interesting.
•••••••
• Many of the recent stories leading up to today's event focused upon what Larry Scott would say to kick it off. We'll find out in about an hour (from when I am writing this – his comments might be in the past when you read it).
That, however, probably doesn't interest the average fan, unless Scott announces no more late-night starts or the championship game is moving to Las Vegas. The former won't happen. The latter will at some point, though I can tell you from first-hand experience the stadium in Vegas is a long way from finished – though the black steel frame looks really cool.
What the average fan really wants to know is how their school is set up this season. Will they be able to compete, either in individual games (the lower end of the schools), for a conference crown (the mid-range) or a national title (a couple schools at the top).
Oregon seems to have the national buzz, but it is Utah writers on the West Coast feels will win the conference title. Their predictions were announced this morning, though pretty much everyone in the Salt Lake area knew the Utes were going to be the favorites in the South Division.
(Until a Kyle Whittingham team can prove it actually can, you know, score consistently when it matters, I don't think I can pick the Utes myself. Then again, who else is any good south of the California/Oregon border?)
However, Utah is also the favorite to win the conference title, which would probably eliminate Oregon from the national championship picture, an event that might happen next month in the Ducks' opener against Auburn anyway.
Funny thing, though. Washington State is picked to finish fourth in the North (as Theo Lawson passes along in this story), by far the tougher division this season. And yet Mike Leach's team had no one named to the preseason all-conference first team – other than punter Oscar Draguicevich III. Not one offensive player, not one defensive player. Even standout offensive tackle Abe Lucas was a second-team selection, as was linebacker Jahad Woods. Max Borghi, Dezmon Patmon and Travell Harris were honorable mention selections.
Maybe that tells you how good a coach Leach is. Or it is more about the lack of knowledge concerning the newer Cougars. Whatever, it seems a bit of a miss. Then again, if Washington State had a returning quarterback, that person probably would have been named … honorable mention as well.
Unless an injury occurs, though, my guess is whoever wins the starting spot at WSU will either lead the conference in passing, touchdowns and completions or be among the top three.
• Speaking of who will start, that's the key question Theo expects Leach to face today when he and Liam Ryan and Woods meet the media, starting at 10:20 in the morning.
There are other questions, of course, and Leach will not answer the starting quarterback one directly. My guess is he will invoke Abraham Lincoln's search for a commanding general in the Civil War as a metaphor for his own quarterback search. So the right way to ask Leach might be, "which quarterback on your roster would you most compare to Ulysses S. Grant" before he begins delving into his answers. At least that would be my approach.
• By the way, you can watch all the festivities from Hollywood on pac-12.com/live.
•••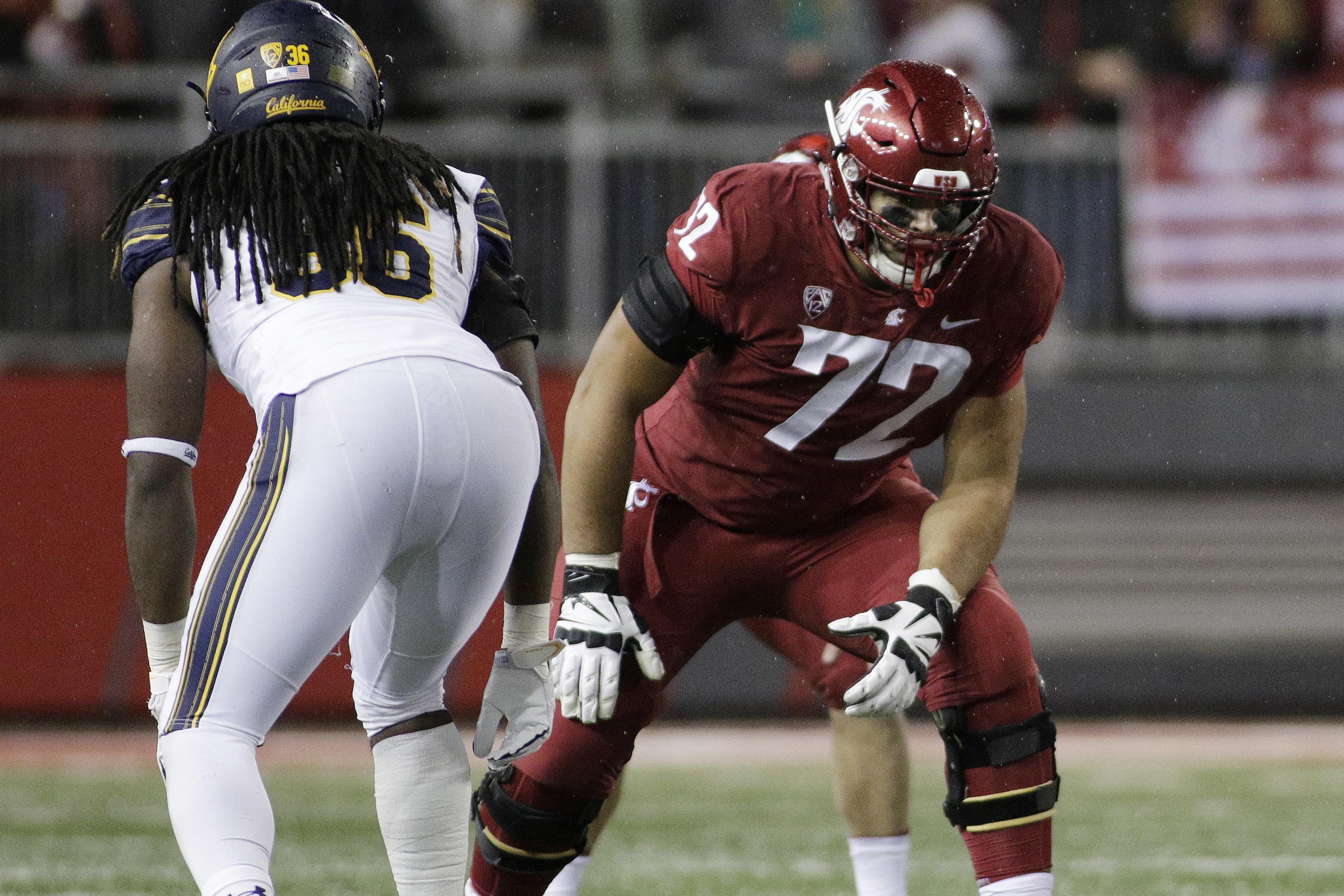 WSU: Lucas may only be a second-team All-Pac-12 preseason performer, but he's got a shot at the Outland Trophy, given to the nation's best interior lineman. Theo has that story in today's paper as well. … Elsewhere in the Pac-12, many of today's stories revolve around the media day. Hopefully, you can read them before they become a little dated. … Colorado is still trying to figure out who will play safety.
Gonzaga: Around the WCC, BYU guard Nick Emery, whose Cougar career was pockmarked at best, announced yesterday he is giving up basketball and moving on with his life. .. Former BYU coach Dave Rose is back for a fun event.
Idaho: Larry Weir's latest Press Box pod includes a conversation with Vandal football coach Paul Petrino.
Whitworth: Daryl Squires wasn't Whitworth's football coach for all that long, but his former players remember him as a gentleman. Squires died in late May. Ryan Collingwood has his obituary in advance of a memorial service at the university.
Indians: Scoring 10 runs in the top of the first inning is a great way to open a game – and the second half of the Northwest League season. Spokane did that last night at Tri-City and won 15-4. … Elsewhere in the Northwest League, the Mariners picked a 25-year-old to be Everett's manager. He won his first game, at Vancouver. … Eugene was shut out for the second consecutive game.
MMA: Terrance McKinney dominated the fight early but one kick knocked him to the canvas and out of Dana White's Contender Series bout.
Mariners: Tommy Milone wasn't an opener last night – in more ways than one. The lefthander was knocked around by Texas and the M's lost 7-2. The Rangers snapped a nine-game losing streak. … Dee Gordon is probably on the trading block. But now he is hurt. Will that diminish his value? … Gene Warnick has his Out of Right Field recap from the defeat.
Seahawks: So let me see if I have this right. Jarran Reed was involved in a domestic violence incident. More than two years ago. At the time, the prosecuting attorney declined to take the case forward because they feel there isn't enough evidence to prove a crime occurred. In other words, the authorities believe, like everyone in our country, Reed is considered innocent because he was never proved guilty. That's our system. But it doesn't seem to be the NFL's system. The league has suspended Reed, without pay, for what our legal system determined was not a crime. … Who are the most important Seahawks? … Bobby Wagner is right on the top of that list, though he is still waiting for a contract extension.
•••
• If you follow me on Twitter, (and you should @vinceg55) you know we lost our power last night long before the lightning storm blew through town. And I handled the lack of modern amenities with a quiet grace and dignity. Other than maybe the fire I started in the living room to keep the wolves at bay. Until later …
Subscribe to the sports newsletter
Get the day's top sports headlines and breaking news delivered to your inbox by subscribing here.
You have been successfully subscribed!
There was a problem subscribing you to the newsletter. Double check your email and try again, or email
webteam@spokesman.com
---