News > Spokane
Price tag for STA's Central City Line bus project inflates to $92.2 million
Fri., July 26, 2019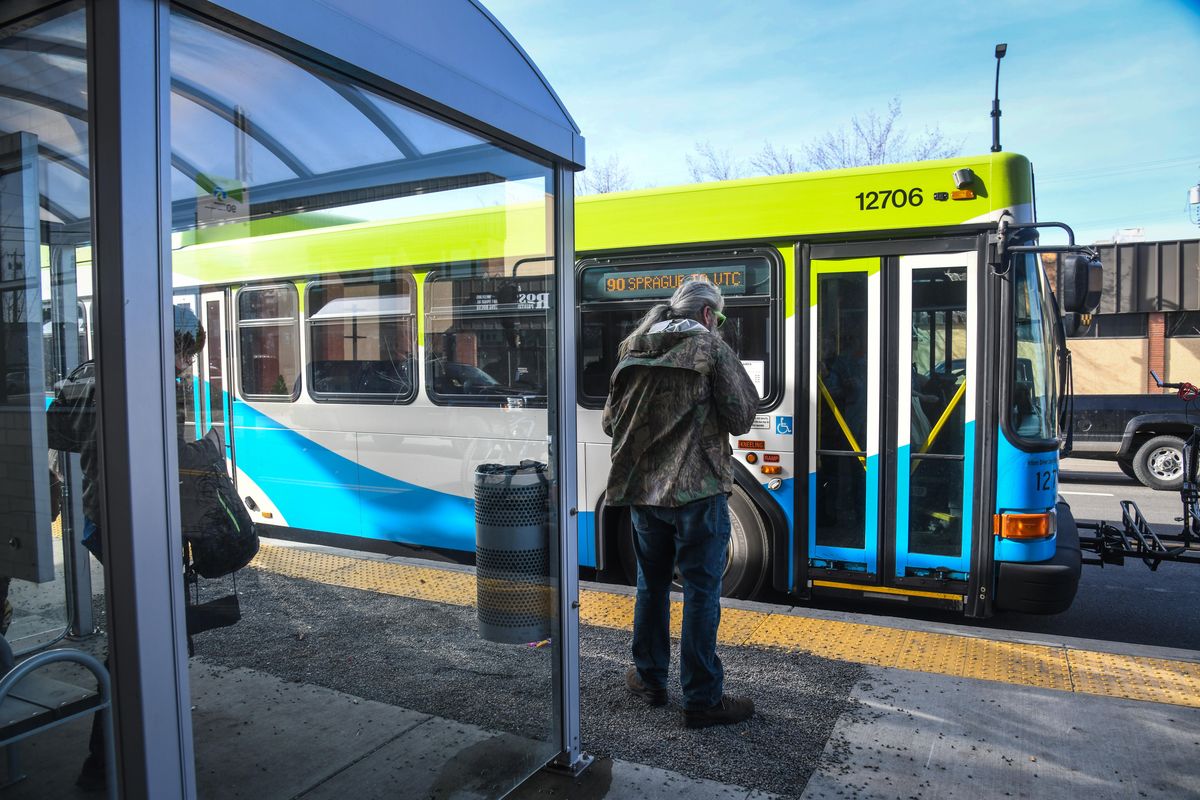 Riders catch a STA bus at the corner of Sprague Avenue and Helena Street on April 2, 2019. (Dan Pelle / The Spokesman-Review)
Spokane Transit Authority's Central City Line project has been delayed a year, and its price tag has increased by $20 million.
To cover the added expense, STA's board unanimously agreed at a Thursday meeting to pull $20.2 million from the agency's cash reserves to fully fund the new bus line, which will connect Browne's Addition to Spokane Community College on a 6-mile loop through downtown Spokane.
The final cost is now estimated at $92.2 million, and it is expected to begin operating in July 2022.
Board members didn't appear surprised by the 28% increase in the project's estimated cost from 2017. Spokane County Commissioner Josh Kerns and Spokane Valley City Councilman Sam Wood, both Republicans, voted to move the money from reserves, as did liberal Spokane City Council members Candace Mumm and Lori Kinnear.
County Commissioner Al French, a Republican board member who wasn't present for the meeting but phoned in for the Central City Line vote, said he was "anxious for us to take the next step to deliver this to the community."
Mumm, who chairs the board, said in a statement that STA had the financial wherewithal to make the expenditure.
"STA has zero debt and manages its resources carefully. That has put us in a position to fund the Central City Line's local match while continuing to move forward with all the other beneficial transit projects underway," she said.
Brandon Rapez-Betty, STA spokesman, said the agency didn't foresee the increase, but was "as confident as we can be" that it wouldn't rise again.
"We did not anticipate an increase until earlier this year when we got to 60% design," he said. "Of course we want it to come under $92.2 (million), but we won't know until it's over."
The leap in cost came about for a few reasons. The project's design is now 90% complete and is expected to be done in August. The greater level of design brought out unexpected costs, which arose simply by fleshing out the details. Additionally, the increasing costs of construction materials and labor bumped up the estimate over what it was in 2017. Also, the earlier estimate for cost of professional services like design, construction management and project management was too low and contributed to the increase.
Finally, when STA won the federal grant this year, the Federal Transit Administration assigned to the Central City Line project a project management oversight contractor, which recommended increasing the contingency dollars from $14.8 million to $19.3 million. The oversight contractor also recommended moving the estimated completion date back by 10 months, to July 2022.
In April, the federal government, through the FTA, allocated $53.4 million for the project. The grant money joined $15 million in 2015 Connecting Washington transportation funding from the state; $2.2 million from a regional mobility grant, also from the state; and $1.4 million from a federal Congestion Mitigation and Air Quality grant, which is administered by the state.
Draining the STA reserves by $20.2 million still leaves plenty of cash on hand for the agency, according to numbers supplied by STA.
STA began 2019 with $65.6 million in cash on hand. This year, STA expects to have $48.2 million in cash reserves.
Thursday's vote to draw down reserves by $20.2 million leaves the agency with $28 million in total cash reserves.
In 2019, the agency expects to bring in $102.6 million in operating revenue and spend $79.5 million in operating expenses.
The agency's policy requires it to keep reserves equaling 15% of its operating expenses, which equates to about $11.9 million. A risk reserve of $5.5 million and a right-of-way fund of $4.95 million are also on hand. A separate fleet replacement fund account also contains $22.5 million.
The federal grant has yet to be delivered to STA. Once the project is fully designed, the Trump Administration, U.S. Department of Transportation and U.S. Department of Labor will review the project. The FTA is expected to deliver the grant as early as mid-November.
Other STA board members present at Thursday's meeting included Millwood Mayor Kevin Freeman, Cheney Mayor Chris Grover and Airway Heights Councilwoman Veronica Messing.
Low-income transit pass draws crowd
At the start of the meeting, 11 people lined up to speak in support of the agency's effort to research the creation of a local transit pass for low-income people.
That effort has been ongoing for months. At the board's previous meeting, French had attempted to derail research into the plan but was rebuffed by outspoken Spokane City Councilwoman Kate Burke and a tie vote on the board.
No one spoke against creating a low-income transit pass at Thursday's meeting.
Heather Schleigh, director of the House of Charity, said the program should be put in place.
"What is the purpose of having public transportation? Is it so that fancy people can respect the environment and commute or save some money so that they don't have to pay for parking when they go to events downtown or work? Or is it for people who have no other access to transportation?" she said. "Hopefully, it's for both."
Richard Dahl, who is homeless, said a reduced fare program would help STA and those in need.
"The city of Spokane seems to think we're a problem," he said. "Every time you guys got an empty bus seat, you're not making money. Someone with low income, who can buy a monthly bus price for half the price – you'll still be making some money and helping out the homeless."
Representatives from SNAP, Aging and Long Term Care of Eastern Washington, the Spokane Fatherhood Initiative and Jewels Helping Hands also spoke in favor of the program.
Board members made no motion to end the effort around the pass. If such a plan were to go into effect, it would require the board's approval.
Local journalism is essential.
Give directly to The Spokesman-Review's Northwest Passages community forums series -- which helps to offset the costs of several reporter and editor positions at the newspaper -- by using the easy options below. Gifts processed in this system are not tax deductible, but are predominately used to help meet the local financial requirements needed to receive national matching-grant funds.
Subscribe now to get breaking news alerts in your email inbox
Get breaking news delivered to your inbox as it happens.
---