Sports
A Grip on Sports: Aptly named Showcase does that (and more) for the Inland Northwest
Sat., July 27, 2019 A GRIP ON SPORTS • The sunshine today matches our disposition. And in the spirit of being happy, bright and warm, we're not going to mention any negative news. We're focusing on the positive this morning, including one of the special events this area hosts.
•••••••
• There are many cool events that dot our calendar and fill the landscape around here every year. Most of them are, at their core, fun for the participants while also serving a higher purpose.
One of those events happens today at the Coeur d'Alene Resort golf course. The Showcase celebrity golf tournament is going on as you read this, a weekend event that raises money for the Community Cancer Fund. (For more on the event, don't miss Ryan Collingwood's story.)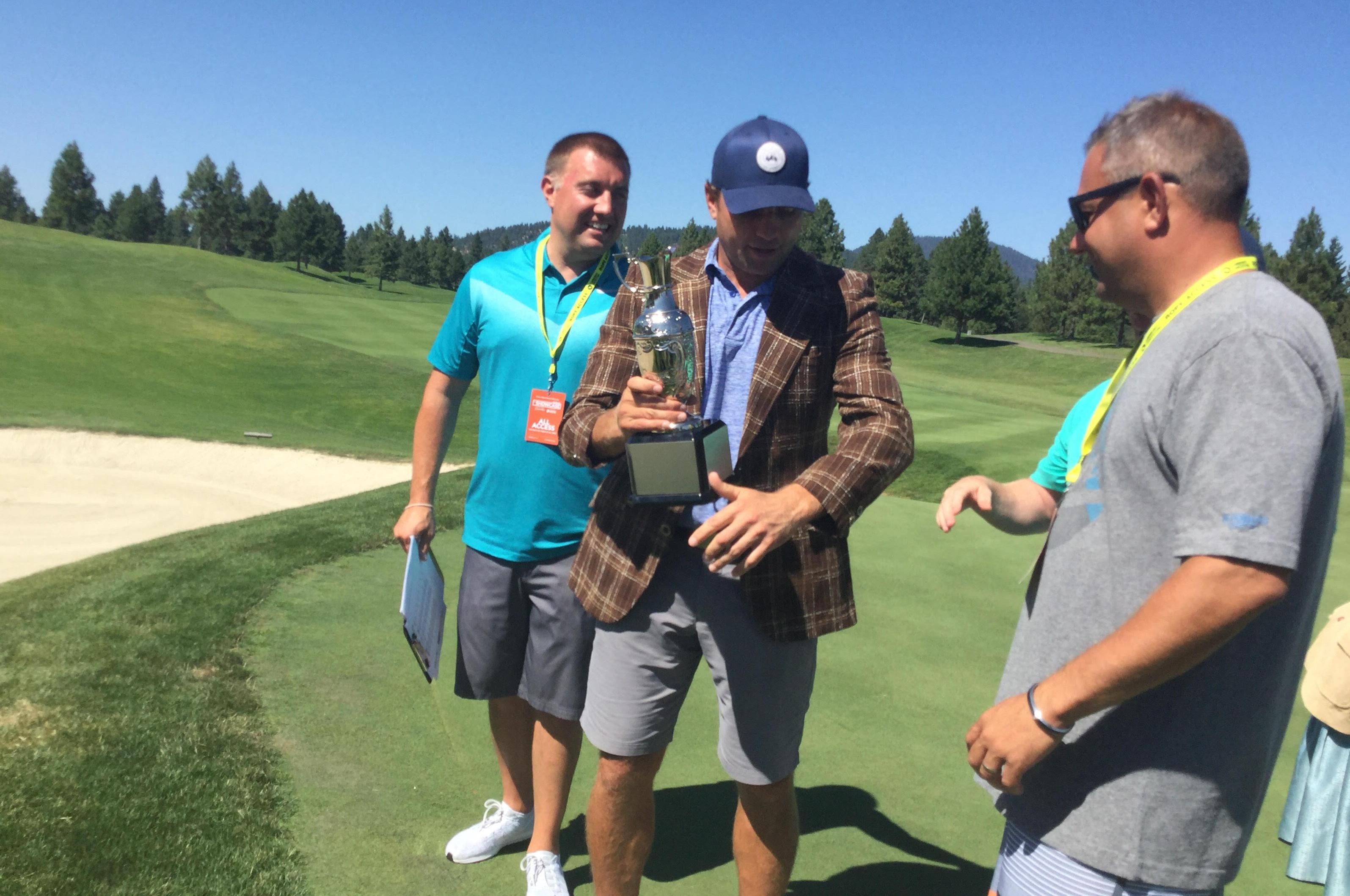 Now this isn't a participatory event for the masses, like Hoopfest or Bloomsday, but it's end game is the same: raise money for charity. And, like other events, it is successful at its goal.
Since the relatively young event began a half-dozen years ago, it has raised $13 million for the CCF, an organization that spends all its funds in the area (hence the name).
This is, in a lot of ways, the soul of this community in action.
Take the participants in the celebrity golf event. Many of them just happened to pass through the Inland Northwest at one time or another and fell in love with the place – a sentiment I can relate to.
The greatest hockey player of all-time, Wayne Gretzky, falls into that category, having discovered Coeur d'Alene a decade or so ago. He now spends his summers at Gozzer Ranch, above the lake on the east side, playing golf and enjoying his rather nice home.
His presence helped attract other hockey players, though many of them, like Ray Whitney, first experienced the Inland Northwest while playing for the Chiefs.
There are the homegrown participants as well, including Tyler Johnson and Adam Morrison. There are first-time participants, like Jeremaine Dye and Mark Mulder, who discovered what a special place this is only this week.
When you become attached to an area, most are motivated to make it better. One way is an event like this. It helps fund, through the Community Cancer Fund, places like Camp Goodtimes, a free summer camp for kids dealing with cancer and a personal favorite of Gonzaga basketball coach Mark Few and his wife Marcy.
Playing golf certainly isn't a chore. It's fun. And when you can do it in a (somewhat) competitive setting while raising money to help a good cause, it's even more fun. Rewarding even. And, dare we say it, positive.
• Speaking of positive, check out J.P. Crawford's defensive play in the ninth inning last night. In a season of coal, this is a diamond.
• We would like to point out the National Association of Sports Officials Summit will start Sunday in Spokane. Ryan has more in this story about the three-day event. And in staying with our positive theme, we will refrain from jokes about guide dogs and such. In fact, one of our favorite television commentators, Mike Pereira, is speaking to the group. He is worth the price of admission.
• Finally, let's mention Bobby Wagner's contract, all $54 million of it.
It's obvious Wagner is the second most-important Seahawk right now, just behind quarterback Russell Wilson in the pecking order. And it's also obvious Wagner is the best middle linebacker in the game. So he deserved to be paid like it.
This contract, negotiated by Wagner without an agent, assures that, though it doesn't have the length of at least one other inside linebacker's deal – or the amount of money.
But the three-year extension assures Wagner will make more money (and more guaranteed money) per year than any other NFL inside linebacker.
The question is, how long can Wagner play at the level he's shown the past couple seasons? He's entering his 30s. His game is built on quickness and speed. He can't keep improving, can he?
Oops, it is a positive day here. So we won't let such negative vibes invade this space. The Seahawks are going to pay Wagner at least $40.2 million over the next few years, which I am positive Wagner, and future generations of Wagners, will appreciate.
•••
WSU: Washington State's preseason football practice – once again we promise to not ever call it fall practice because fall doesn't begin until the season is already a third of the way over – begins next Friday in Pullman. We can pass along the entire practice schedule as well as the schedule for the preseason scrimmages. … Elsewhere in the Pac-12, Arizona opened preseason practice yesterday and more than one of the stories coming from Tucson is about a lawsuit. … Arizona State's star running back enjoys interacting with opposing fans. … Utah's star running back returned for something special. … Speaking of Utah, leaving the Mountain West was a good move for the Utes. … Troy Dye plans to leave Oregon with no regrets. … Colorado enters the season with an inexperienced defensive line.
Indians: Spokane returned home from a road trip and seemed to have forgotten its way home. The Indians stranded more runners than a broken down bus headed to Bloomsday. Dave Nichols has the game story. … Elsewhere in the Northwest League, Eugene lost at Salem-Keizer. … A former Everett player is moving up the Mariners' ladder.
Preps: Chuck Stewart's Youth Sports Notebook is full of baseball this week.
Mariners: Crawford's play came just before Mallex Smith won the game with the woeful Tigers with a walk-off single. … The M's are giving a lot of guys a chance to make their big league debuts this season. That's positive, right? … Gene Warnick is back with his Out of Right Field recap. He also spoke with Larry Weir for the latest Press Box pod.
Seahawks: The second day of training camp wasn't anything special – until it ended and the Hawks announced Wagner's contract. … Wilson believes the wide receivers are going to be special and allow the offense to do special things. He really is an extension of Pete Carroll, isn't he? … Rashaad Penny wants to be better.
•••
• What a beautiful morning it was. And I went and ruined it by sitting down at my computer and writing. I should have stayed on the deck, cup of coffee in hand, and just let the morning's quiet wash over me. Well, no one ever accused me of being all that bright. Until later …
Subscribe to the sports newsletter
Get the day's top sports headlines and breaking news delivered to your inbox by subscribing here.
You have been successfully subscribed!
There was a problem subscribing you to the newsletter. Double check your email and try again, or email
webteam@spokesman.com
---