Sports
A Grip on Sports: NFL training camps bring back memories of years gone by
Sun., July 28, 2019 A GRIP ON SPORTS • If you've lived in the Spokane area long enough, you remember when the Seahawks used to hold their preseason camp in Cheney. The weather was always blazing hot, Walter Jones always waited until camp was almost over to show up and Spokane fans always turned out in droves to watch the regional NFL team go through the early part of its preseason workouts.
•••••••
• What was once a tradition around the NFL has all changed now. Oh, there are a few teams that still travel long distances for training camp. The Dallas Cowboys come to mind. They trained in Thousand Oaks, Calif., for years – for some unfathomable reason – and now are just down the road in Oxnard. If the idea is to spread the Cowboy star across the country, it works. However, these days most other NFL teams are training at their headquarters, whether that is attached to their home stadium or not.
But that's not true of the Los Angeles Rams. Since they returned to the L.A. Basin in 2016, the Rams have trained at a local university. Actually, the most prestigious university in Southern California. Yep, the Rams train at UC Irvine.
There are two UCI diplomas hanging on the walls of the Grippi home (well, not actually hanging, as they are lovingly stored in a nondescript box somewhere in the basement, but you get the picture) and we are proud to have them.
However, it seems odd to see a professional football team hold its training camp on the same intramural fields I used to drop passes on during fall flag football games.
See, UC Irvine has never had a football team. Never. Oh, even when I was there, back before computers and cell phones, the Anteaters sported a nice field, with stands and everything. It was for track, a sport UCI was actually darn good in – and thanks for that, Steve Scott.
But football? Nope. That was reserved for the UC system's cow colleges like Davis and Los Angeles and Berkeley. Irvine was about academic pursuit – and baseball.
When Kim and I were in college, the Rams trained up the road (literally – it was right up the 57 Freeway) at Cal State Fullerton. Heathens. But then again, maybe that's why CSF produced so many great sportswriters and UCI produced none. I'll have to explore that hypothesis some day.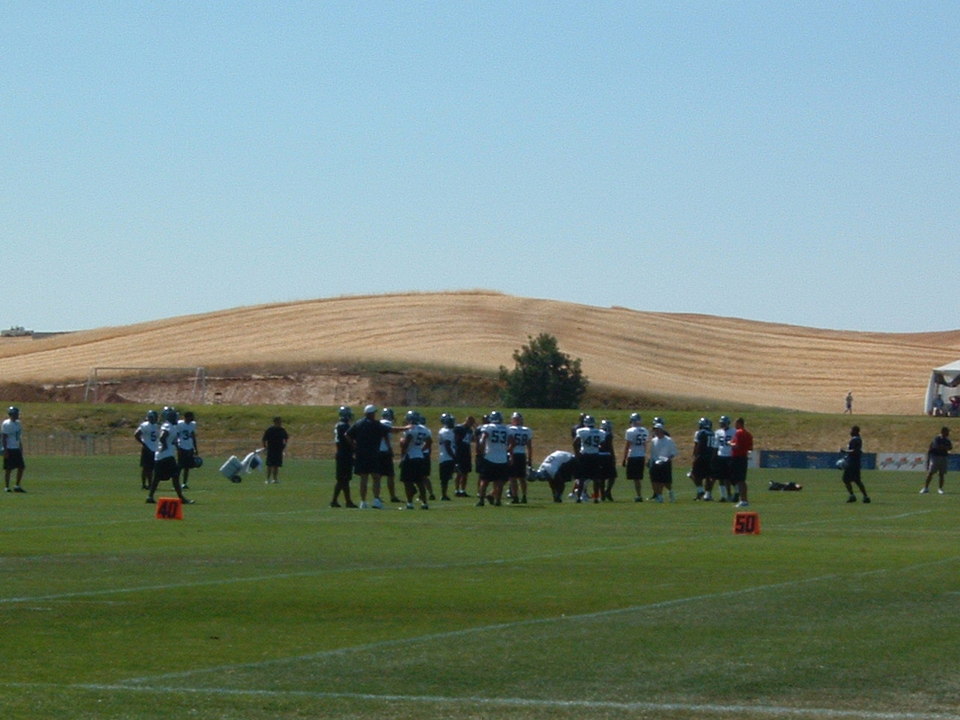 Anyway, when we moved to the Spokane area in the early 1980s, we found out the regional NFL team would hold a couple weeks of practice in the area. I watched alone for a year or two before the Hawks decided to spend a decade in Kirkland, but after they returned it became a father-son thing. Over the years I saw Steve Largent catch every pass thrown his way, Chuck Knox walk around with a stern look and too-tight shorts, and the offensive linemen sign every piece of paper thrust in their faces.
Twenty years later Cooper Kupp walked on to that Eastern Washington University campus and made history. The Hawks were gone by then, of course, as they had decided to train at their headquarters, a sound financial decision considering the franchise now gets to keep all the proceeds. But Kupp seemed almost like the second coming of Largent, a sure-handed receiver who was always underestimated.
At least Kupp was when it came time for the NFL draft. The best FCS player in the nation fell to the third round, where the Rams, probably shocked by their luck, grabbed him after 68 other players had been chosen.
He's been a key part of the Los Angeles offense ever since – except, you know, late last season when he was injured and LA's passing game took a huge step back – even if the season ended in the Super Bowl. That was last year, though.
This summer Kupp is back at training camp, ready to once again team with Jared Goff and give the Seahawks' secondary fits.
And the location of that training camp? That would be UC Irvine, the Harvard of Orange County, if Harvard didn't play football.
In this house, at least, it's all part of the great circle of life.
•••
WSU: Around the Pac-12, It's hot in Arizona, which is probably perfect for training camp. … Mornings are perfect in Colorado. … Running the football is crucial for Utah. … Oregon actually uses its tight ends.
Whitworth: Former track star Andrew Bloom has been awarded an NCAA postgraduate scholarship. That information is just part of our weekly local notebook.
Indians: After leaving more than a dozen runners on base Friday night, Spokane came through with timely hits Saturday and won 2-1 in 10 innings. Dan Thompson was at Avista Stadium and has the game story. … Elsewhere in the Northwest League, Eugene won on the road. … Everett decided the game with Tri-City was out of hand and used position players to pitch.
Golf: There is a lot of golf to pass along this morning, starting with Jim Meehan's weekly column. The subject? Two golfers at Hangman Valley, who just happen to be nearly 100 years old. (This is such a cool story, I left it at the top of the home page this morning, dropping my column below it in the pecking order.) … Younger players highlighted The Showcase over in Coeur d'Alene yesterday and my pick to win, former pitcher Mark Mulder, did. Ryan Collingwood has the story and Kathy Plonka the photo report from the annual charity event.
Mariners: Will either Ryon Healy or Mitch Haniger play again this season? … If the M's could play Detroit all the time, they would be in contention. Marco Gonzales picked up his 12th win yesterday. … Gene Warnick has the Out of Right Field column for the week, in which looks at the players Seattle might possibly trade this week.
Seahawks: No one knew when Will Dissly would be back on the field after his horrendous injury last year. But his family had faith it would be sooner rather than later. … Russell Wilson and Tyler Lockett are perfect together. … Which of the Hawks' younger players deserve big money? … DeShawn Shead is back to bolster the secondary.
Sounders: Jordan Morris scored the lone goal on a booming shot – not – and Seattle picked up three road points by besting Dallas, 1-0. … The L.A. Galaxy didn't mount much of a defense against Portland. The Timbers won 4-0.
•••
• Over the years we've heard a variety of excuses concerning how banned substances end up in college and pro athletes' drug tests. Golden Tate may have just set the gold standard, even if it is true. Until later …
Subscribe to the sports newsletter
Get the day's top sports headlines and breaking news delivered to your inbox by subscribing here.
---