Sports
A Grip on Sports: Keith Lincoln was an integral part of WSU's football history, from his nickname to his legacy
Mon., July 29, 2019, 8:36 a.m. A GRIP ON SPORTS • Keith Lincoln is a legendary figure around Pullman and Washington State. But did the man match the myth? In some ways no, but in the most important ways, yes. Lincoln, 80, died Saturday but his legacy will live on.
•••••••
• When your nickname is the "Moose of the Palouse" you are expected to be certain things. Huge, for sure. Domineering. Maybe a bit standoffish, as moose tend to be.
Keith Lincoln was none of those things, at least not in my experience.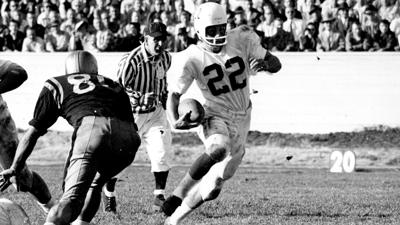 It was during my tenure covering the Cougars when I first met Lincoln and our paths crossed a few times. During one of those meetings I mentioned where I was from, and that my sister had graduated from Monrovia High, the same school Lincoln had. From there, the conversation took a turn concerning places and people we both knew, despite the almost two decades of difference in age.
It was almost a reunion of folks who had never met. And from then on, every time I ran into Lincoln, there was that connection.
Jack Thompson had a much deeper one with the former Cougar running back.
Thompson, the first in a long line of WSU star quarterbacks and my age, tweeted yesterday "The Coug Nation lost one of its very best. Keith was like a surrogate father to me when I was @ WSU. Anyone who knew him knew he didn't put up with any b.s. but he was also one of the nicest guys you'll ever meet. To me Keith will always (be) the Man. Rest In Peace and Love."
That's the type of tribute anyone would want.
What I will remember most about Lincoln is how the nickname may have fit how he played – and my father, who followed his college and pro career closely due to the local connection, swore was true – but it didn't fit either his size – 6-foot, 215 pounds, which was big for a running back in those days – or his statistics. At least his college ones.
The Cougars of Lincoln's era, as now, were a pass-oriented team, though the game was so different in the late 1950s as to be almost unrecognizable. You won't find Linclon's name strewn around WSU's record books, in part because awards weren't handed out like Snickers' bars on Halloween during his career. But he did rush for 1,501 yards in his career (then a school record, now not in the top 10) and set a single-season and career punting average marks (43.4 in 1959 and 40.3, both still among WSU's best). And he was recognized by the Associated Press as one of the West Coast's best players in 1960 before playing in the East-West Shrine game.
It was with the San Diego Chargers, however, that Lincoln really came into his own, the perfect piece in Sid Gillman's then-revolutionary offense.
In 1963, his best season (and the Chargers, who won their only AFL title with a 51-10 rout of the Boston Patriots), according to Pro Football Reference, Lincoln was second on the team in rushing with 826 yards, third in receiving with 325 (the leader was some guy you might know, Lance Alworth), and first in all-purpose yards with 1,688.
In the AFL title game, he was responsible for 329 yards from scrimmage (206 rushing, 123 in receptions), which included a 67-yard scoring run and a 25-yard touchdown reception.
That's a pretty good game, one worthy of a moose from anywhere.
•••
WSU: Theo Lawson has Lincoln's obituary in today's paper. There is also one in the San Diego Union-Tribune and on Cougfan.com. … A highly sought wide receiver committed to the Cougars yesterday after a visit. Theo has that story as well. … There are a couple of looks at Washington State from other sources. … Elsewhere in the Pac-12, there is one basketball recruiting story worth passing along (and one from volleyball), but most of the day is dominated by football items, as it should be. … Colorado should be fine at quarterback. … Oregon State's offense is still in transition. … Oregon is going through a rebuild at wide receiver.
Indians: A great pitcher can stifle a great offense, which is what happened last night at Avista Stadium. Dave Nichols was there and he has the coverage of the Indians' 6-0 loss to Vancouver. … Elsewhere in the Northwest League, Everett gave up a bunch of runs again in a loss to Tri-City.
Mariners: If you have a broom close by, you can send it to the M's. They swept the Tigers.
Seahawks: Bobby Wagner met with the media after the third day of training camp and touched on a lot of subjects. Did you know he likes shopping at Target? … The linebackers are really good.
•••
• If your child plays soccer on Spokane's South Hill, the fall season will take on a different look. Nicholas Deshais has a story on the changing area around the Southeast Sports Complex, which really needs to be renamed the Southeast Soccer Complex. Until later …
Subscribe to the sports newsletter
Get the day's top sports headlines and breaking news delivered to your inbox by subscribing here.
You have been successfully subscribed!
There was a problem subscribing you to the newsletter. Double check your email and try again, or email
webteam@spokesman.com
---