News > Spokane
Then and Now: Kinman Business University
Mon., July 29, 2019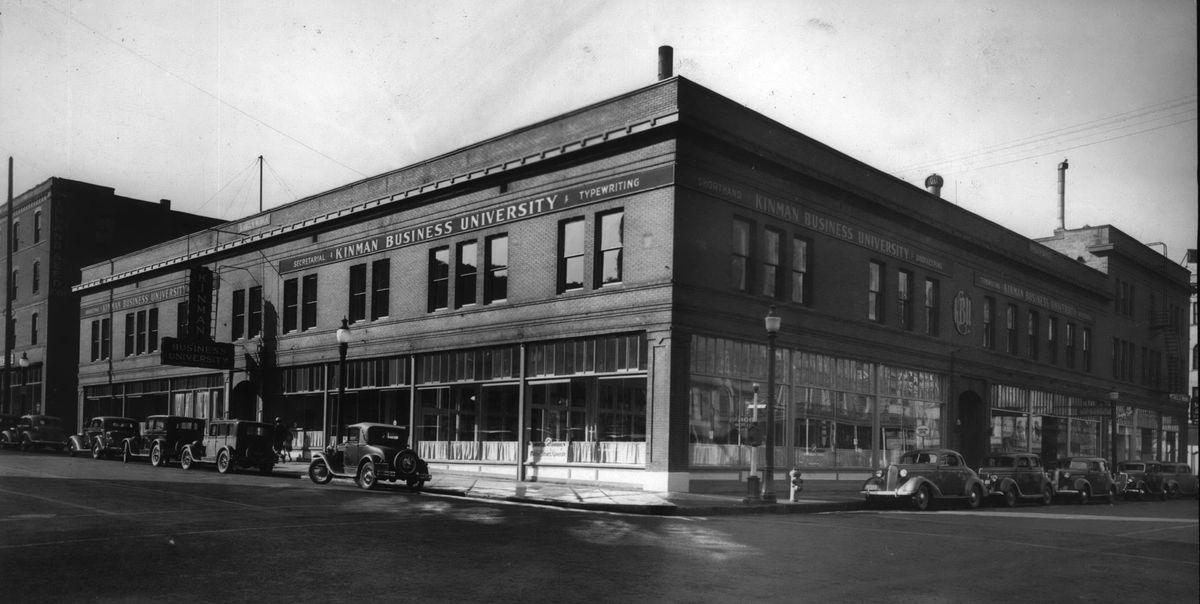 1936 - From the 1920s to the late 1960s, Kinman Business University, a private vocational school, was in the Kroll Building, formerly called the Merriam Block, at the southwest corner of Howard Street and First Avenue. (Libby Photographers / Libby Photographers)
America's transition from agrarian life to urban industry in the early 20th century put vocational training on the national agenda. The Smith Hughes National Vocational Education Act of 1917 put federal money into career training. It acknowledged that job training could be taught separately from college academics and that instructors should have hands-on experience in careers they're teaching, not necessarily a college degree.
Accountants J.I. Kinman and A.W. Morris opened the Western Institute of Accountancy, Commerce and Finance in 1917, teaching bookkeeping and accounting. This became Kinman Business University in 1926. The self-titled "university" promised a non-academic entry into the white-collar world of business and their advertisements promised good employment for graduates. The business skills they taught were drawing many women out of the home and into the workforce.
The school grew rapidly throughout the Great Depression. Kinman developed health problems and retired in 1941, leaving the school to his partners.
The school offered day classes, but the bulk of the students came at night after working their day jobs.
In 1943, Kinman merged with another business school, Northwestern Business College, to become what the Spokane Chronicle called "the largest private business school in the West and itself a big business in this town." The owners and instructors at the school often served in the Chamber of Commerce, social clubs and trade organizations.
For most of its tenure, new classes began every Monday night and students were told they could graduate as soon as they reached competence. Even as career training moved to community colleges in the 1960s and 1970s, the school had several hundred students enrolled at any given time. Classes moved to the upper floors of the Bon Marche building in the late 1960s.
The school was sold in 1969 to Lars Siegler, Inc., a conglomerate which owned other schools.
Kinman was sold to Trend College in 1974, though the Kinman name stayed until 1987.
For decades, commercial schools like Kinman and Trend were dogged by criticism about empty employment promises, a lack of accreditation, nontransferable credits and students coerced into debt for classes. Trend College, with branches in Washington, Oregon and Canada, closed suddenly in 1994, stranding many students in the middle of study.
Local journalism is essential.
Give directly to The Spokesman-Review's Northwest Passages community forums series -- which helps to offset the costs of several reporter and editor positions at the newspaper -- by using the easy options below. Gifts processed in this system are not tax deductible, but are predominately used to help meet the local financial requirements needed to receive national matching-grant funds.
Subscribe now to get breaking news alerts in your email inbox
Get breaking news delivered to your inbox as it happens.
---