Sports
A Grip on Sports: There are always questions needing to be answered about sports
Tue., July 30, 2019 A GRIP ON SPORTS • We have a few questions for you this morning, but we will start with this one: Is lawn maintenance a competitive sport?
•••••••
• I will tell you this. When I mow the lawn, I wear golf shoes. And it's really not weird. (No, no it isn't.) Some years ago I read a quote from George Toma, the legendary Kansas City groundskeeper, in Sports Illustrated. He was adamant golf shoe spikes helped keep the lawn aerated. Of course, those were the days of long metal ones, an accessory that is almost impossible to find now. Still, I figure it can't hurt.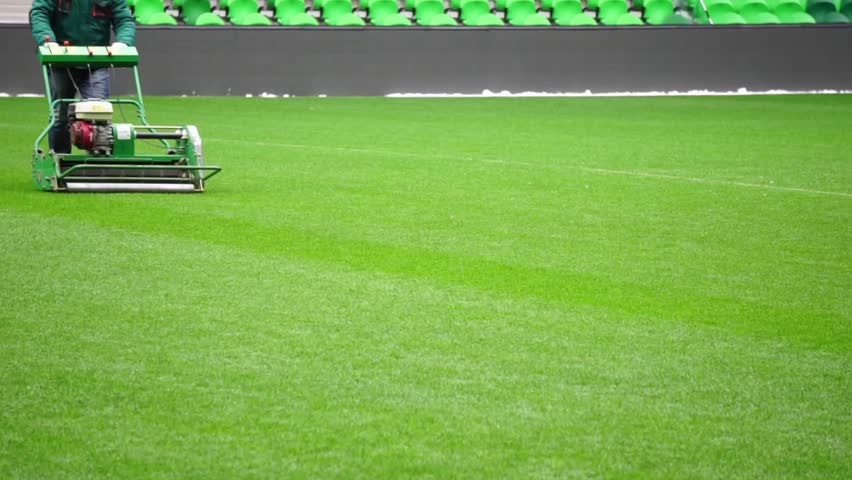 It's all part of the competitive nature of lawn care.
Look, it's hard to get the juices flowing on the athletic field anymore. When you are 62, have a bad left hip and a jump shot that's even worse, noontime basketball is out of the question. Golf is even tough, thanks to the hip hindering the old full turn. And softball? Forget about it. I did.
(As an aside, I haven't bowled in years. Years. But on a recent trip, our basketball group wanted to. So I joined in. Made a deal even. Anyone who beat my score in our second game, I would buy them popcorn. I rolled a 174, with a split in the 10th frame I couldn't pick up. No one got free popcorn. And I got bragging rights.)
So we turn our attention to other, little ways of competing. Every morning I give myself a hard-to-reach time to get this column done. If I make it, I've won. If I don't, I lost. I don't like to lose. Which is why, sometimes, this column seems to end abruptly.
• Where were we? Oh yeah, questions. Has there been a better fit in the past decade around here than Mike Leach at Washington State? Mark Few at Gonzaga is the gold standard in that regard, but Leach's hire has turned out to be an inspired choice.
Just think, the baggage Leach picked up at the end of his Texas Tech tenure forced many athletic directors and school presidents to pass on the Air Raid's godfather. It took a visionary president in Elson Floyd and an alum trying to lift his alma mater out of the cellar, Bill Moos, to pull the trigger on getting Leach back into coaching. It's worked.
• Have you been following the Seahawks' camp intently? I got to wondering yesterday if the Pacific Northwest's interest in training camp has a direct relationship with the Mariners' record.
If the M's are playing well – granted, a rare occurrence recently – then folks focus on them, not the Hawks' practice. If the M's are doing their usual el foldo, the Hawks become even more important.
I'm not sure that is true – the Seahawks seem to be the overwhelming force around here – but it sounds good. And should be true.
• Does anyone my age play tennis anymore? Or has everyone transitioned to pickleball?
The latter seems a bit less taxing on your body, but I compare the noise to that of a ball coming off an aluminum bat. The sound of tennis is more akin, in my mind, to the noise of a ball and a wooden bat. One seems pure, the other jarring.
•••
WSU: The Cougars open practice Friday in Pullman and then head down to Lewiston for a week in the sun. Larry Weir spoke with Washington State broadcaster Matt Chazanow about preseason practice for the latest Press Box pod. … The Cougars also have the most players vying for NFL spots among area colleges. Ryan Collingwood perused rosters and has this list of who is trying to make a team. … Elsewhere in the Pac-12, Washington has rebuilt its offensive backfield. Its defense, though, is a different story. … Oregon State will count on a former running back to anchor the defensive line. … Oregon realizes the challenge Auburn's defensive line will present. … Arizona's defense needs to click this season. … In basketball news, a former Utah player is headed to UNLV. … Two Oregon Ducks helped the USA women win the Pan-Am Games' title in 3-on-3.
Gonzaga: Once every four years the NCAA allows schools to take an overseas basketball trip. The GU women are taking advantage of that perk this summer, heading to Southern Europe soon. Jim Allen checked in with the Bulldogs and has this story on their upcoming trip.
Youth sports: While the Coeur d'Alene All-Stars are preparing for the Little League Northwest Regional in California, hoping to make another trip to Williamsport, one North Idaho resident has already made his reservation. Jason Shoot tells us about umpire Brian Rounds, who will make his first appearance at the World Series.
Indians: Spokane opened its series in Eugene with a 9-5 win over the Emeralds. … Elsewhere in the Northwest League, Everett couldn't hold on to the ball or the game at Hillsboro.
Mariners: The trade deadline is tomorrow night. Jerry Dipoto wants to make more trades than the little one he made yesterday.
Seahawks: I almost asked a question about DK Metcalf and the upcoming season, but decided to wait on the hyped receiver. … Marshawn Lynch visited yesterday. … Cody Barton has been the breakout star of camp. … Camp is starting to settle into a routine.
•••
• I was never much of a classical music fan. But I was a fan of Travis Rivers' writing – and him. Travis was a quiet voice of reason in a Spokesman-Review newsroom that often lacked both during the 1980s, '90s and beyond, even if he wasn't a full-time employee. After all, who could disagree loudly with a man wearing a bowtie? Travis died recently, which makes me sad, but his obituary from Jonathan Glover made me happy. Travis' life was worth celebrating. He was a classical person in a modern world. And that's a good thing. Until later …
Subscribe to the sports newsletter
Get the day's top sports headlines and breaking news delivered to your inbox by subscribing here.
You have been successfully subscribed!
There was a problem subscribing you to the newsletter. Double check your email and try again, or email
webteam@spokesman.com
---