A&E
'Now we are in coffee land': Deborah Di Bernardo travels to Rwanda in search of industry's next big bean
July 30, 2019 Updated Wed., July 31, 2019 at 7:21 a.m.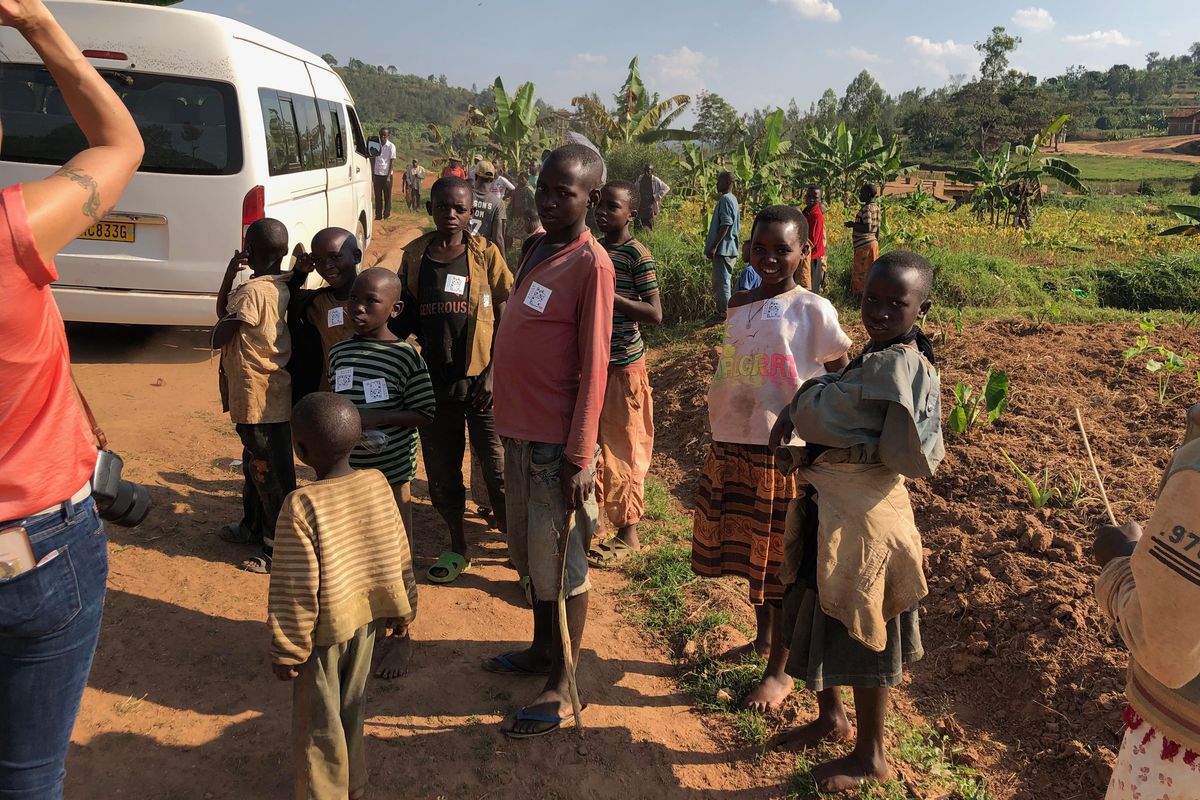 Rwandan children watch as Roast House Coffee owner Deborah Di Bernardo snaps a picture of a bus traveling over a make-shift bridge last month during her trip to the African country. (Deborah Di Bernardo / Courtesy photo)
When Deborah Di Bernardo drinks a cup of coffee, it's usually not for pleasure. Work is work, after all.
As the owner of Roast House Coffee in north Spokane, she's not only judging on taste, consistency and freshness. She also is looking behind the bean: Where did it come from? Is it organic? Sustainable? Did women grow it – and, if not, how can she help make sure they do?
That quest – let's call it an obsession – to find the perfect raw coffee bean, one that ticks all of the environmental boxes, that doesn't skimp on flavor and that's grown by farmers making a livable wage, is what led the longtime small-business owner to Rwanda last month.
Specifically, to the country's capital city, Kigali. It's there, along the ridges and valleys surrounding the concrete jungle, that coffee's next big bean is waiting to be found.
"Now we are in coffee land," said Di Bernardo as she pulled up photos from her trip. The first among them is a shot of a bus carefully wading over a rickety bridge constructed minutes before with a couple of logs.
"And they drove over it just fine," she said. "I stood back there with the kids."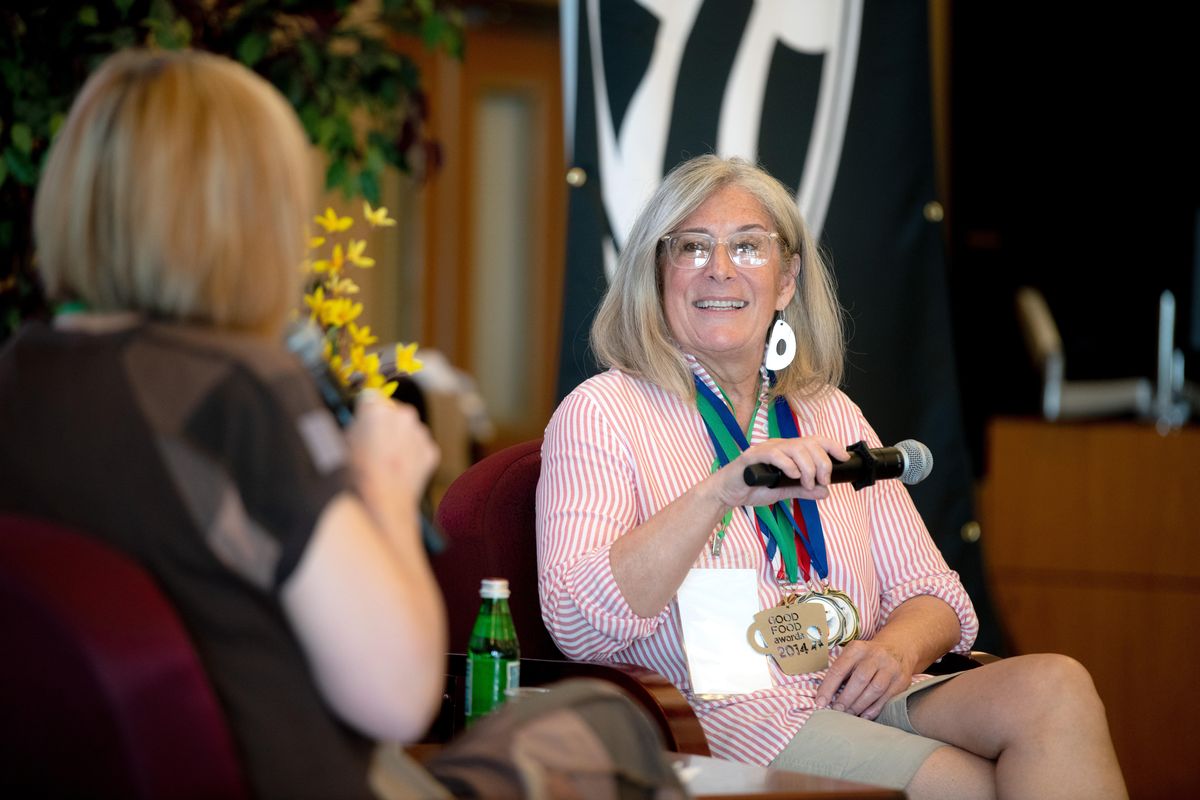 Kristi Burns, left, interviews Deborah Di Bernardo of Roast House Coffee during The Spokesman-Review's Northwest Passages Book Club Main Stage program at Crave Food and Drink Celebration at CenterPlace Regional Events Center on Saturday, July 13, 2019, in Spokane Valley. (Jesse Tinsley / The Spokesman-Review)
Di Bernardo, who also owns First Avenue Coffee downtown near Monroe Street and was a featured headliner at The Spokesman-Review's Northwest Passages Book Club Main Stage at Crave Food and Drink Celebration on July 13, was one of many in the coffee-making business to make the trek to the African country June 15 as part of the annual Let's Talk Coffee conference, though she was the only one from Spokane.
For seven days, she met one-on-one with growers, importers and traders. She gave talks and met directly with the workers, many of whom are women – an important part of the trade for Di Bernardo, who before this interview never considered herself a feminist but is now warming up to the notion.
"Nobody ever asked me that before," she said.
In addition to the certified organic beans she typically buys, Di Bernardo pays another "tax" – a 50-cent "woman premium" that goes directly to the workers.
That's important, Di Bernardo said, especially when the coffee comes from war-torn countries like Colombia and Rwanda, where 25 years ago as many as 1 million people were killed in the Rwandan genocide, many of them men.
To Di Bernardo, it's the women who will best patch the country back together – after all, "Men had their shot."
"They find, when women are paid, the children get fed," said Di Bernardo. "Domestic violence goes down. The community as a whole is safer."
Though it was women who inspired her to go, it was a man who nagged her into buying a ticket. Di Bernardo despises traveling, considering it a waste of time and money better spent on giving her employees raises.
But David Griswold, founder of Portland-based Sustainable Harvest, one of the U.S.'s largest importers of sustainable and fairly traded coffee, eventually talked her into the weeklong trip. Di Bernardo met Griswold years ago as she was dipping her toes into the coffee-buying world.
Monica Terveer, the relationship coffee manager at Sustainable Harvest, said Griswold and others in the business became interested in Rwanda in 2013 after an investment by Bloomberg Philanthropies, which helped fund the nonprofit arm of Sustainable Harvest called Sustainable Growers.
Terveer said after the genocide, there was a "huge opportunity" to help women economically. That, and Rwanda is directly in the equatorial belt, a climate best suited for growing the volatile bean.
"Coffee wasn't something that was well understood," she said. "But the country really needed to rebuild."
In order to expand the nascent market, Sustainable Growers helped create a new coffee brand called Question Coffee, with a wholesale business and cafe arm. Think of it like Starbucks but for Rwandan-grown beans, where they train and employ young Rwandan workers.
Suddenly, the country had an avenue to not only taste and drink their own product, but also a chain of stores ready to train and develop young talent. Before long, Question Coffee was producing cups of caffeine similar to any specialty cafe in Portland, Seattle and, yes, Spokane.
The recent turnaround in quality stuck with Di Bernardo, who though mindful of sustainable practices, isn't willing to sacrifice flavor for an organic stamp. She assumes her inability to settle is what draws people to her beans.
She isn't wrong. Josh Lorenzen, owner and chef of Rüt vegan restaurant, which recently opened on the South Hill and serves Roast House Coffee, said he was drawn to Di Bernardo's passion.
"It just clicked," he said. "We were really stoked on the organic and fair-trade element. And their coffee tastes great."
In addition to meeting farmers, Di Bernardo also spent time at a farm where researchers are testing Arabica strains, toying with beans that are more resistant to heat. Typically, the bean prefers plenty of shade, something the Rwandan countryside is lacking after allowing widespread clear-cutting of forests.
Always thinking ahead, Di Bernardo said the coffee industry is likely headed toward an uncertain future, where as much as one-third of the land used to grow beans will no longer be suitable due to rising global temperatures.
She said if experiments like the ones done by World Coffee Research workers in Rwanda aren't taken seriously, millennials might one day find themselves drinking cups of Folgers at age 70, looking back on specialty coffee as a forgotten decadence.
And while those beans may carry the label of "genetically modified," Di Bernardo won't bat an eye purchasing a 140-pound sack. But it better taste "damn good" – a standard set by a neon sign greeting customers in her downtown shop.
"If they meet our quality expectations, I won't hesitate," she said. "I will buy."
Local journalism is essential.
Give directly to The Spokesman-Review's Northwest Passages community forums series -- which helps to offset the costs of several reporter and editor positions at the newspaper -- by using the easy options below. Gifts processed in this system are not tax deductible, but are predominately used to help meet the local financial requirements needed to receive national matching-grant funds.
Subscribe to the Spokane7 email newsletter
Get the day's top entertainment headlines delivered to your inbox every morning.
---