News > Spokane
100 years ago in Spokane: 'Fires and mayhem' lead to proposed firecracker ban
Wed., July 31, 2019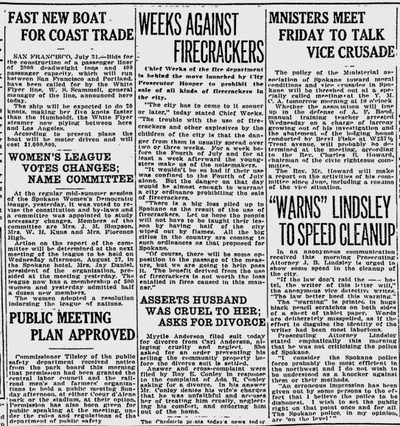 Spokane's fire chief made a controversial request: Ban firecrackers in the city.
"Of course, there will be some opposition to the passage of the measure, but we are going to help pass it," Chief Weeks said. "The city has to come to it sooner or later."
He said that the children of Spokane were blasting firecrackers and other explosives for a week before and a week after the Fourth of July, resulting in fires and mayhem.
"There is a big loss piled up in Spokane as the result of the use firecrackers," Weeks said. "Let us hope the people will not have to be taught their lesson by having half of the city wiped out by flames."
In a not-entirely-unrelated story, the Chronicle reported that firefighters had responded to 187 fire alarms in July.
From the law beat: The Washington State Bar Association gathered for its annual convention at the Davenport Hotel, and it recommended passage of a state law that would allow "the deportation of every alien who does not make application for citizenship papers within six months after his entry into this country."
Their main targets appeared to Bolshevists, anarchists and Wobblies.
"My idea is that under whatever name this monster shows its head, it should be cut off and the wound be immediately cauterized with the salve of deportation," the state bar president said.
The opening session was attended by 200 "men of the legal profession" – and one woman lawyer, Eloise Van Slatle of Spokane. She had been admitted to the bar a year earlier.
Local journalism is essential.
Give directly to The Spokesman-Review's Northwest Passages community forums series -- which helps to offset the costs of several reporter and editor positions at the newspaper -- by using the easy options below. Gifts processed in this system are not tax deductible, but are predominately used to help meet the local financial requirements needed to receive national matching-grant funds.
Subscribe to the Coronavirus newsletter
Get the day's latest Coronavirus news delivered to your inbox by subscribing to our newsletter.
---