News > WA Government
30 years ago, Spokane's Tom Foley became speaker of the House
Sun., June 2, 2019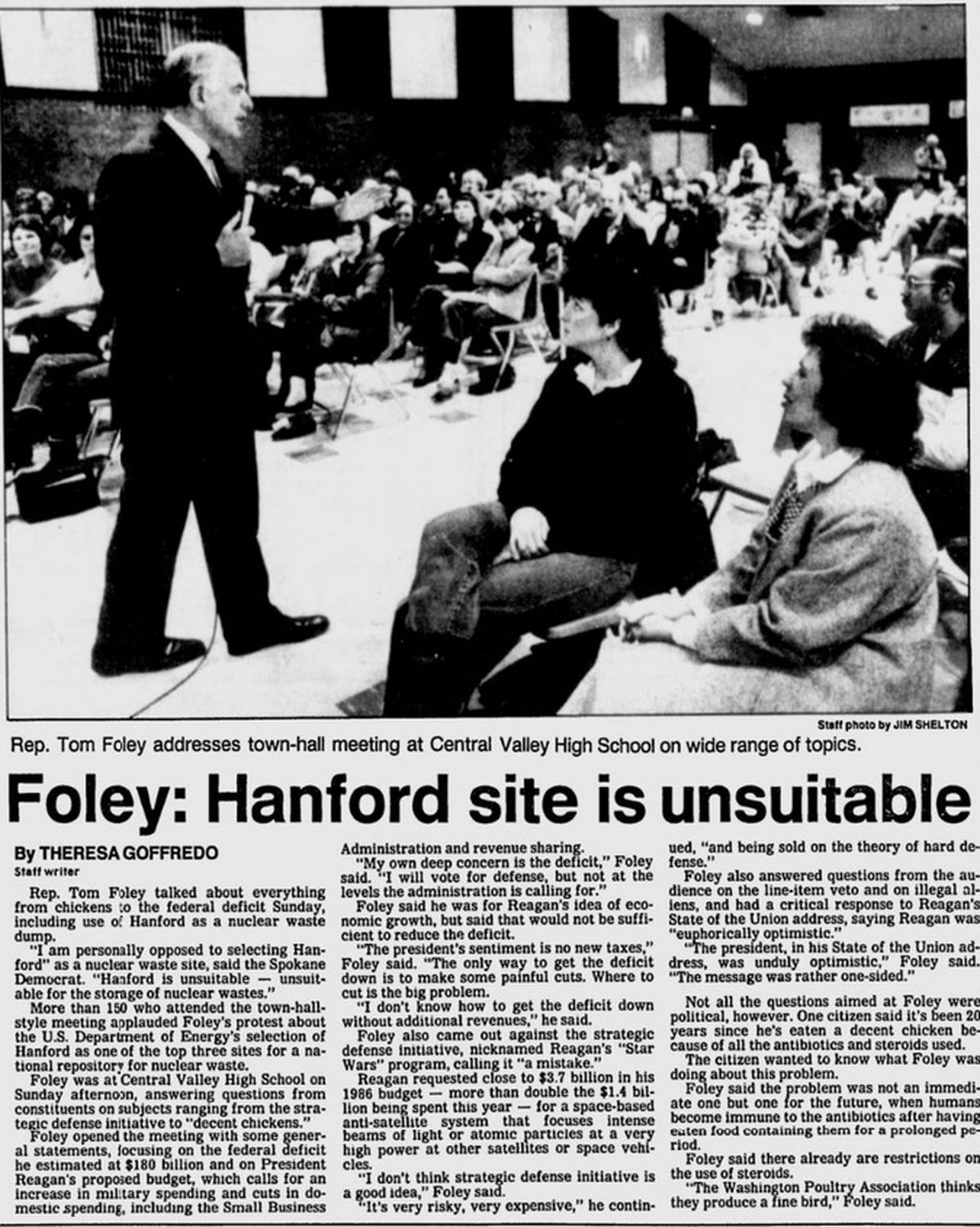 In this Feb. 18, 1985 article from The Spokane Chronicle, Rep. Tom Foley criticizes the use of Hanford as a nuclear waste dump. (Spokesman-Review Archives)
Anyone who thinks world affairs and national politics are tense now should consider the 10 days before Spokane native Tom Foley was elected speaker of the House.
Student protesters were facing down tanks in Tiananmen Square.
Iran's Ayatollah Khomeini died after running the country for 10 years, and a power struggle to replace him was starting.
President George Bush – no middle initials necessary – was in Europe calming NATO allies with a deal over short-range nuclear weapons, while military experts were saying the head of the Soviet Union, Mikhail Gorbachev, was lying about what his country was spending on its military.
That was 30 years ago. The U.S. House of Representatives had been convulsed for months over an ethics scandal involving Speaker Jim Wright, D-Texas, for Wright's sweet deal on royalties for a book he wrote and other questionable financial deals. As rumors of Wright's impending resignation multiplied, Foley, who as Democratic majority leader was in line for the speaker's job, continued to support Wright.
Foley's election was 30 years ago Thursday.
On May 27, House Majority Whip Tony Coehlo, a California Democrat next in the line of succession behind Foley, announced he was resigning rather than face an investigation of questionable purchases of high-yield junk bonds. On May 30, Pennsylvania Rep. William Gray, one of the main candidates to replace Coehlo, was reported to be under investigation by the FBI.
On May 31, Wright made an hourlong speech in House defending himself and denouncing "mindless cannibalism" in Congress, but announced he would resign the speakership in one week, as soon as the Democratic Caucus picked a successor.
One reason for the delay: Florida Rep. Claude Pepper, the most senior member of the House, had just died. In honor of his 58 years of service, Pepper would lie in state in the Capitol in the coming days, and many members of both parties would attend his funeral on June 4. Out of respect, the transition would wait.
There was no doubt that Wright's successor would be Foley, who at age 60 was majority leader and had begun his 13th term in the House representing Eastern Washington's 5th District earlier that year. The Spokesman-Review was so sure it prepared an eight-page special section of stories and photos about Foley's career and politics to run when he was elected as the first speaker from a Western state, and took the rare move of sending a reporter and photographer to Washington, D.C., to cover the upcoming vote.
With Congress out of session and Bush in Kennebunkport, Maine, after his successful NATO summit, attention in the capital that weekend turned to Beijing, where Chinese students seeking democratic reforms were occupying Tiananmen Square. The government, which earlier in the month had declared martial law, ordered them to leave, but the students' numbers continued to grow. The government sent in troops, but students and others blocked their way. Eventually, the troops opened fire on protesters around the city, and tanks moved toward the square.
Chinese Americans and Chinese exchange students in and around Washington, D.C., flooded into the capital to protest at the Chinese Embassy and demonstrate in the National Mall. Similar protests occurred around the country, including in Spokane's Riverfront Park.
On Sunday in the United States – Monday in Beijing – a lone protester faced down a Chinese tank, and the video of him climbing onto the tank to talk to the crew briefly become a symbol of the pro-democracy protest. But the army continued to kill protesters and some bystanders, and different military units began to fight for control of the city.
In Tehran, Khomeini's funeral was attended by thousands, although at one point in the procession to the burial, mourners knocked the body to the ground and ripped the shroud to pieces for mementos.
Congressional leadership returned from Pepper's funeral late Sunday and prepared for the transition from Wright to Foley, which would involve two votes on Tuesday – first by the House Democratic Caucus, in which Foley would be the only candidate, and then by the full House, in which he would run against House Minority Leader Bob Michel of Illinois in what would be a straight party-line vote.
No speaker had ever resigned in mid-term under the cloud of an investigation. Typically, they announced they were leaving the speakership and Congress a year in advance, giving the majority time to pick a replacement and the leadership positions immediately below. Although Foley was clearly the next speaker, resignations and controversy were opening up the rest of Democratic leadership.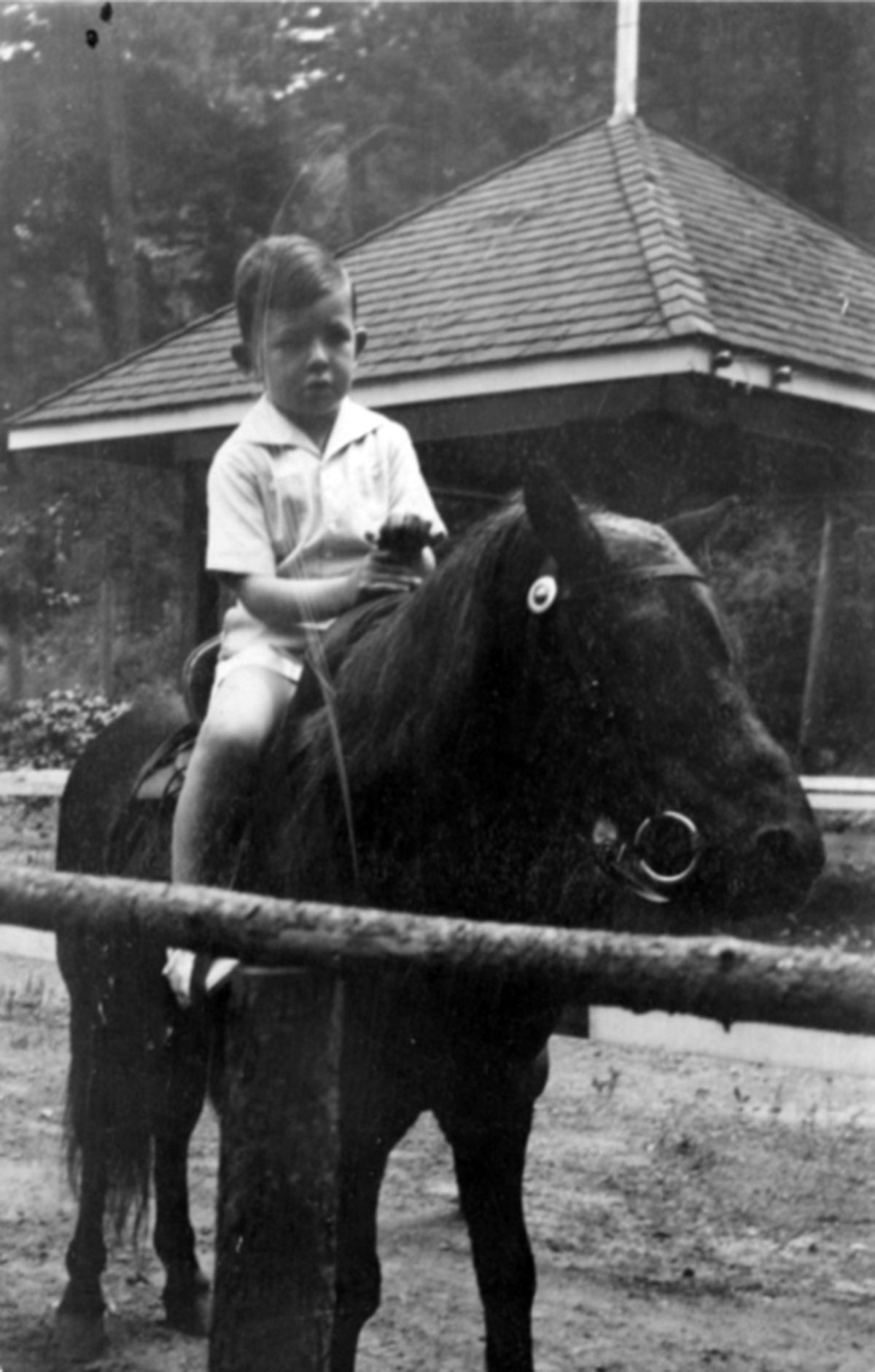 Young Tom Foley riding a pony at a Spokane Valley stable in the 1930's. (Photo Archive / The Spokesman-Review)
But as preparations got underway, the Republican political machine seemed to reload and take aim at Foley. A staff member for Rep. Newt Gingrich, then the second-ranking House Republican, floated a rumor to a New York newspaper columnist that Foley was gay and the Republican National Committee released a memo that seemed to underscore that with the title "Foley: Out of the Liberal Closet" and comparing his voting record to Massachusetts Rep. Barney Frank, who was then the only openly gay member of the House.
Gingrich denied his staff was spreading rumors about Foley, adding the new speaker "is a decent human being with a very legitimate and solid record." Bush, described by his chief of staff as very upset, later ordered the staff member who prepared the memo fired and chastised the staffer's boss, Lee Atwater.
In his acceptance speech, Foley tried to calm the congressional waters that had been roiling for months. He urged representatives on both sides "to debate and decide with reason and without rancor." He was complimentary of Wright, predicting at some point the controversy would be forgotten and the former speaker would be remembered as strong and effective.
In a press conference after his installation, he refused to take the bait of denouncing the RNC memo, saying he hadn't read it and wasn't going to respond to every piece of campaign literature.
"They're not part of the government. They're part of a permanent operation to plan and wage political warfare. I'm not going to preoccupy myself with them," he told reporters.
Asked if he felt like shouting for joy after his election, he said "It's been a little too busy of a day for a 'Yippee!' "
Asked to describe himself to the rest of the country, he said he was proud to be a lifelong Democrat, and would probably be classified as a liberal because of his support for civil liberties, civil rights and the belief that government can solve some of the country's problems.
He also tried to undercut claims by Republicans that the Democrats' long control of the House, at that point 35 straight years, had corrupted them. The House turnover was 93 percent since he was elected in 1964, and 55 percent in the past nine years, he said. Because it holds elections every two years, the House most closely reflects the views of the nation, he said.
In five years, Foley would become a prime exhibit in proving his point. In a Republican tidal wave, Foley became the first sitting speaker since the Civil War to lose re-election, as the GOP gained control of the House for the first time since 1954 and elected Newt Gingrich speaker.
Local journalism is essential.
Give directly to The Spokesman-Review's Northwest Passages community forums series -- which helps to offset the costs of several reporter and editor positions at the newspaper -- by using the easy options below. Gifts processed in this system are not tax deductible, but are predominately used to help meet the local financial requirements needed to receive national matching-grant funds.
Subscribe now to get breaking news alerts in your email inbox
Get breaking news delivered to your inbox as it happens.
---