News > Spokane
Family connections help couple take the plunge in the resort business at Loon Lake
Tue., June 4, 2019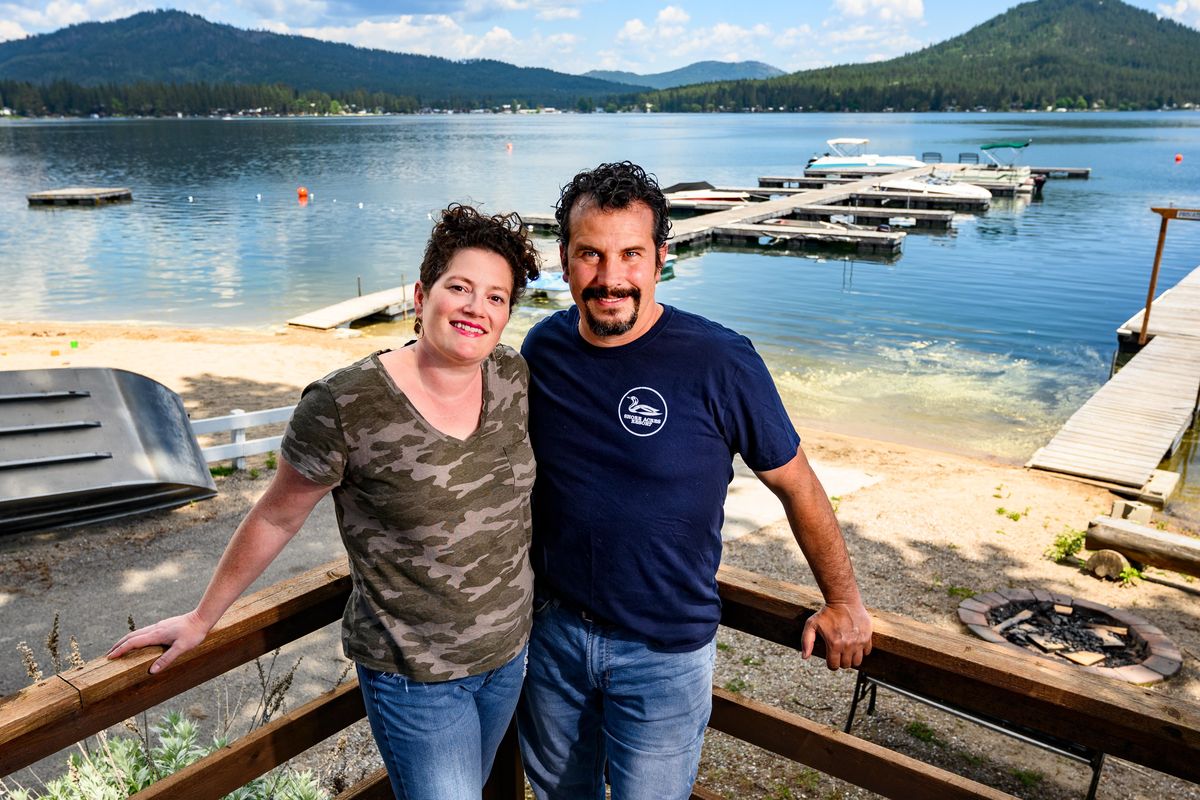 Spokane couple Katy and Jim Byrnes, former owners of the Sweet & Savory ice cream truck, have purchased the Shore Acres Resort in Loon Lake. They had a grand opening Saturday, June 1. The resort is special to the couple because Jim used to spend summers there as a child and Katy's grandparents spent their honeymoon there. (Colin Mulvany / The Spokesman-Review)Buy a print of this photo
For Spokane couple Jim and Katy Byrnes, purchasing the Shore Acres Resort in Loon Lake is not only about providing travelers with a place to unplug and enjoy nature, it's about preserving family history.
The Byrneses have come full circle in acquiring the Shore Acres Resort in May for $1 million. Jim used to spend summers there as a child, and Katy's grandparents honeymooned at the resort in 1946.
"We've kind of been wanting this our whole life," said Jim Byrnes, adding that his father owned a trailer at the resort for many years and was unsuccessful in purchasing the property in 1989. "It's kind of like we are doing this for the whole family."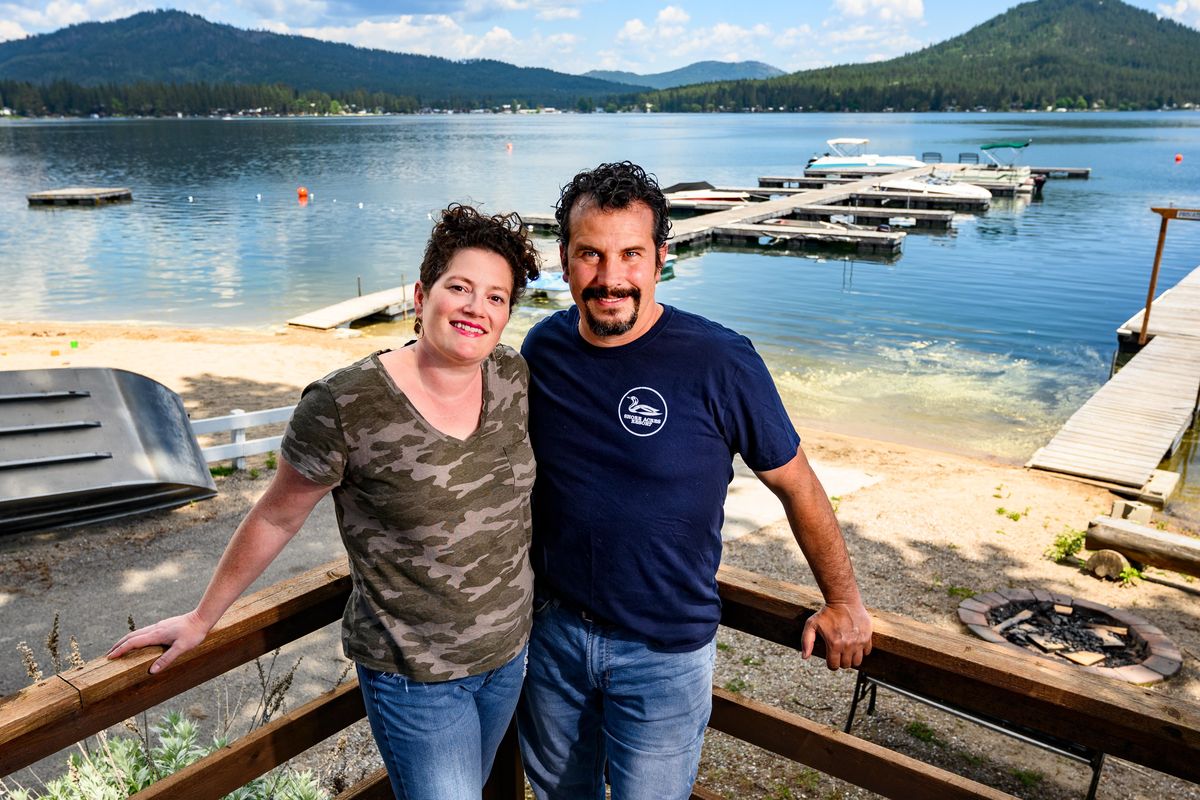 Spokane couple Katy and Jim Byrnes, former owners of the Sweet & Savory ice cream truck, have purchased the Shore Acres Resort in Loon Lake. They had a grand opening Saturday, June 1. The resort is special to the couple because Jim used to spend summers there as a child and Katy's grandparents spent their honeymoon there. (Colin Mulvany / The Spokesman-Review)Buy a print of this photo
Katy Byrnes said they were visiting Jim's father, who owns a home in nearby Shore Acres Estates, last fall when they spotted a "for sale" sign at the resort.
"We walked around and talked to the former manager. (The resort) was pretty run down and it needed a lot of work," Katy Byrnes said. "We talked about it and kept in touch with the owner's widow, who was 80. Then, in March, we sat around my dining room table and they were ready to let it go and we were ready to take over."
The Byrneses have launched several different businesses over the years that include a vocational school, a poker magazine and the Sweet and Savory ice cream truck. This is the couple's first venture into resort ownership.
"Jim and I have been looking for the right place for us to land and build a business and at the same time to raise our family in a cool environment," said Katy Byrnes, referring to Shore Acres Resort. "We saw a need, dove in and learned everything we could. There's a learning curve, but it doesn't scare us. We have a deep love of this place, which makes a difference."
When learning about Shore Acres Resort during the purchase process, Katy Byrnes also found out her grandparents honeymooned at the site.
"I heard they honeymooned on Loon Lake, but I didn't know it was this particular property," she said.
Katy's grandparents, James and Doris Elliott, eloped in 1946, despite objections from James' mother, Bertha. His brother, Wyatt, was placing cabins on their foundations at Shore Acres Resort when he heard the couple had eloped and invited them up to the resort.
"My grandparents went up there and spent their honeymoon weekend there," said Katy Byrnes, noting that Shore Acres Resort opened the following summer.
Doris, who was referred to as "Mimi" by her grandchildren, died in 2015. James, 92, recently visited the resort.
"He was excited to look around and he said, 'Mimi would just have been thrilled we were doing this,' " Katy Byrnes said.
The seller was the estate of Robert Overton, represented by Shirley Overton. The transaction was handled by Joel Crosby of Coldwell Banker Tomlinson Commercial Real Estate.
The Byrneses have been working since April to revive the 3-acre resort – which has a 210-foot private beach – by replacing siding, repairing water damage and painting the cabins.
"We're pretty excited, even with the work going on," Katy Byrnes said. "Just cleaning it has made it worlds better."
The resort, which celebrated its grand opening Saturday, features 11 cabins and 25 RV sites for rent, a country store with an original 1950s beveled glass candy counter and Lizzie's Laughing Loon Café, which was named in memory of Jim's sister, who died in a car accident on U.S Highway 395 two years ago.
The cafe includes a walk-up window to order food as well as a patio where customers can sit and enjoy fresh-roasted turkey sandwiches, burgers, homemade pastas and pan-fried oysters, among other dishes.
The country store sells fishing supplies, resort apparel, souvenirs, snacks, soda, beer and wine. It also has a coffee counter with Italian sodas, cold brew drinks and baked goods.
The cabins rent for about $130 a night, are equipped with full kitchens and Wi-Fi, and are available to book online.
"For a family of five, it's cheaper than a hotel and the furthest cabin from the water is a two-block walk," Katy Byrnes said.
Guests can rent canoes, kayaks and row and motor boats at the resort, which is also selling day passes to people looking to spend a day at the lake. Day passes are $7 for adults and $3 for children.
"We just want people to come, unplug and go enjoy the lake," Katy Byrnes said. "We are already renting cabins, and the RV park has been full all week."
The Byrneses don't just see operating the resort as a monetary investment, but a place for people to make memories with their families, much like they did.
"I want more families to come to a place where it's easy to be engaged with each other, make memories and come back every single year," Katy Byrnes said. "We'd like to someday hand it down to one of our eight children."
Local journalism is essential.
Give directly to The Spokesman-Review's Northwest Passages community forums series -- which helps to offset the costs of several reporter and editor positions at the newspaper -- by using the easy options below. Gifts processed in this system are not tax deductible, but are predominately used to help meet the local financial requirements needed to receive national matching-grant funds.
Subscribe now to get breaking news alerts in your email inbox
Get breaking news delivered to your inbox as it happens.
---