Sports
Grip on Sports: The Mariners' mistakes are so odd these days all anyone can do is laugh – or cry
Tue., June 4, 2019 A GRIP ON SPORTS • Just when you thought the Mariners had bottomed out, they show that, this year at least, the bottom may never be reached. And that they are bad enough to be entertaining in a perverse way.
••••••••••
• The result from last night's series opener with the Astros wasn't all that surprising, considering the standings. Houston won 4-2 despite not playing three of its best players.
But that's not we are not here to bury the M's. Nope. They've done that to themselves. We are here to praise them.
Not since the 1962 New York Mets has a team been this brutally inept in the field. So much so, in fact, they are worth keeping track of just to see what clown-car play they'll pull next.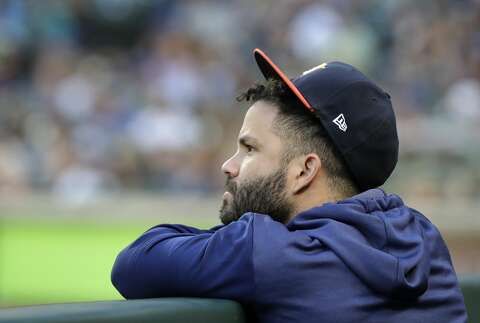 Back then, veteran manager Casey Stengal actually asked a reporter "can't anyone here play this game?" The answer then was "no."
For the M's, the answer is yes, but with a caveat. Not well. Whether it is leftfielder Domingo Santana jogging after balls in the corner, or centerfielder Mallex Smith waiting for a bus before breaking on a fly ball, or Tim Beckham booting another ground ball, many of this team's players are, for lack of a better term, conscientious objectors when it comes to playing defense.
But nothing surpasses what happened in the sixth inning last night, allowing the Astros to score their final run.
With runners on first and third and one out, Wade LeBlanc – the opener idea works for just about everyone except the M's, doesn't it? – induced a soft ground ball to shortstop Dylan Moore's right. Alex Bregman broke for home to stay out of the double play, a play that Moore had no chance to make. Nope, he had one play. Throw Bregman out at the plate. His throw beat the Astros' runner by six feet – and kept going.
Catcher Omar Narvaez wasn't there. He seemed to have been headed down to back up first. Oops.
The ball did bounce off the backstop in such a way as to keep the other runners at first and second, but the damage was done. Mainly to Seattle's already tarnished reputation. Video of the so-sad-you-have-to-laugh play spread over social media like lighter fluid on charcoal. And prompted a question.
Can't anyone here play this game?
• Brian Green is going to find out the same thing in Pullman.
Green is athletic director Pat Chun's choice to lead the Washington State baseball program, leaving New Mexico State to head north. After the 11-42-1 season that just occurred at WSU, Green may wonder if he'll get an affirmative answer.
Green's Aggies won almost as many games this season as the Cougars lost, and consistently pounded the ball in the process. That's what he's known for, recruiting hitters and making them even better. New Mexico State hit a nation-leading .356 this season and also led the NCAA in seven other offensive categories.
Now Green will try to get the Cougars to do the same in the Pac-12.
•••
WSU: Theo Lawson has more on the Green hire in this story and talks with Larry Weir about Cougar athletics in Monday's latest Press Box pod. … Elsewhere in the Pac-12, baseball news seems to be all the rage. UCLA and Stanford won last night to move on to the Super Regionals. … Oregon State's former coach, Pat Casey, needs to decide if he is coming back. … Oregon has yet to pick a new coach. … Speaking of picks, Oregon State catcher Adley Rutschman was the overall No. 1 pick in the baseball draft. … UCLA's softball team pounded Oklahoma and is one win away from a national title. … There is basketball news from Colorado and USC. … There is football news from USC and Colorado.
NIC: The Cardinals have a new wrestling coach, tapping Michael Sebaaly to fill the vacancy.
Chiefs: Top draft pick Ben Thornton signed with Spokane yesterday.
Golf: Spokane's Alex Prugh finished high enough in sectional qualifying Monday to earn a spot in the U.S. Open. Jim Meehan has more in this story.
Boxing: After Andy Ruiz's shocking upset in New York City, Ryan Collingwood spoke with Spokane's Chauncy Welliver about the state of the heavyweight division.
Mariners: Yes, the M's lost. Again. Since the 13-2 loss, they have won less than one in every four games. And the opener idea didn't work. … But don't despair. Seattle drafted three college pitchers in the first-year player draft, so the future is in good arms, so to speak. … Gene Warnick has his Out of Right Field recap.
•••       
• A couple things you can be sure about. The Mariners will celebrate their past. And sell us on their future. The way the present is going, it makes sense to do both. Until later …
Local journalism is essential.
Give directly to The Spokesman-Review's Northwest Passages community forums series -- which helps to offset the costs of several reporter and editor positions at the newspaper -- by using the easy options below. Gifts processed in this system are not tax deductible, but are predominately used to help meet the local financial requirements needed to receive national matching-grant funds.
Subscribe to the sports newsletter
Get the day's top sports headlines and breaking news delivered to your inbox by subscribing here.
---