News > Crime/Public Safety
Bronze medallions stolen from Centennial Trail recovered
June 5, 2019 Updated Wed., June 5, 2019 at 9:02 p.m. As is tradition, 82-year-old Ed Stretch took a trip to the Centennial Trail this past weekend.
Just like the year before, when the sun comes out and the temperature rises, it was time to visit and polish his father Pat Stretch's bronze medallion embedded along the side of the Centennial Trail's Miracle Mile – a span running east from Riverfront Park over the Don Kardong Bridge and onto the Gonzaga University campus.
"For Pat Stretch," it reads. "Keep the Faith. From the Family."
Only this time, he couldn't find the tiny piece of metal memorializing his father, who was buried about 25 years ago in Butte. It was gone. Missing. Stolen – taken a few weeks ago to a local recycling facility, where the thief or thieves tried to pawn it off for about $1.18.
"But the recycling plant didn't take them. That helps in here," said Ed Stretch, joined by his son, Pat Stretch, his granddaughter and sister, as he pointed toward his chest. "That helps in here."
Stretch's medallion wasn't alone. A total of 121 of the 4-inch, round bronze medallions were recently nicked from the Miracle Mile, said Loreen McFaul, the executive director of the Friends of the Centennial Trail, the nonprofit that oversees the 37-mile pathway.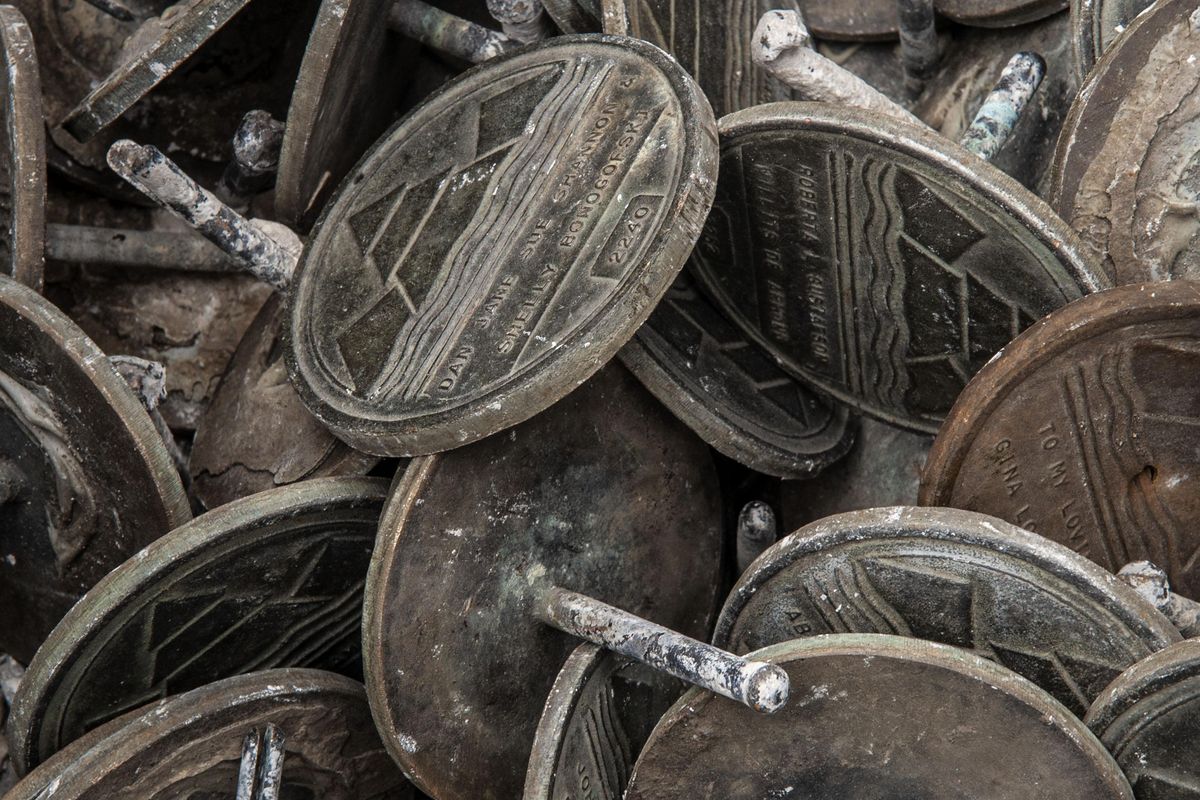 Some of the hundreds of Centennial Trail medallions stolen, or damaged are photographed in Spokane on Wednesday, June 5, 2019. The medallions were purchased to commemorate loved ones, honor special events and celebrate accomplishments. (Kathy Plonka / The Spokesman-Review)
The nonprofit was alerted after a nearby resident noticed a stretch of torn up concrete and missing bronze while on a leisurely run over the weekend.
"I've never had a rash of thefts like this," said McFaul, who's led the group for about six years.
The 3,693 trail fixtures, often memorializing a lost loved one or displaying a family name, were installed in the late '80s and '90s for about $100 apiece to "permanently acknowledge the first individuals who enthusiastically step forth in support of the Centennial Trail," Kardong said in a 1988 Spokesman-Review story that was headlined "Trekkers will tread on names."
The thief or thieves attempted to sell 44 of the bronze medallions on May 18 – the same day as the Spokane Lilac Festival parade – to Action Recycling off Hamilton Street and Marietta Avenue, where police were notified by owner Hap Ahlborn and his son, Glen Ahlborn.
That particular group of medallions had been ground down, removing the names, identifying number and an etching of trees on the top half. They included the Stretch medallion.
"When the guy brought these in, we knew what they were," Hap Ahlborn said. "But when we called the police, they were too busy. They were too busy with the parade to get them up here."
Bruce Geer, a regular who often sells aluminum cans to Action, said he was approached by a young man and a woman in a black sedan as he made his way toward the center. He said he was offered a split of the profit if he sold the whole lot.
"I didn't know what they were," he said. "So I did."
Glen Ahlborn said he knew right away Geer didn't steal them. When he pointed out the black car, the workers wrote down the license plate and provided it to police.
The other group of 77 medallions, which remained mostly unscathed, were sold to American Recycling Corp. on Mission Avenue for $89. Because a transaction was completed, a name of the suspected thief was handed over to police.
Sgt. Terry Preuninger said detectives were building toward making arrests.
"We have leads on numerous suspects," he said.
On Wednesday, McFaul and the nonprofit's board of directors walked along the Miracle Mile, categorizing and counting all of the missing medallions. While they were aware of 121 recently taken by force, 329, or about 10%, were missing.
Still, dozens of others were bent and misshaped, likely at the hands of someone trying to pry them lose. In 2005, the trail medallions underwent a similar defacing, when 40 were stolen in the same area near the Spokane Convention Center.
The majority of stolen medallions came from a stretch near the Washington State University Spokane campus, a few dozen yards from the bridge. That's where a medallion memorializing the family of Pastor Bob Smith of the One North Church in Mead was taken.
Paid for by Arlene Smith, Bob Smith's mother, it commemorated Guy and Catherine Gifford, the grandparents of Department of Natural Resources' Guy Gifford, a man who talks to media often as the spokesman for the agency's Northeast Washington Interagency Communication Center in Colville.
"I didn't even know she bought it," Gifford said of his aunt. "I guess sometimes things like this bring the family back together."
Bob Smith said his mother, who died about 15 years ago, took pride in the purchase. Like the Stretches' medallion and dozens of others, it was one of the best ways she could remember those no longer with us.
"It'd break her heart. It really would," Bob Smith said. "I guess you'd never think this type of thing would happen."
Local journalism is essential.
Give directly to The Spokesman-Review's Northwest Passages community forums series -- which helps to offset the costs of several reporter and editor positions at the newspaper -- by using the easy options below. Gifts processed in this system are not tax deductible, but are predominately used to help meet the local financial requirements needed to receive national matching-grant funds.
Subscribe now to get breaking news alerts in your email inbox
Get breaking news delivered to your inbox as it happens.
---