News > Education
Acknowledging help he's received, Mica Peak's Bol Pennington aims to give back
UPDATED: Thu., June 6, 2019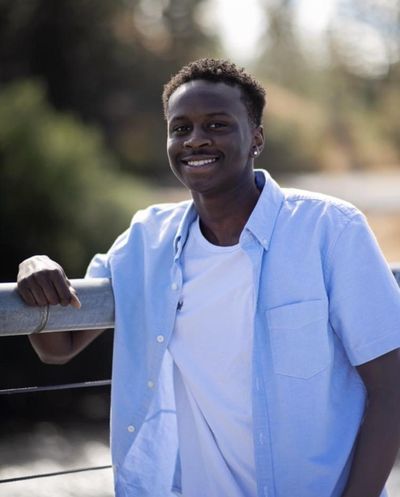 When he was a small boy, Sudanese-born Bol Pennington could never imagine going to college. His life then – when his mother fled to Egypt to escape the brutalities of the South Sudan civil war, including having to leave one child behind – and the years that followed for the family, years of assorted traumas, he could not even imagine a life of peace and security.
And yet here he is, about to graduate from Mica Peak High School as an Act Six Scholar, with a full-ride scholarship to Whitworth University in hand. Pennington is one of a select group of students who earned the scholarship, which unites urban ministries and faith-based colleges in providing young men and women the kind of education that can help them become community leaders themselves. He is the first student from his school to receive the scholarship.
"He is a one-in-million person," said Star Chavez, student support official at Mica Peak. "He is a person with such a grateful heart. His spiritual walk is important to him and is how he survived, I believe. He does not have a victim's mentality and has emerged a whole person."
Pennington prefers not to focus on the details of his childhood, but he does mention his mother's trek on foot to Egypt, coming to America as a child, homelessness, a difficult custody battle, physical abuse and other painful experiences that tore his fractured family apart. Eventually, he and his sister and three half-sisters were removed from the family, and they all entered the foster care system.
"I have love and respect for my mother and don't want anyone to think she was a bad parent," Pennington said. "She just had too much trauma in her life."
When he was 14, Rick and Colleen Pennington, the parents of a friend he played basketball with, took him in and adopted him. "They thought I was special and wanted me to be their kid. It was my time to get to really be a kid. They took care of me. I love them for that."
When he was a freshman in the Central Valley School District, he began suffering from depression and PTSD and went for counseling. "Something inside me knew something wasn't right, that I was better than how I was. I learned it's so unhealthy to keep it all inside." After that realization and starting therapy, in school his average went from a 1.8 GPA to 3.7 in one quarter.
Pennington believes everything in life is linked, that there is no way that all that has happened has occurred by accident. "God is my connection," he said. "If you ask God to help, you find a path for your life, God will show it to you, but it's ultimately up to you to make the changes, take the path."
It was at Mica Peak that he learned about the Act Six program, so he set out on the path to try to earn it. He intends to take his time to find the right subject for him to study at Whitworth. He knows he wants to do something useful, that returns goodness and kindness to the community, and perhaps help people in Sudan as well.
"I want to go to school so I can help people," he said. "All my life, I have been helped – to survive, to be rescued, to be nurtured. I want to give back."
Local journalism is essential.
Give directly to The Spokesman-Review's Northwest Passages community forums series -- which helps to offset the costs of several reporter and editor positions at the newspaper -- by using the easy options below. Gifts processed in this system are not tax deductible, but are predominately used to help meet the local financial requirements needed to receive national matching-grant funds.
Subscribe to the Coronavirus newsletter
Get the day's latest Coronavirus news delivered to your inbox by subscribing to our newsletter.
---