News > Education
Fully alive and notching goals, Riverpoint senior Peyton Lightsey thanks teachers
UPDATED: Thu., June 6, 2019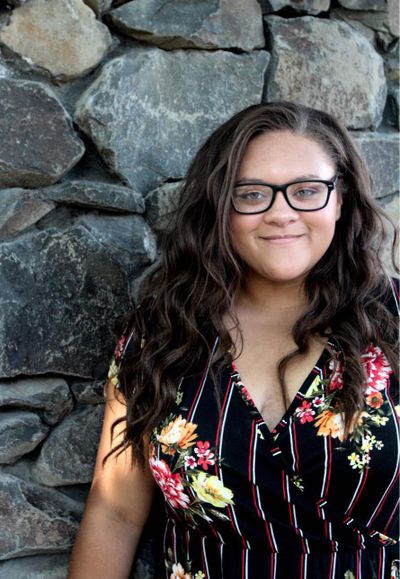 After undergoing hardships and health issues that would devastate many adults, Peyton Lightsey is rising from the ashes, stretching her wings and getting ready to soar.
"She's had to deal with a lot of adversity in her life. She's very resilient," said Riverpoint Academy teacher Regan Drew.
Lightsey said her family's struggles began in middle school when her parents split up.
"Both of my parents had good jobs that they ended up losing," recalled Lightsey. "My mom ended up becoming an alcoholic and depression took over my dad."
At 11 she was diagnosed with anxiety, depression and PTSD.
"We went from having everything to having nothing," she said. "I worried about if we'd have food or be able to keep the lights on."
Things grew grimmer.
"Last year we lost our house," said Lightsey.
One of four siblings, she concentrated on making sure she pulled her own weight in the family – more than her own weight.
"I started working at 13. Paying my own way was really important to me. I told my dad to take care of my two younger siblings and I'd take care of me," she said.
The family upheaval made it difficult for her to focus on schoolwork.
"School was kind of a struggle," she said. "But I always found a way. As long as I was passing I was OK."
Things got better for her family. Her dad and siblings now have a home in Deer Park, but a new diagnosis rocked her world.
In January 2018, Lightsey was diagnosed with an eating disorder.
"I wasn't eating for half a year," she said. "The eating disorder took everything. I lost almost every friend I had and some family members. Going to treatment and accepting I had an eating disorder was really hard."
But she's thankful she entered treatment and even more thankful that she found Riverpoint Academy her junior year.
"The learning pushed her outside her comfort zone," Drew recalled. "She was quiet at first, but we could clearly see she's a go-getter and very self-directed."
In no time, Lightsey was thriving in her new environment.
"It's the most fun I've ever had at school," she said. "I was actually able to grow as a learner and show what I can do. And I found my passion."
That passion is graphic design, something she plans to pursue at Eastern Washington University following graduation.
"The portfolio work (for college applications) was pretty demanding, but she buckled down and went after her goal," said Drew.
At Riverpoint, students are encouraged to apply to at least three colleges and Lightsey was accepted at all three.
"If I didn't go to Riverpoint I don't know if I'd be going to college," she said. "These are the best teachers I've ever met in my life. They go above and beyond."
The school staff is excited to watch her dreams take flight.
"Her potential is really just starting to be tapped," said Drew. "She's a very strong young woman."
And Lightsey eyes her future with the same grit, determination and resiliency that shaped her past.
"I'm alive and I'm achieving every goal I had," she said. "I feel like I'm finally starting my life. I'm finally living it."
Local journalism is essential.
Give directly to The Spokesman-Review's Northwest Passages community forums series -- which helps to offset the costs of several reporter and editor positions at the newspaper -- by using the easy options below. Gifts processed in this system are not tax deductible, but are predominately used to help meet the local financial requirements needed to receive national matching-grant funds.
Subscribe to the Coronavirus newsletter
Get the day's latest Coronavirus news delivered to your inbox by subscribing to our newsletter.
---