News > Education
Map senior Faith Wisehart proud of 'how far I've come'
UPDATED: Thu., June 6, 2019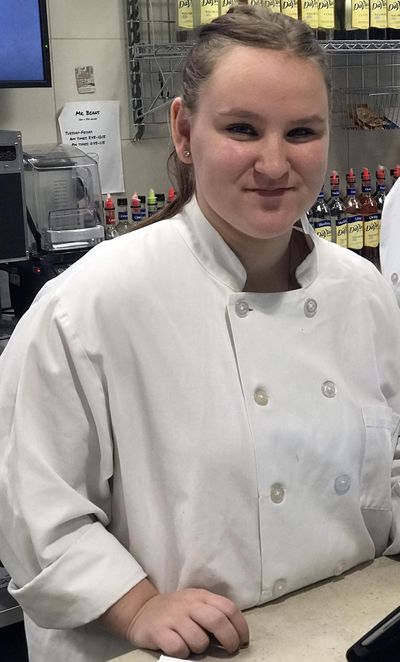 Faith Wisehart, 18, loves to cook and finds it calming.
"It's just my passion," she said. "I grew up helping in the kitchen. It kind of just became a love for me."
Her signature dish is Swedish meatballs with real potatoes. Someday she hopes to make orange chicken part of her repertoire. She mostly cooks by memory and creates her own recipes.
Wisehart has been studying cooking at Spokane Public Schools' Newtech Skill Center for the past two years.
She also is a senior at Map, a program for students in grades seven through 12 who have been diagnosed with mental health issues. It is small and housed at North Central High School.
She enrolled in Map her freshman year when her mother gave her an ultimatum: Map or homeschool. She struggled in junior high and had behavior problems.
"At first I didn't want to go there because I felt like I wasn't gonna be normal," Wisehart said. "I grew to love it. The teachers are very, very supportive. They always make sure you are successful."
Her mother was right.
"I'm proud of myself for how far I've come, how much better I'm doing," Wisehart said. "I'm more happy."
Celena Breach, one of Wisehart's teachers at Map, also is proud of her progress.
"Faith came to us as a freshman who really struggled with self-awareness, appropriate relationships and lacked confidence in her abilities; however, she was eager to put in the work to be successful," Breach said. "Faith has completely reinvented herself and has matured into a young lady with drive to be successful in the classroom, in the culinary world and with her relationships in and outside of school."
Wisehart has been involved in school activities, such as assisting the bowling and soccer teams, preparing food for a bowling tournament and helping to raise funds for the Special Olympics. She also was named student of the month at Newtech.
"She has been a positive role model for all students here at Map and for her peers at Skill Center. … Faith has a very strong sense of family and friendship and strives to be a positive leader in all areas of her life," Breach said. "Faith's growth has been an inspiration to all of us here at Map."
Next year, Wisehart hopes to hone her passion when she enrolls in Spokane Community College's culinary program. She also plans to take business classes.
Her dream is to open a restaurant in the middle of the food district in New Orleans, a place she has yet to visit.
"I just think the culture is so interesting," she said.
Local journalism is essential.
Give directly to The Spokesman-Review's Northwest Passages community forums series -- which helps to offset the costs of several reporter and editor positions at the newspaper -- by using the easy options below. Gifts processed in this system are not tax deductible, but are predominately used to help meet the local financial requirements needed to receive national matching-grant funds.
Subscribe to the Coronavirus newsletter
Get the day's latest Coronavirus news delivered to your inbox by subscribing to our newsletter.
---