News > Education
Medical Lake High senior Sierra Brock earns admiration for her resilience, tenacity
UPDATED: Thu., June 6, 2019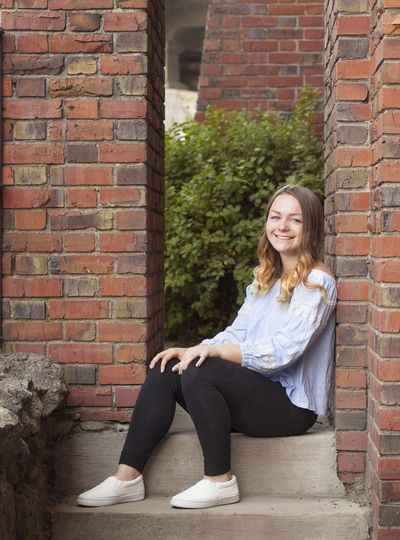 Despite the immense adversity that she has faced in her 18 years, Medical Lake High School senior Sierra Brock is no stranger to triumph.
Brock, a three-year member of the school's golf team, has maintained a stellar 3.91 GPA while also pursuing other interests, like being a teacher's assistant for math classes and leading a schoolwide community service program.
But her success in high school hasn't come without its challenges. During her junior year, after many years of struggle, Brock declared her emancipation from her mother. Then in January, Brock's father – one of her biggest supporters – died.
"People are like 'Well, there's not much more you can encounter at this point,' and it's almost a little nerve-wracking, like I'm just waiting for the next shoe to drop. But I feel like I'm pretty prepared and it also gives me a lot to push for and strive for and make me want to be better than people thought I was going to turn out to be," she said.
Medical Lake golf coach and mathematics teacher Jerry Ornelas first met Brock when she joined his advanced algebra class as a sophomore. After playing softball and volleyball in the past, he said Brock was hesitant to join the golf team, but eventually decided to give it a shot.
It didn't take long for Brock to find success with golf, too. "It almost seemed like it was natural for her, like she had been playing for a couple of years, but really she hadn't," said Ornelas.
Brock also works as a teaching assistant for two of Ornelas' math classes. "She's just a real coachable athlete and a very caring student. She's unbelievable and I am not even sure how I am going to do it without her next year," he said.
In addition to her work in the classroom, Brock runs Medical Lake's Bite2Go program, which provides children in low-income families with food. Every other week Second Harvest supplies the program with food, which is packed up for kids to take home.
Brock's willingness to give back, as well as her ability to thrive in the face of tragedy, has continuously inspired the community that surrounds her.
"The way she uses those challenges to make a positive direction in her life is something I think we all could learn from right now, because we all have challenges in our lives that could potentially hold us back, but she has never once made any excuses in her life, not once, and to me that is definitely something that is unique. I admire her tenacity," said Lisa Prewitt, Brock's high school counselor.
Looking at all that Brock experienced during her four years of high school, it remains clear that she never lost sight of her future.
"People always ask 'What's your proudest day?' And honestly I think it was the day I was in court with my mom. She did a lot of bad things when I was younger and I just felt like she was a really bad influence on me and I wanted to look out for my future, so I left. It was nice to unattach myself from that," she said.
Prewitt said Brock's resilience and friendly nature have left an impact on those fortunate enough to have gotten to know her during her time at Medical Lake.
"I will miss that positive can-do attitude of against all odds I'm not going to let anything hold me back, I will take this and run with it. You don't find that every day among adults or kids and I think that's really inspiring for other students to see as well. She's just approachable and real and somebody that just wants to help everyone be better," Prewitt said.
In the fall, Brock will attend Whitworth University and pursue a degree in biology. Eventually, she hopes to go to medical school.
Local journalism is essential.
Give directly to The Spokesman-Review's Northwest Passages community forums series -- which helps to offset the costs of several reporter and editor positions at the newspaper -- by using the easy options below. Gifts processed in this system are not tax deductible, but are predominately used to help meet the local financial requirements needed to receive national matching-grant funds.
Subscribe to the Coronavirus newsletter
Get the day's latest Coronavirus news delivered to your inbox by subscribing to our newsletter.
---