News > Education
North Star senior Gabriella Alvarez blossoms, finds her voice, and now encourages others
UPDATED: Thu., June 6, 2019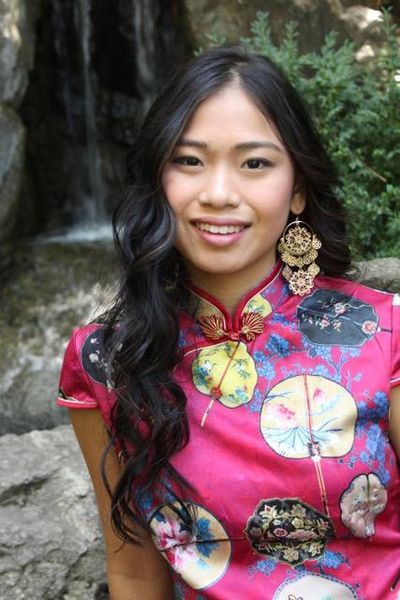 Once introverted and shy, North Star School senior Gabriella Alvarez overcame a speech impediment to find her voice through YMCA's Youth and Government program.
Alvarez, who serves as youth governor for the program this year, made it a goal to advocate for others who may not have a voice.
"Last year, I decided I wanted to run for youth government," she said. "I wanted to do it to share my story and encourage kids they have a voice, they can use it to make change and their voices matter."
Alvarez, who became the first youth governor from Eastern Washington in the 72 years of the program's existence, had an opportunity to present the opening address on the Washington State Senate floor in February.
An orphan born in southern China, Alvarez was adopted by a Spokane family at 11 months old. When Alvarez was 13, her parents enrolled her in the Y's Youth and Government program, which allows kids to develop leadership skills, learn about public service, and write laws. Teens from around the state gather in Olympia each May.
Alvarez recalls being terrified of public speaking, and was ridiculed by peers and adults for how she pronounced words prior to entering the program.
"The very first meeting I had to debate ice cream versus Popsicles," she said. "The delegation and advisers were encouraging of my speaking efforts. Slowly but surely, the program, my parents and advisers helped me develop a voice and blossom."
When Alvarez received her bill book after joining the program, she read each of the 400 bills, researched and prepared for debates, and earned the title "Future Congressperson" in her first year.
She also participated in the YMCA Mock Trial program, in which teams of students from around the state argue legal issues in front of real judges and lawyers.
While attending North Star School, Alvarez made an effort to give back to the community. She was awarded a Youth United Mini Grant through Spokane County United Way, which she used to create a calendar for the Spokane Humane Society with sale proceeds going to the organization.
Alvarez volunteers there, assisting with the website and taking photos of animals.
"I love animals and photography," she said. "It gives me the opportunity to combine my passions to make a difference."
Alvarez will attend Eastern Washington University in the fall to pursue a bachelor's degree in graphic and website design with a minor in web development, so she can create and code websites.
Alvarez would like to open a business that helps nonprofits with their websites.
Shellie Jones, a lead teacher at North Star School, said Alvarez has a great work ethic.
"We are an alternative program, so the students aren't on campus a whole lot, but when they are she is definitely a leader," Jones said. "She makes sure everything is well-organized and makes sure everyone is included in activities. She's just an all-around kind of kid. She's just really kind to everyone."
Alvarez, who went from barely being able to speak to an audience to advocating for values to be put into law, encourages youth to speak up.
"To other students that are shy and introverted, my advice to them is: What they have to say matters," she said. "Voice matters and is important."
Local journalism is essential.
Give directly to The Spokesman-Review's Northwest Passages community forums series -- which helps to offset the costs of several reporter and editor positions at the newspaper -- by using the easy options below. Gifts processed in this system are not tax deductible, but are predominately used to help meet the local financial requirements needed to receive national matching-grant funds.
Subscribe to the Coronavirus newsletter
Get the day's latest Coronavirus news delivered to your inbox by subscribing to our newsletter.
---