News > Education
Speaking volumes through her art: Riverside senior Sandra Kunkel sometimes sees herself in her pieces
UPDATED: Thu., June 6, 2019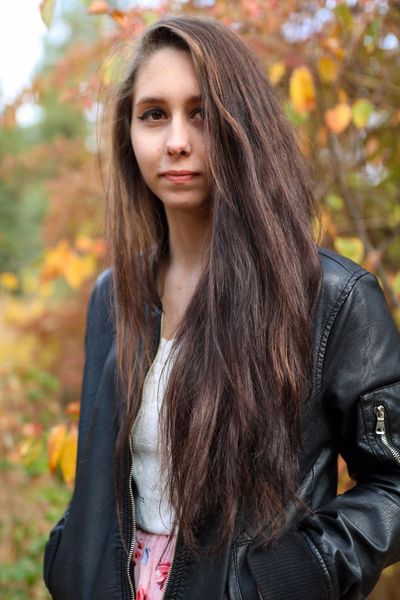 Riverside High School senior Sandra Kunkel is quiet and soft-spoken, but she doesn't need words to make herself heard. She speaks through her art.
One recent sketch shows a young woman, seen from behind, reaching up toward a giant hand that is reaching down toward her from above. But there are chains wrapped around her arms, each clasped by a hand intent on pulling her down. No other people are seen, just the hands pulling on the chains.
Kunkel said she sometimes sees herself in her art. "Most of my recent ones have been like that," she said.
Her latest project is a sketch of a human rib cage made of thorns and instead of a heart at its center there is a rose. It's not something she would normally draw. "I wanted to do something with flowers and someone suggested it," she said.
Usually Kunkel finds herself drawn to faces and often draws portraits, but said she's trying to expand her skills. "I like to draw people, mostly," she said. "I've been trying to draw other things."
Kunkel said she started drawing when she was little but didn't start to focus on it until middle school when she began taking art classes. But even then she wasn't sure how much skill she had.
"I didn't really think I was that good at it, but I wanted to get better at it," she said. "It's kind of a way to express yourself."
She likes to do pencil drawings and also works with acrylic paint. This year she has been taking a Senior Studio art class where there are few restrictions. "I can just do whatever I want in there," she said.
School counselor Jeanne Powers said Kunkel is a quiet student who gets good grades but doesn't call attention to herself. "She's worked really hard. We're just really proud of her accomplishments."
Her sketches have not gone unnoticed. Powers said Kunkel has taken art every year in high school. "She's really a talented artist," she said.
Kunkel has attended Riverside schools since kindergarten and lives with her mother and siblings. She has three sisters and two brothers and is toward the middle of the group. Two of her sisters are older than she is. "It's not lonely," she said.
She hasn't participated in extracurricular activities in school, preferring to focus on her art.
After she graduates from high school, she plans to attend classes at Spokane Falls Community College before transferring to Whitworth University. She said she wants to do something art-related and is thinking about studying graphic design.
"I've been told a few times that art is not a career," she said.
She also wants to do illustration work and has already drawn several characters for someone she knows.
Though she may not be able to make a living with her sketches, Kunkel said she's grateful for the encouragement she's received from people close to her.
"If it weren't for my uncle and my friend, I probably wouldn't be doing art right now," she said.
Local journalism is essential.
Give directly to The Spokesman-Review's Northwest Passages community forums series -- which helps to offset the costs of several reporter and editor positions at the newspaper -- by using the easy options below. Gifts processed in this system are not tax deductible, but are predominately used to help meet the local financial requirements needed to receive national matching-grant funds.
Subscribe to the Coronavirus newsletter
Get the day's latest Coronavirus news delivered to your inbox by subscribing to our newsletter.
---