News > Education
West Valley senior Kyle Mangum credits Hutton Settlement for his success
Thu., June 6, 2019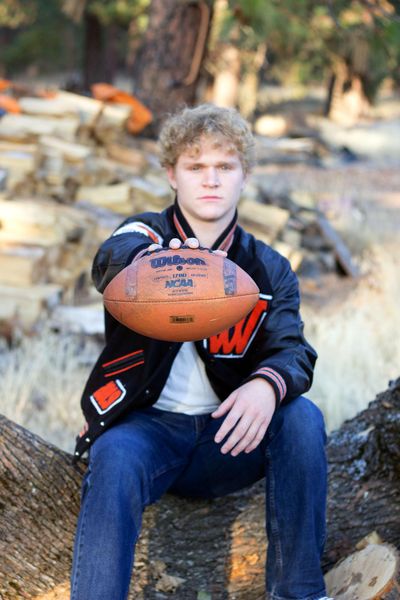 West Valley High School senior Kyle Mangum set two goals before graduation: complete 400 hours of community service and maintain a 4.0 grade point average.
Mangum achieved both of those goals this school year – and then some – by demonstrating leadership skills and participating in multiple sports, campus clubs and the Young Life youth group – all while working a part-time job.
"He does a great job managing everything successfully and on his own," said Reghan Krestian, counselor at West Valley High School. "He's a respectful young man and kind to everybody around him. I love to see students that have been dealt hardships being able to succeed."
Mangum, who was born in California, moved to Spokane at 2 years old. He was placed at Hutton Settlement at 7 years old when his parents could no longer care for him. The children at Hutton Settlement live in a family setting with house parents and attend West Valley schools.
"Hutton became his family," said David Milliken, campus director of the Hutton Settlement.
Mangum, in early days of placement, developed the ability to adapt to situations among changing staff. He became involved in Hutton Settlement's community service group, Salute, and managed the community garden for a few years.
"He's a very adaptive kid and can engage in a variety of different situations," Milliken said.
Mangum said playing sports is one of his cherished high school memories, especially when the West Valley High School football team made it to the state semifinal last year.
"We did really well. We lost in the state semifinal, but we almost made it," he said, adding his favorite memory is celebrating with his teammates over dinners.
He also participated in track and field and wrestling and helped lead a group of elementary and middle school kids in a snowshoeing expedition at Mount Spokane.
Mangum is planning to attend the University of Washington to pursue a degree in mathematics.
"I chose the University of Washington because it's the leading school in the state and it's the biggest school, too," he said. "I like meeting new people every single day."
Mangum said he's always found mathematics to be an interesting subject.
"I want to get the best education and job that I can in applied mathematics. It's been a goal of mine to make $100,000 a year and I know math can take me there," he said, adding he wants to help his father, who has some health issues, financially.
Mangum attributes his success to Hutton Settlement.
"Hutton Settlement has definitely helped me succeed and given me a lot of opportunities," he said. "I really do appreciate them."
Local journalism is essential.
Give directly to The Spokesman-Review's Northwest Passages community forums series -- which helps to offset the costs of several reporter and editor positions at the newspaper -- by using the easy options below. Gifts processed in this system are not tax deductible, but are predominately used to help meet the local financial requirements needed to receive national matching-grant funds.
Subscribe to the Coronavirus newsletter
Get the day's latest Coronavirus news delivered to your inbox by subscribing to our newsletter.
---