News > Spokane
100 Years Ago in Spokane: Fight injures local leaders
Mon., June 10, 2019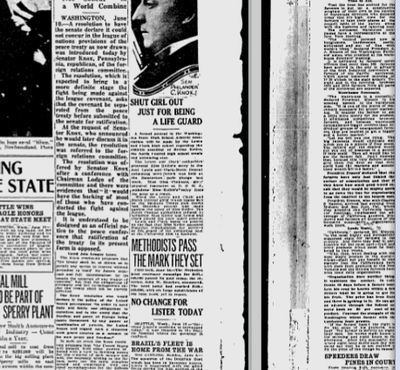 Two men with opposing political views got into a dispute – the kind with punching and kicking – outside of Spokane's socialist headquarters.
William Coates, president of Spokane's Central Labor Council and the city's top labor leader, brawled with Sam T. Crane, corresponding secretary of the local Soldiers and Sailors Council. Crane's group was made up of returning servicemen and had an anti-red orientation, meaning it was a natural antagonist to socialists, Wobblies and sometimes labor.
Coates told police that he was minding his own business, working in his office, when Crane walked in and "started trouble."
"He kicked me in the stomach without saying what his reason for coming in was," Coates said.
Crane said he had an excellent reason.
"Coates called me the 'scum of the earth,' and I am not going to take that from any man," said Crane said.
Coates attempted to eject Crane from his office, and both men ended up on the sidewalk, where the brawl continued.
"He kicked me in the head when I was down and made the only mark I received," Coates.
Police arrived on the scene within 10 minutes, separated the two men and booked both of them for disorderly conduct.
"I only wish they hadn't stopped the fight," a not-very-contrite Crane said.
The fight ended in a draw, more or less. Crane had a badly swollen eye and bleeding lips, while Coates had a black eye and cuts to his knuckles. Both men were scheduled for court the next day.
From the athletic beat: Lewis and Clark High School was trying to ban Bertha Keller, a North Central High School tennis and swimming star, from competing in high school competitions.
Their grounds? That Miss Keller "had accepted remuneration" while working as a lifeguard at the University Club, and was thus not a true amateur.
Miss Keller was forced to withdraw from one swim meet. At a recent tennis competition, she competed, but Lewis and Clark announced it was playing the meet under protest.
Local journalism is essential.
Give directly to The Spokesman-Review's Northwest Passages community forums series -- which helps to offset the costs of several reporter and editor positions at the newspaper -- by using the easy options below. Gifts processed in this system are not tax deductible, but are predominately used to help meet the local financial requirements needed to receive national matching-grant funds.
Subscribe to the Coronavirus newsletter
Get the day's latest Coronavirus news delivered to your inbox by subscribing to our newsletter.
---