A&E
Cooling chemo-related hair loss with new device at Spokane Cancer Clinic
Wed., June 12, 2019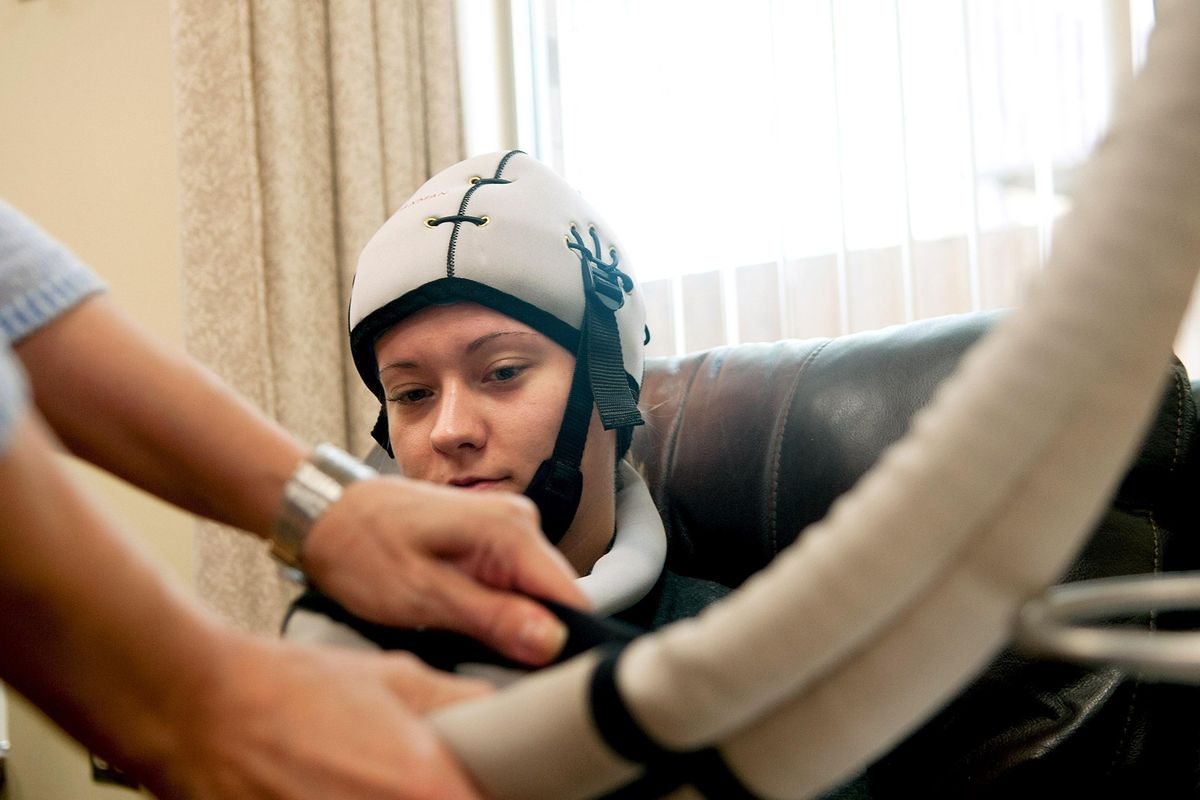 Kayla Ketchum, a Summit Cancer Center medical assistant, models the PAXMAN scalp cooling helmet to demonstrate the device at the office in Spokane on Monday, June 10, 2019. The device is designed to minimize hair loss during chemotherapy. (Kathy Plonka/THE SPOKESMAN-REVIEW)
Chemotherapy often means all of your hair falls out, telling the world you have cancer.
The powerful drugs attack both rapidly growing cancer cells but also those in hair follicles, which have some of the fastest-growing cells in the body. But now, scalp cooling cap technology is being offered at some cancer centers to reduce the likelihood of chemotherapy-related hair loss.
Two weeks ago, Summit Cancer Centers in north Spokane began offering the Paxman Scalp Cooling System, one of two brands approved in the U.S. The cap, made from lightweight silicone, covers a patient's head and uses cold temperatures to narrow the blood vessels in the scalp, reducing the amount of chemotherapy that reaches hair follicles.
"The patient comes in and puts on a cooling cap, and then we attach it to a small refrigeration machine that circulates the coolant," said Jessica Blackwell, a Spokane nurse practitioner at Summit Cancer Centers.
"We start the cap's use 30 minutes before their chemo and continue it up to 90 minutes after completion of chemo."
The length of time might vary based on the type of chemotherapy drug given. Patients experience a few minutes of discomfort from the initial coldness felt after the cap is in use, Blackwell said.
"It's kind of like hopping into a pool at first, and patients maybe have a little bit of a headache," she said. "After that, the side effects tend to subside and they're comfortable for the rest of the treatment."
With the cap on, a patient remains in the same recliner chair used for the chemotherapy infusion.
"Patients get this (cooling cap) treatment weekly if they're getting weekly chemotherapy," said Dr. Arvind Chaudhry, a Spokane-based oncologist with Summit.
He said it's important to offer the cooling cap technology because it can remove a barrier he sees among some patients who refuse chemotherapy because they don't want hair loss.
"It's very important for our patients to actually go through the required chemotherapy treatments we are recommending," he said. "But one of the biggest barriers is that patients choose not to proceed with treatment because of the hair loss.
"What this procedure does is it prevents the hair loss so people can then go through curative chemotherapy."
Blackwell cited different reasons why patients might choose to use the cooling cap.
"I think the why is different for different women," she said. "Some women are young and have an upcoming wedding, or feel that it's traumatic to lose hair.
"Some women are older and it's more of a privacy factor. They don't want to go to the store to get groceries and feel they're judged at the checkout as a cancer patient. They don't feel strangers need to know they're a cancer patient. We want to meet the need of our patients, and for some of our patients, this is a need."
The U.S. Food & Drug Administration cleared expanded use of the Paxman device in 2018 for patients with solid tumors, such as ovarian, breast, colorectal, bowel and prostate cancer. The FDA first approved it in April 2017 for hair loss associated with chemotherapy for breast cancer. The agency also first cleared another system, the DigniCap, in 2015.
The patient's cost to use the cooling cap varies based on the duration of chemotherapy. However, Chaudhry said Summit gives its patients information about foundations offering funding to help them pay for the procedure if affordability is an issue. He also said there is a capped limit not to exceed $2,200 for cost per patient.
"Since this is now FDA-approved, insurance companies are looking into this being covered as chemotherapy-related hair loss," Chaudhry said. "Currently, it's not covered, but we do have foundations that are helping patients."
"Chemotherapy treatments can last anywhere between six months to two to three years, or multiple years," he said. "So no matter how long the chemotherapy is, the cost wouldn't exceed $2,200.
"I want to make people understand this is for everybody regardless of ability to pay; it's not just for people who can afford it."
Male patients also have expressed interest, Chaudhry said. "A lot of men with testicular cancer get very aggressive chemotherapy, and they have been known to request this device so they don't lose hair."
Chaudhry added that Summit is the only cancer center in the Inland Northwest offering the Paxman system, at its Spokane site and another location in Meridian, Idaho.
In Spokane, Summit so far has one patient who began using the cooling cap.
Chaudhry said privacy was a big concern for that patient. "She said, 'I'm not doing this because I'm vain. I'm doing this because I don't want my loved ones to know what I'm going through.' "
The cooling cap system is part of taking care of the whole individual, Chaudhry said.
"Part of the battle with cancer is going through a lot of emotions, side effects, hair loss, problems with insurance," he said. "We want to take care of the entire journey for the cancer patient and that's why Summit has chosen to participate in this.
"We know when we also take care of patients' social, emotional and spiritual needs, it helps to optimize healing."
Local journalism is essential.
Give directly to The Spokesman-Review's Northwest Passages community forums series -- which helps to offset the costs of several reporter and editor positions at the newspaper -- by using the easy options below. Gifts processed in this system are not tax deductible, but are predominately used to help meet the local financial requirements needed to receive national matching-grant funds.
Subscribe to the Spokane7 email newsletter
Get the day's top entertainment headlines delivered to your inbox every morning.
---