News > Spokane
New Spokane Valley retirement community showcases celebrity chef Beau MacMillan creations
June 12, 2019 Updated Thu., June 13, 2019 at 6:52 a.m.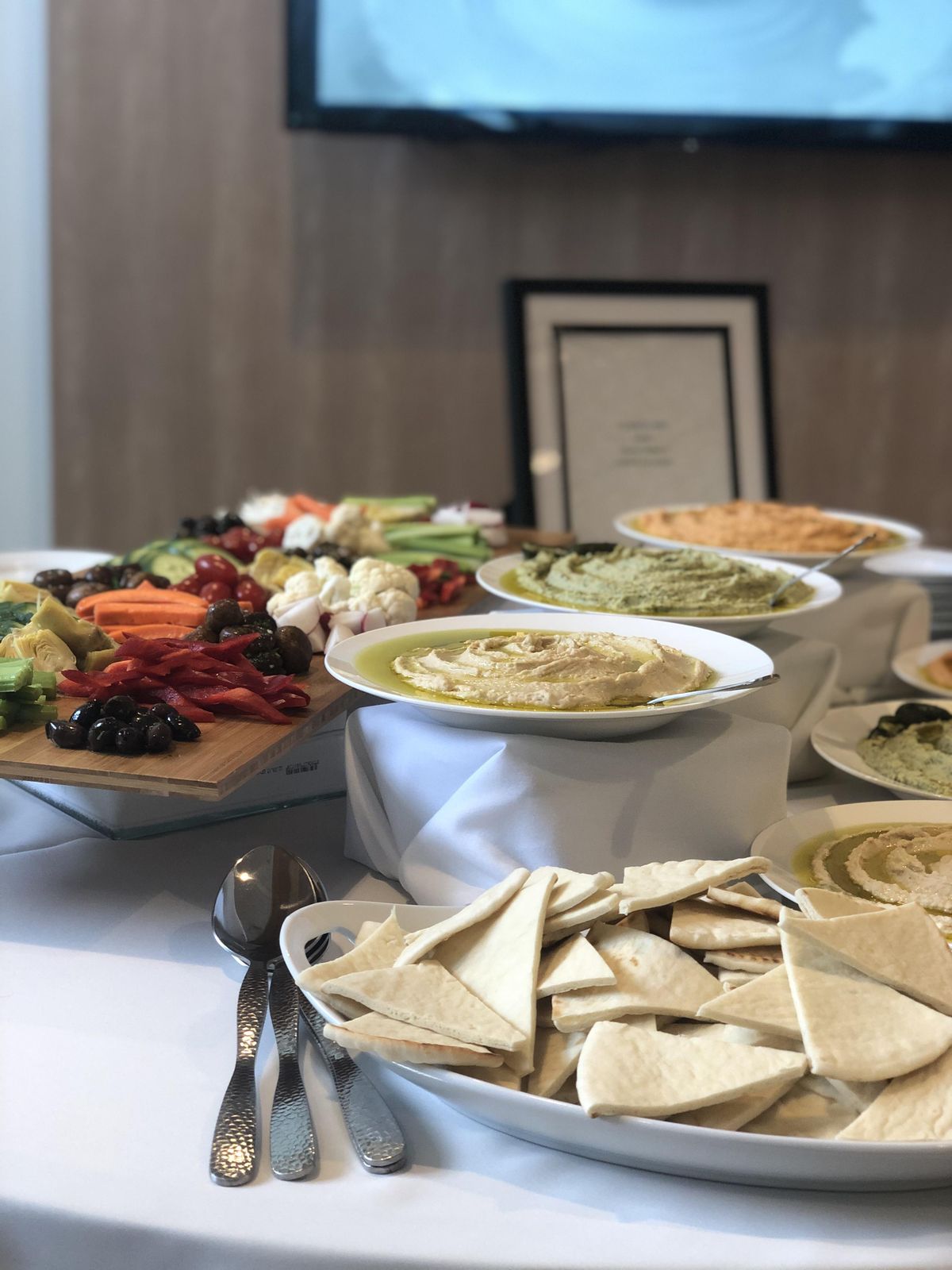 Celebrity chef Beau MacMillan created the menu for the restaurants at Revel Spokane retirement community. This hummus platter was featured at the retirement community's grand opening celebration. (Courtesy photo / Revel Spokane)
Residents, employees and onlookers attended the opening Wednesday of a retirement community in Spokane Valley that boasts two restaurant menus created by celebrity chef Beau MacMillan.
The Food Network star MacMillan, who is chef at Sanctuary on Camelback Mountain resort in Arizona, worked with Revel Spokane to develop its menu and dining concepts.
"We cater to one person, one plate at a time," MacMillan said at the opening event.
MacMillan said he hopes to cultivate interactive food events in the community, like cooking demonstrations and activities with local ties.
"Food is so emotional and so important to them," MacMillan said of the Revel Spokane's residents.
MacMillan works with catering and food management company Sodexo and local chefs to create menus focused on using local suppliers and ingredients.
The Social Club is one of two restaurants at Revel Spokane. Its pub-style fare includes classics like a house burger, Cobb salad and caramelized onion dip, but all with a special twist from MacMillan.
The Food Network star also designed the menu for Ovation, Revel Spokane's other restaurant. Ovation is more refined, with menu items like sweet corn truffle soup and coffee-spiced duck breast confit.
Spokane Valley Mayor Rod Higgins was present to show support for the new business opening in the community.
"Spokane Valley has an aging population," he said. "It's a welcome addition to what we have to offer."
Resident Vonnie Kirkingburg moved in at Revel the day after it opened earlier this year and tells everyone it's "a very happy place."
Kirkingburg moved back to Spokane from Las Vegas to be closer to family.
"This was upbeat. I can't explain it," Kirkingburg said. "There just was an atmosphere of lively, active people, and laughter and joy resonated here."
Cory Wolfenbarger, senior vice president of operations, , is excited to bring a new style of senior living to Spokane Valley.
"The focus is really about wellness and health," Wolfenbarger said. "We're big believers that, although certainly as we all age there are health implications to that, we feel like the best years are ahead of us."
Residents can enjoy events both at Revel Spokane and in the community with shuttles and a partnership with Lyft.
The community also includes an art studio, fitness area with workout classes, spa and salon, and group excursions to activities around the Spokane area.
Revel Spokane opened Feb. 1 and is the fourth retirement community of the nine that the Wolff Co. plans to open this year. Revel Spokane is currently at 40% occupancy.
"Ninety percent of the people that walk into one of our apartment communities know that they're going to rent an apartment. It's just which one," Wolfenbarger said. "Whereas here, this is a change in lifestyle."
The Wolff Co. has deep roots in Spokane Valley. The company was founded in 1940 by Alvin J. Wolff in Spokane Valley and has since invested in more than 30,000 multifamily units. The company is based in Scottsdale, Arizona.
Local journalism is essential.
Give directly to The Spokesman-Review's Northwest Passages community forums series -- which helps to offset the costs of several reporter and editor positions at the newspaper -- by using the easy options below. Gifts processed in this system are not tax deductible, but are predominately used to help meet the local financial requirements needed to receive national matching-grant funds.
Subscribe now to get breaking news alerts in your email inbox
Get breaking news delivered to your inbox as it happens.
---