Sports > Spokane Indians
Third annual Fan Fest proves big hit for Spokane Indians faithful
June 12, 2019 Updated Wed., June 12, 2019 at 10:16 p.m. Popcorn. Peanuts. Cracker Jacks. And the crack of the bat on ball.
Baseball and entertainment converged at Avista Stadium on Wednesday as the newest crop of Spokane Indians introduced themselves to a welcoming crowd that was already in midseason form at the team's third annual Fan Fest.
"It was a great event," Indians executive vice president Otto Klein said while kids were still running the bases after the evening's festivities had wrapped up. "It's probably the largest fan participation we have ever had."
Klein is no stranger to the entertainment side of the minor leagues as he gets ready to start his 29th season in "the business of baseball," and his 27th in Spokane.
"It just shows that the event is growing and growing from year to year, and we're so thankful because this is a free event, gets everybody excited for the season. You know, this is the community's team. So nothing is better than just having a community open house."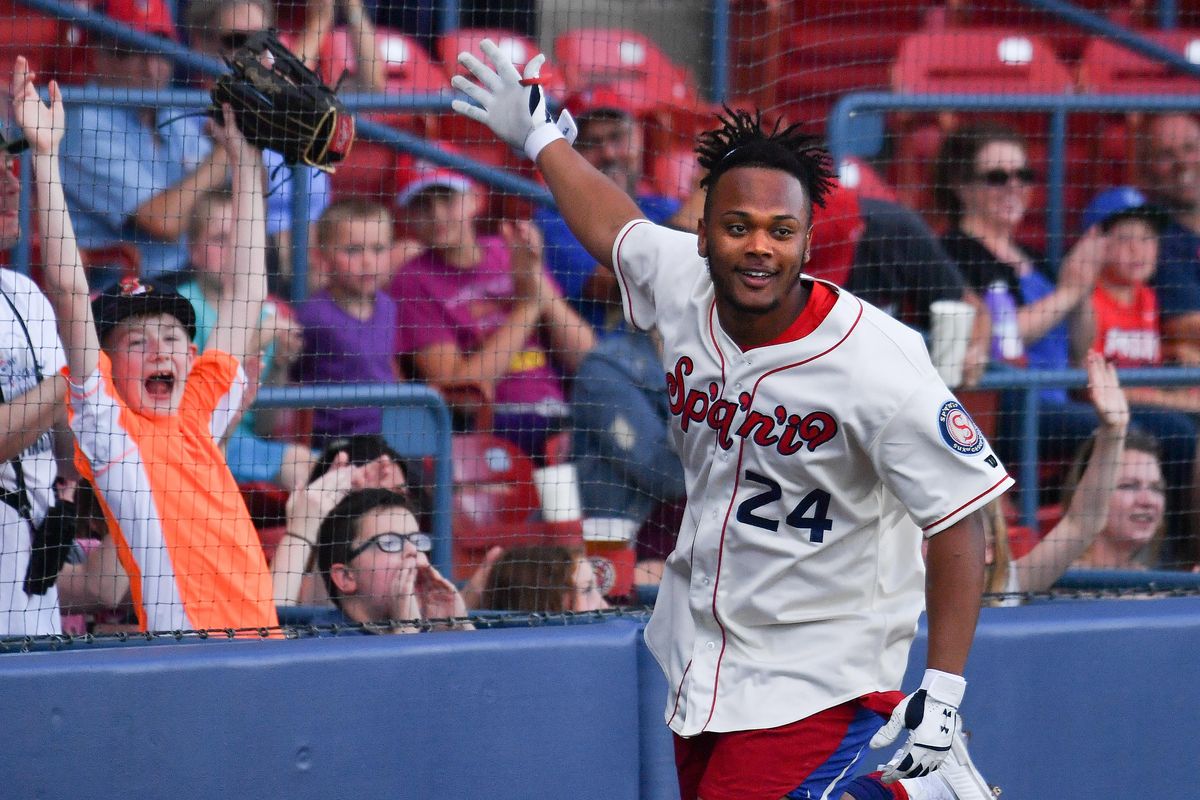 Spokane Indians first base Maxwell Morales reacts after he hit a bonus ball during the first round of the Fan Fest home run derby on Wednesday at Avista Stadium. Morales went on to win the derby. (Tyler Tjomsland / The Spokesman-Review)
Fans lined up more than an hour before the gates opened at 5:30. Once inside, the patrons queued up again at the autograph table and patiently awaited their opportunity to interact with one of the new players – most of whom landed in Spokane on Saturday.
There were face-painting stations, a kid's scientist making slime, and a "garage sale" where they sold old equipment, caps and jerseys for charity.
After folks grabbed a hot dog, they made their way to the seating bowl for the players introduction and the evening's main event: the home run derby.
Two-time defending champion Curtis Terry, who led the Northwest League in homers last season with 15, has graduated to full-season ball. With his departure, it meant a new champ was to be crowned.
Four players were selected to participate: catchers Kevin Mendoza and Scott Kapers, first baseman Maxwell Morales and outfielder Starling Joseph, who hit 11 homers for the Indians last year.
Mendoza, a switch-hitter swinging left-handed, went first. He completed his 2-minute round with eight homers – not bad for a guy with one homer in three minor league seasons.
Kapers, who had one homer in 23 games for Spokane last year, followed with eight as well.
"We've been taking batting practice and one of the coaches said, 'Hey, you want to try (the derby) out?' " Kapers said. "It was a fun time, great to do it in front of the fans and give them a show."
Morales came next. The 21-year-old crushed 10 homers, then hit a monster shot for a bonus grand slam on his last ball for 14.
Joseph hit nine to reach the finals, in which he cranked out 11 homers – but just missed foul with his bonus ball.
Morales didn't tire. He hit eight homers before his timeout at the 1-minute mark, then came back to smash four more to capture the title and earn a Gatorade bath from teammates.
"It was the first time for me doing a home run derby," Morales said. "It felt real good out there. I've been doing this, playing baseball, my whole life, so there were no nerves out there."
New manager Kenny Hook did most of the pitching.
"With the clock, you want to have a little bit of sense of urgency, probably more so than you do with your regular rhythm of BP," Hook said.
"Once they get to the end and they're trying to make up ground, you got to work and stay with them, so picking up the balls and be a little rushed is a little bit different. But definitely a fun activity."
The Indians' season opens on Friday in Vancouver at 1:05 p.m. The home opener is June 21 at 6:30 p.m. against Boise.
Local journalism is essential.
Give directly to The Spokesman-Review's Northwest Passages community forums series -- which helps to offset the costs of several reporter and editor positions at the newspaper -- by using the easy options below. Gifts processed in this system are not tax deductible, but are predominately used to help meet the local financial requirements needed to receive national matching-grant funds.
Subscribe to the sports newsletter
Get the day's top sports headlines and breaking news delivered to your inbox by subscribing here.
---