Sports > Outdoors
Ferry County outdoor festival aims to bring recreation, money to one of Washington's poorest counties
Thu., June 13, 2019 Emily Burt knows the dollar value of sweaty and thirsty outdoor enthusiasts better than most.
As the co-owner and founder of Republic Brewing, Burt is used to seeing trail weary patrons drinking beer and, occasionally, falling asleep in her brewery in Republic, Washington.
Outdoor recreation has, in part, made her business a success.
Now she's hoping to expand that success by promoting the natural beauty of Republic and Ferry County, a relatively unknown forested playground with hundreds of thousands of acres of public land, lakes and mountains.
"We are kind of this forgotten little corner," Burt said.
That's the guiding drive behind the inaugural Get Out Fest, of which Burt is a co-founder.
The three-day festival will promote the numerous outdoor recreation opportunities in and around Republic.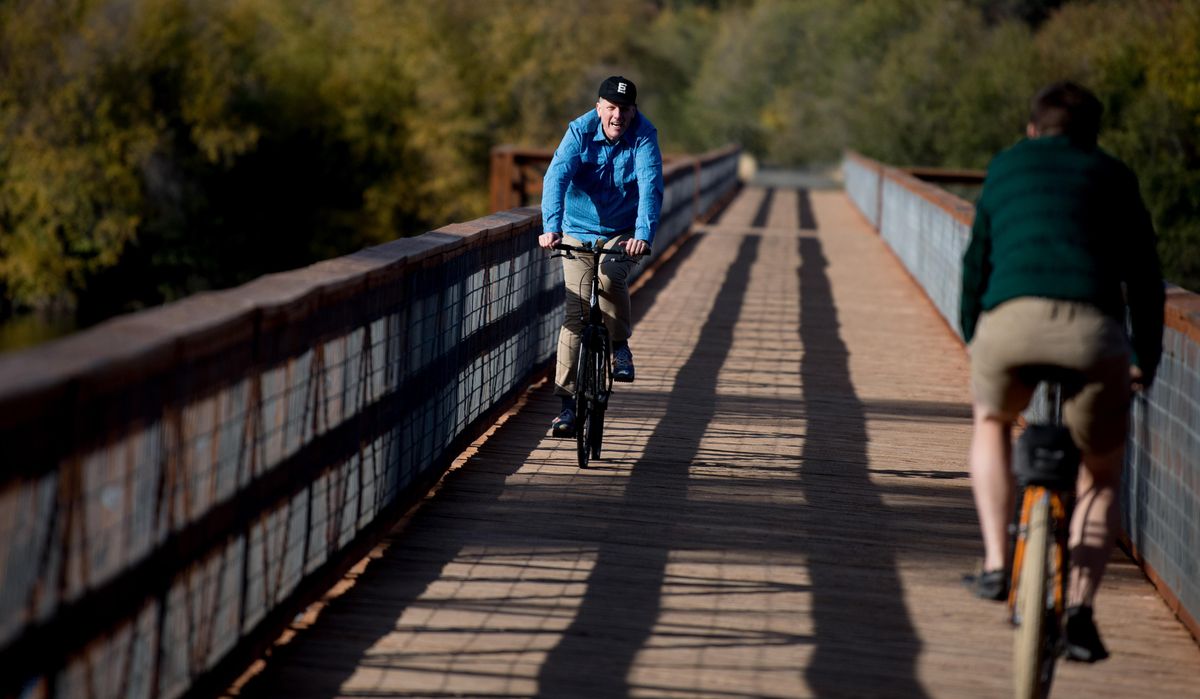 Bobby Whittaker, left, rides his bike with Brian Carpenter on the The Ferry County Rail Trail on Friday, September 28, 2018, outside Republic, Wash. (Tyler Tjomsland / The Spokesman-Review)
Unlike some outdoor festivals and fairs, it's one that aims to be cheap, accessible and active.
"We are not offering expensive guided hikes," she said.
Entry costs $5 for the entire weekend. Numerous sponsors have donated to the event and Pearl Jam donated a guitar that is being auctioned online. Proceeds from the auction will be used to offset festival costs.
Organizations such as REI, Spokane climbing gym Wild Walls and the Washington Trails Association, among others, will offer activities for participants to pick and choose.
A half marathon will take runners along the Ferry County Rail Trail. The Cave Singers, a Seattle band, will play Saturday night.
"Ferry County is swimming in public land," said Bobby Whittaker, the other organizer and founder of the festival. "And some of it in respect to outdoor recreation is underutilized."
The event is years in the making.
Whittaker and Burt first started talking about doing something along the lines of Get Out Fest eight years ago, around the time Burt opened Republic Brewing.
At the same time, Whittaker was working on the Ferry County Rail Trail. The 24-mile trail runs north toward Canada connecting several towns, including Republic.
The duo's respective responsibilities took priority. Last year, with the rail-trail nearing completion and Republic Brewing an established and beloved local brewery with a sterling reputation regionally, they finally decided to tackle the project.
While the festival is undoubtedly aimed at having a good time outside, there are deeper more serious concerns at play.
Ferry County is one of Washington's poorest, with a per capita income of just over $20,000 as of 2017. Many traditional jobs in the area – logging, ranching and mining – no longer provide a viable income.
Further compounding the economic problem is the fact that less than 18% of the county is privately owned. That means local governments have little to no tax base from which to pull.
That's where Whittaker and Burt believe Get Out Fest can play a role.
"The reason we have such a small amount of private land is because we have such a large amount of public land," Whittaker said. "To me, a light goes on in my head: Let's move and shake that. That's a plus. That's not a negative thing."
That's not always been a welcome proposition for locals proud of the county's unique character and relative isolation. The Rail Trail has occasionally faced stiff resistance from county commissioners and others.
"I think there is a resistance to basically the gentrification of outdoors," Burt said. "We are still a very intact small community with no chain businesses."
But the spirit of collaboration has prevailed, with Whittaker and others showing how recreation can be valuable while not destroying the local fabric.
The numbers make the argument easier.
Nationally, outdoor recreation is estimated to contribute $373.7 billion to the nation's Gross Domestic Product, according to a 2016 U.S. Department of Commerce report. That same year, Idaho's state parks added $184 million to the state economy and hunting, fishing and wildlife viewing added $8 million to Washington's coffers.
That could be a welcome influx of cash to the county.
"All the good news coming out of the Puget Sound region kind of masks this issue that not all counties in Washington State have enjoyed the rebound from the recession," said Jon Snyder, the outdoor recreation and economic development adviser to Gov. Jay Inslee. "Ferry County is definitely one that has a ways to go when compared to other counties in the state. That's why diversifying economically is so helpful."
Snyder is not directly involved in Get Out Fest, but he's "an overall cheerleader for Ferry County."
The effort to bring more recreation into Ferry County couldn't happen at a better time.
The Northeast Washington Forest Coalition has been working for years to help manage the Colville National Forest for different user groups.
Much of that work has focused on forest management and timber sales, such as the A to Z timber project.
But NWFC is not only interested in logging and traditional forest management. Outdoor recreation on the national forest is something on which the group has started to focus, said Russ Vaagen, the founder and CEO of Vaagen Timbers, and the president of NWFC, a sponsor of Get Out Fest.
"Get Out Fest is an outward expression of what the forestry coalition, and what people who love the Colville National Forest, are trying to do," Vaagen said. "(We're) trying to draw people into the discussions and have shared experiences around getting out and enjoying our national forests."
At the end of the day, there needs to be exposure for that to work.
"Bobby is just awesome at pulling that stuff together," Vaagen said.
While the larger goals of the festival remain important, Vaagen pointed out that "if nothing else, it's going to be a fun community event for Republic."
Local journalism is essential.
Give directly to The Spokesman-Review's Northwest Passages community forums series -- which helps to offset the costs of several reporter and editor positions at the newspaper -- by using the easy options below. Gifts processed in this system are not tax deductible, but are predominately used to help meet the local financial requirements needed to receive national matching-grant funds.
Subscribe to the sports newsletter
Get the day's top sports headlines and breaking news delivered to your inbox by subscribing here.
---