News > Spokane
Five West Central 'zombie homes' placed in receivership as part of affordable housing push
June 13, 2019 Updated Thu., June 13, 2019 at 12:45 p.m.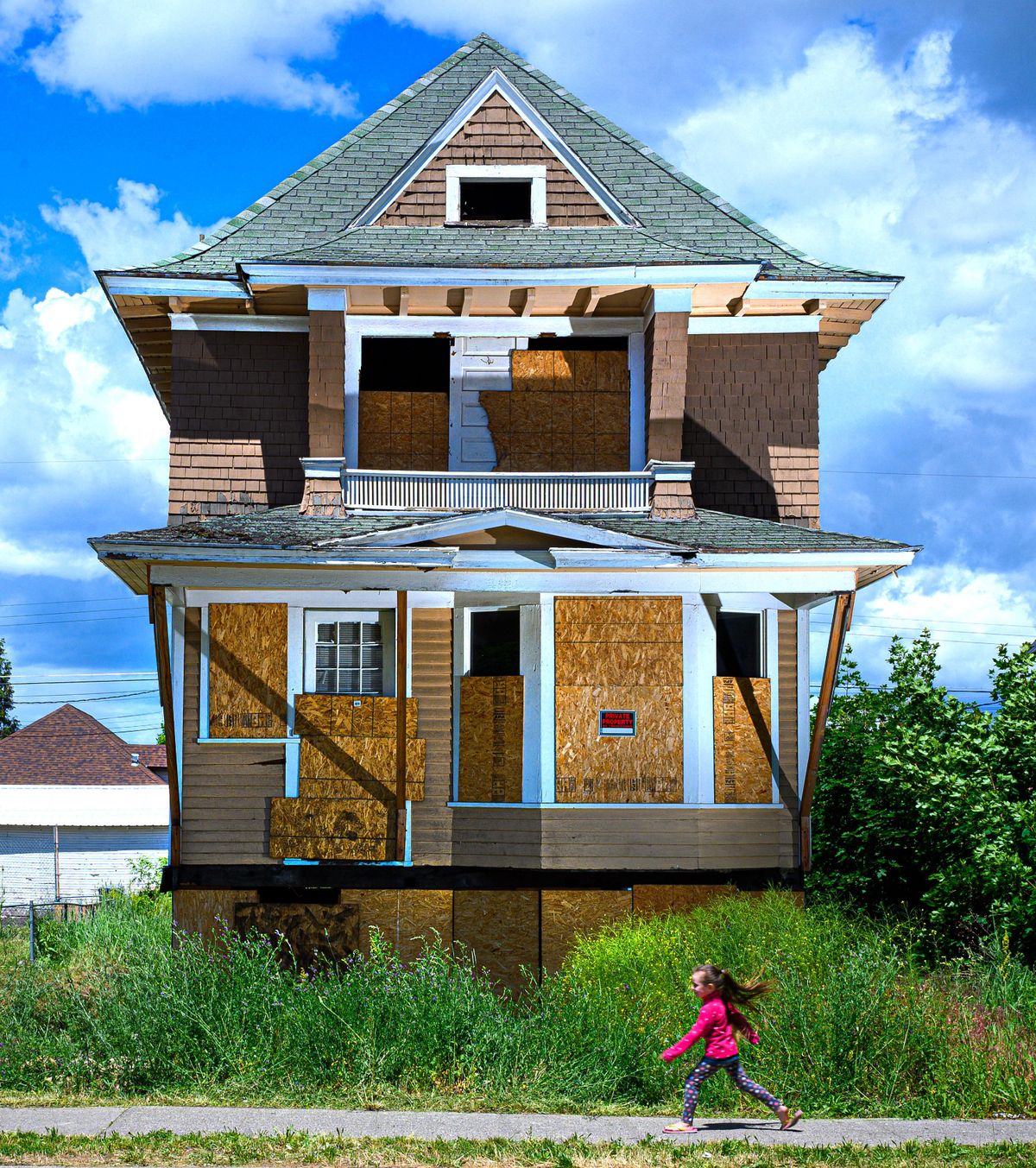 The city of Spokane has placed five "zombie houses" in the West Central neighborhood, including this one at 2130 W. Boone Ave., into receivership with an eye toward turning them into affordable housing. (Colin Mulvany / The Spokesman-Review)Buy a print of this photo
More than three years ago, activists hatched a plan to save five Victorian houses from demolition and turn them into much-needed affordable apartments in Spokane's West Central neighborhood.
But the project stalled for reasons that remain in dispute, and the houses fell into disrepair after they were moved to new locations. Neighbors complained about squatters, litter, broken windows and other code violations and illegal activity.
Last month, the city filed a lawsuit to seize the "chronic nuisance" homes so they could be torn down. But this month, the parties reached an unusual receivership agreement.
It's the last hope for a project that promised to add affordable housing to an impoverished neighborhood.
"We have a desperate need for housing in West Central," said Woody Garvin, a Presbyterian minister and neighborhood activist.
The project began in 2016.
Two years earlier, Sarff Investments, led by Harold Sarff, purchased the entire block between Maple and Ash streets and Boone and Gardner avenues.
Sarff planned to raze the houses to build a car wash until Keith Kelley, a general contractor and affordable-housing advocate who lives in West Central, inquired about purchasing them.
Kelley believed that relocating the structures to vacant lots would be a relatively cheap, environmentally friendly way to keep housing units in the neighborhood while preserving its historic character.
Before starting construction on his car wash, Sarff agreed to sell the houses for $1 apiece, and Kelley began searching for lots where they could be relocated. Kelley also approached city officials and community members, including Deb Conklin, the pastor at St. Paul's United Methodist Church.
Conklin formed a nonprofit called the Grove Community and hired a Coeur d'Alene-based contractor, Michael Varni, to take on the project. The church provided a $650,000 loan in April 2016, and the houses were moved to lots along Boone, Sharp and Maxwell avenues.
"The goal was to have them refurbished or restored into affordable housing," said City Councilwoman Karen Stratton, who represents West Central.
That didn't happen.
In recent interviews, Conklin has alleged that Varni "absconded" in early 2017 after receiving $450,000 and failing to complete the agreed-upon work.
Conklin has not attempted to sue Varni, however, and court records state that she expressed no interest in a criminal investigation in a meeting with Spokane police Detective Stacey Carr.
In a court affidavit filed last month, Carr wrote that Conklin and St. Paul's had "failed to provide any documentation of the loan or the contract" with Varni. "They have also failed to report any theft or fraud by Varni."
Varni didn't respond to messages seeking comment Wednesday. But, according to the affidavit, he told Carr he was appalled by Conklin's allegations and insisted he had completed as much work as he could despite higher-than-anticipated project costs.
"Varni said the deal with (the Grove Community) nearly destroyed him and his family. He lost his business and has never recovered from the losses," Carr wrote. "His opinion is that the project was more of a slumlord concept to make large sums of money from future rentals than a well-intended community-minded project."
Efforts to find a new contractor have floundered. Conklin blamed that partly on a post-recession building boom.
Stratton said she believed Conklin had invested her "heart and soul" in the effort to create new low-income housing.
"We have been struggling – and I'm sure Deb has been struggling more than anybody – trying to reverse the situation, correct it and try to find additional funds to get the project moving," Stratton said. "Unfortunately, in the meantime, these houses have sat and become these huge eyesores in the neighborhood."
Assistant city attorney Matthew Folsom said the structures were left "open and unsecure" for two and a half years. At least one of them is still on skids from when it was moved three years ago. Complaints from neighbors have become routine.
Faced with a demolition order from the city building examiner and the city's lawsuit seeking to seize the houses, Conklin grudgingly agreed this month to appoint a neutral third party, local attorney Tim Fischer, to manage the properties.
"We agreed to the receivership because it was made very clear this spring that (the city) was not going to permit the Grove Community or I to finish this project," Conklin said.
Fischer has acted as a receiver for numerous so-called "zombie houses" in Spokane. Usually, his objective is to get a property cleaned up and sold to the highest bidder.
In the case of the Grove Community houses, however, Fischer must make "all reasonable attempts" to find another nonprofit willing to rehabilitate the properties for affordable housing. If he doesn't find a nonprofit within 120 days, he can sell the houses to any buyer.
Fischer also must involve St. Paul's in the process, though there's no guarantee the church will recoup the money it invested in the project.
Folsom said the receivership is the best possible outcome for West Central.
"The police department got involved because returning these five properties to productive use is going to be a lot more effective in creating a safe and healthy neighborhood than five vacant lots," Folsom said.
"If the city was forced to demolish these substandard, unfit, abandoned structures," he said, "the cost of those demolitions would be attached as liens on those vacant lots, making it very difficult for somebody to come in and build, and virtually impossible to build low-income affordable housing."
In a statement this month, Officer John O'Brien, a police spokesman, called the receivership agreement "an exceptional win for the community."
"This was not a fast process and the work is not yet done, but we are optimistic that these five properties will soon be safe and affordable housing in West Central," O'Brien said.
Kelley, who came up with the idea for the housing project, agreed.
"While unfortunate for the Grove Community, it's a good thing for the neighborhood," he said.
Local journalism is essential.
Give directly to The Spokesman-Review's Northwest Passages community forums series -- which helps to offset the costs of several reporter and editor positions at the newspaper -- by using the easy options below. Gifts processed in this system are not tax deductible, but are predominately used to help meet the local financial requirements needed to receive national matching-grant funds.
Subscribe now to get breaking news alerts in your email inbox
Get breaking news delivered to your inbox as it happens.
---