Sports
Grip on Sports: Idaho's momentous move with Verlin makes us wonder what we haven't learned yet
Sat., June 15, 2019, 7:01 a.m. A GRIP ON SPORTS • A beautiful June Saturday morning seems to be a good day to examine a few hires and one firing in college sports. After all, there is nothing else going on, right?
•••••••
• Wait, there is golf's national championship being contested at Pebble Beach, and one of our local golfers, Alex Prugh, made the cut on the number and will be playing the weekend. That's pretty cool.
And I almost forgot, but the summer minor league baseball season began last night around the Northwest. The Indians started the year with a road win, which is about two weeks earlier than they won away from Spokane last year.
Those are great, but we want to focus on a couple of changes made around college sports. We'll start in Moscow.
• There has to be more, right? There has to be something that happened at the University of Idaho that we don't know about? The Vandals couldn't have fired basketball coach Don Verlin for cause due to the violations revealed yesterday, could they?
The NCAA violations we know about now seem pretty minor. Having a non-coaching staff member scrimmage with the team when roster numbers were low is bad alright, but not like trying-to-sell-players-to-agents bad. And forgetting to fill out some paperwork that would have made a recruiting trip evaluation session kosher doesn't seem all that major either.
So there has to be something awful, doesn't there?
Unless you feel the basketball program is going in the wrong direction – the Vandals won just five games last season and seem to have a bunch of players looking for a new home – and felt a change had to be made. But then that wouldn't be "for cause" and would necessitate paying the final couple years on Verlin's contract. No one at UI would want that.
So there has to be something worse, and it has to be tied to Verlin personally, or why would the University keep all three assistants around to run the program next year? They had to have known of the violations we are aware of, so wouldn't they be a bit tainted too?
Oh well. In his story, Peter Harriman has this paragraph: "The Ice Miller narrative surrounding the third alleged violation was redacted in the consultant's report that UI made available to The Spokesman-Review."
That third violation must be a doozy, right? I wonder when – or if – we will find out what it entailed.
• Washington State decided on its new baseball coach weeks ago, hiring Brian Green away from New Mexico State. But there were three other head coaching positions open in the Pac-12 – let me do the math … that would mean one-third of the schools were looking for head coaches this offseason – and they needed to be filled.
Now they are.
Oregon and Oregon State decided on their coaches earlier this week. And yesterday USC went across town to hire Loyola-Marymount's Jason Gill to lead the most successful baseball program – historically – in the nation.
It's a big shakeup for a conference that has won more NCAA titles than any other.
•••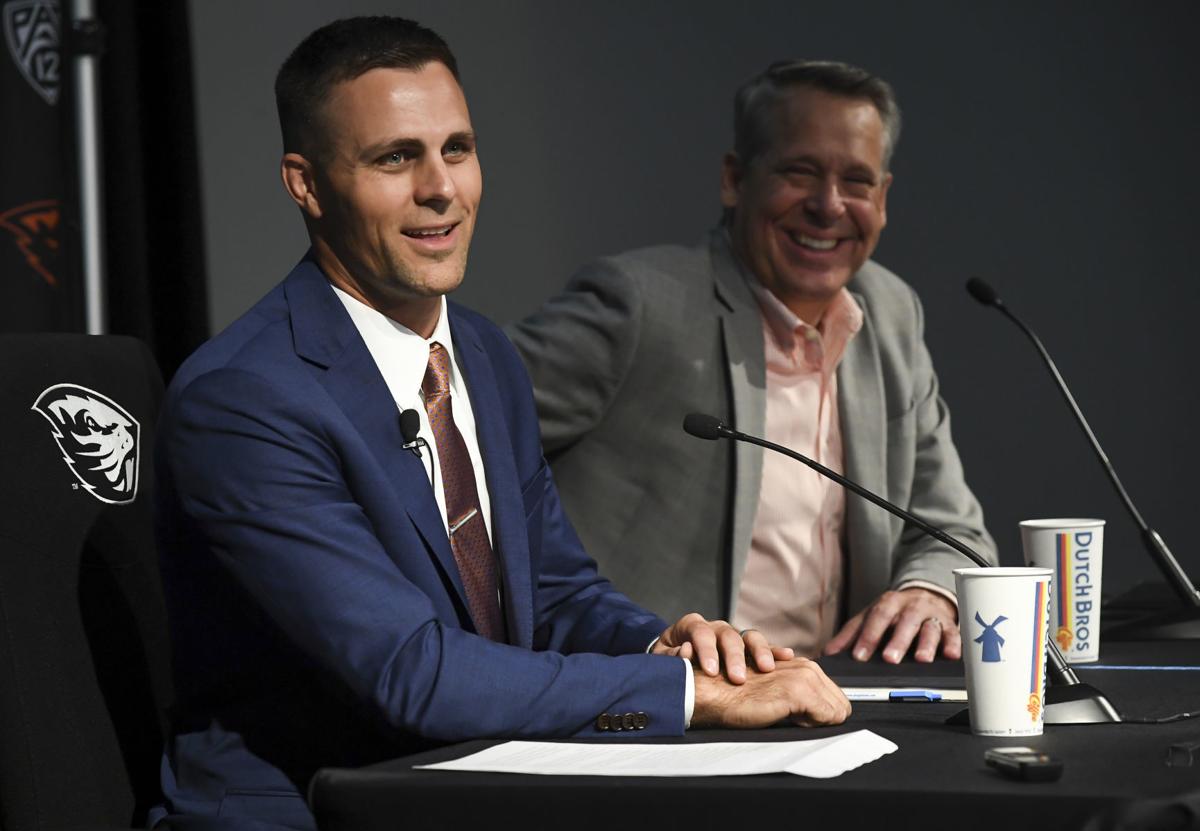 WSU: Around the Pac-12, we mentioned the main news above. USC hired Jason Gill yesterday to lead its baseball program. … Oregon State introduced its new coach, a face familiar to longtime program observers. … The new coaches in Oregon means the past is in the rearview mirror. … Colorado is happy with its athletic director. … UCLA's successes this year all came from its women's programs.
Gonzaga: We have a couple of Larry Weir Press Box pods to pass along concerning the Zags. We missed the one from Thursday with Steven Karr and Larry talked some about GU yesterday as well.
Idaho: Not only do we have Peter's story detailing Verlin's firing, John Blanchette has some thoughts on it as well. He shares them in this column.
Indians: Spokane began the 2019 season with a 9-1 win in Vancouver. … Around the Northwest League, Eugene defeated Hillsboro and Everett topped Tri-Cities.
Preps: Chuck Stewart has the Youth Sports Notebook for the week.
Mariners: Marco Gonzales channeled his April self last night in Oakland and the M's pounded the ball in an easy 9-2 victory. The Athletics are scuffling. … How did Jerry Dipoto do in the offseason? It's still early to decide as far as we are concerned. … One of his stars should be J.P. Crawford. … Seattle's best pitching prospect is struggling so much, the M's sent him down a level. … Felix Hernandez made a rehab start last night. It did not last as long as it was supposed to. … Gene Warnick returns from a couple days off with an Out of Right Field recap.
Seahawks: No matter what, this group of Hawks seems more content than the group that was at minicamp last year. … There are still some questions though. … Russell Wilson is all about team building.
•••
• Whatever you are planning to do today, the ides of June, whether it be for fun or work, it seems like a perfect day for it. Nothing better than an 82 and sunny day. But if you are a Negative Nelly, don't worry. It will get cooler next week. The rest of us will allow you your day or two of complaining if that makes you happy. Until later …
Subscribe to the sports newsletter
Get the day's top sports headlines and breaking news delivered to your inbox by subscribing here.
You have been successfully subscribed!
There was a problem subscribing you to the newsletter. Double check your email and try again, or email
webteam@spokesman.com
---