News > Spokane
100 Years Ago in Spokane: Cop tickets 'whole truckload' of macaroni company's employees for speeding
Sun., June 16, 2019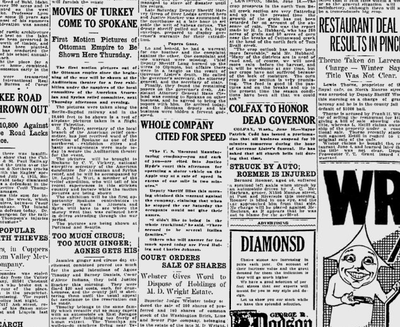 Spokane's U.S. Macaroni Manufacturing Co. – the entire company, not just one employee – was cited for speeding on Apple Way.
A deputy stopped a vehicle belonging to the company, but the occupants would not give their names. The deputy said he did not want to "bring in the whole truckload – there seemed to be several Italian families." So instead he wrote out a citation for the company itself, "you and each one of you."
From the funeral beat: All business in Spokane was schedule to halt for one hour out of respect for Gov. Ernest Lister, who died in office.
Businesses were asked to close their doors from 3 p.m. to 4 p.m.
From the agriculture beat: Wheat farmers in the region had been hard by a late frost. Wheat in the valleys and draws were particularly damaged. The county agriculturist suggested that some of the frozen crop could be salvaged for hay.
Meanwhile, farmers were worried about the looming threat of drought. The state grain inspector said that "unless rain falls in the next 10 days, the crop may only be about 60 percent of normal."
The proprietor of the Northern Grain and Warehouse Company in Spokane was not overly alarmed.
"I do not regard the situation as at all critical," he said. "Rain is needed, it is true, but it may come in 10 days and still save the grain. I am not looking for a bumper crop, however."
Local journalism is essential.
Give directly to The Spokesman-Review's Northwest Passages community forums series -- which helps to offset the costs of several reporter and editor positions at the newspaper -- by using the easy options below. Gifts processed in this system are not tax deductible, but are predominately used to help meet the local financial requirements needed to receive national matching-grant funds.
Subscribe to the Coronavirus newsletter
Get the day's latest Coronavirus news delivered to your inbox by subscribing to our newsletter.
---