Sports
Grip on Sports: Every Father's Day there are ancient stories and there are ones from the present
Sun., June 16, 2019 A GRIP ON SPORTS • This is my 62nd Father's Day as either a son or a dad. That long run doesn't make me an expert, of course, but it does mean I am experienced in this holiday, invented right here in River City. So we have some thoughts to share about dads, kids and sports.
•••••••
• My dad could be an exacting taskmaster. There is a reason some of us who worked for him – he owned a business that was affiliated with the Los Angeles Times – called him Captain Sunshine. Irony was not dead back then.
Sometimes that demanding nature caused he and I problems on the baseball field, the one sport my dad felt comfortable teaching me – and others.
There was the time it boiled over in the dugout on a hot summer day in a Babe Ruth League game at Pasadena High, when my dad was on my butt about something or other and I lost it. Told him he was a b-word that designates someone without parents. Luckily, his assistant coach was young, strong and between us or there is a good chance I wouldn't be here writing this.
It was probably the first time I stood up for myself against an authority figure and, of course, it happened on a baseball field. Many of the important personality traits I needed to develop to become a semi-successful adult were formed on a baseball field – guided by my dad.
• Don't get the idea it was always like that. There have been few people I have ever met, in all walks of live, who knew more about a subject than my dad knew about baseball. He was the best coach a youngster could have.
I don't believe any player I ever played with had a better fundamental grounding in the sport than I did. And a deeper love of it. Both were courtesy of my dad.
That's not to say, as I ascended the baseball ladder, I didn't have to unlearn some things he taught me. It's not because they weren't right, it's just that other coaches wanted things done a different way.
Both ways may have been right. That's the beauty of sports. There is more than one way to pet a cat. Or be successful. It doesn't mean one way is right and another way wrong. They are just different. By the way, that's another lesson my dad taught me.
• Morphing from a son to a father isn't easy. In may be the toughest task one has going through life.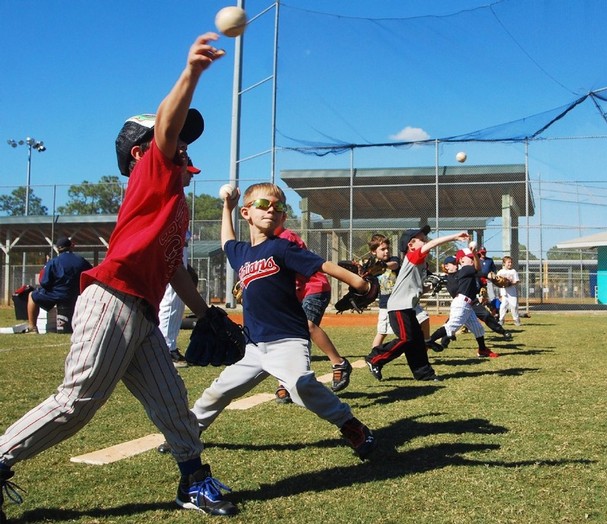 Which lessons learned from your dad should you pass along? Which should you avoid?
One thing he taught me about teaching baseball to kids was to never waste time. Even he, a baseball lover his entire life, conceded the game could be slow. So practice was always quick. Keep moving, get better; you don't learn anything sitting on your (censored). That was his mantra and he was right.
If you can make an hour-and-a-half youth baseball practice seem like it goes by in 15 minutes, kids will learn. And they will learn to love the game.
• Another thing he taught was to always be there for your kids in their sporting endeavors. You will rue the days you missed.
When I was sitting the bench at UC Irvine, an hour from where my dad lived, it would always surprise me to look up and see him in the stands. It wasn't an everyday occurrence, but it happened occasionally. When I would ask him why he would make the drive when he knew I wasn't getting in the game, he would always answer something non-committal, like he loved to watch the game or he wanted to take me out to dinner. It was only later I found out he thought I was struggling with my role and wanted to be there in support if I needed it.
Funny thing, though. We never really talked about my feelings in this regard. Sharing feelings, or hearing someone sharing theirs, was as tough as knocking a Zero from the sky or storming a German position for my dad's generation. If it was necessary, they would do it, but they tried to avoid such things if they could.
That's probably why my sons were always well aware of my feelings in every situation. Still are. See, lessons dads teach us are not only through positives, things we enjoyed about the relationship, but through the negatives as well.
• One last thought about fathers and sons and sports.
Remember the old saw from the Clintons about it taking a village to raise our children? It always made me laugh in one regard. My dad couldn't have been further from them on the political spectrum, but in this he saw eye-to-eye.
He felt it was his responsibility to be available to all of the kids my age in our hometown. That's why he coached. In the 1960s, many Sierra Madre dads were too busy climbing the corporate ladder to be around for their sons and daughters. Who filled that void? In a lot of cases it was coaches. Years later, as I was coaching my own sons' youth teams, the subject came up. I had always wondered why my dad coached baseball teams in town of all age levels, even before I was old enough to play.
That was the reason. He did not have a father growing up – his dad died when he was less than a year old and his mom, who buried three husbands, didn't remarry – and needed one. Coaches filled that role. He never forgot. He felt it was his duty to pass on what he knew.
So he did. To me and dozens of others.
It's just another lesson passed on from father to son.
Here I am, 62 years into my life and I'm still trying to do what he taught me in that regard. I question every day if I am doing it right, if I am helping at all. Then I remember how many kids my dad touched, how so many of them would stop by and just say hi when he was in his golden years, and realize an eternal truth.
You don't always have to be a ray of sunshine to make a difference.
•••
Gonzaga: One of the Zags' top targets for 2020, Jalen Suggs, has more options than your typical basketball recruit. That's because he's not only a highly sought-after basketball player, but he's also a quarterback who has drawn interest from many of the nation's top football schools. Jim Meehan has more in this story.
WSU: Around the Pac-12, if you are looking for a Father's Day story, try this one from the L.A. Times about a USC basketball player. … A Utah player who said he was taking a year off to be with his mom is in the transfer portal. … The newest aspects of the NCAA's revamped basketball recruiting calendar become evident next weekend.
EWU: Father's Day and sports have a strong connection in the Kupp family. Ryan Collingwood describes it in this story. … Dario Romero's hall of fame induction leads off our weekly column of local accomplishments.
Idaho: A letter writer didn't like the way the Vandals handled Don Verlin's firing.
Indians: Spokane had trouble making contact in a 3-1 loss at Vancouver. The Indians struck out 19 times. … Around the Northwest League, Everett topped Tri-Cities again and Hillsboro got past Eugene.
Mariners: The opener didn't do his job and neither did any other M's pitcher yesterday in an 11-2 loss to Oakland. … The big news, though, was the M's traded Edwin Encarnacion to the Yankees for a player they had before. This is the second time that's happened under Jerry Dipoto. Doesn't that seem odd? … The attendance could be really sparse this week. … If the M's ever win the World Series, it's going to be a big deal in the Northwest. Come to my grave and tell me about it, will you? … Gene Warnick not only has his Out of Right Field recap today but he also has our weekly Out of Right Field column. He looks at Daniel Vogelbach and the home run derby. (Sounds like a title to a kid's book.)
•••
• I'm pretty sure my dad wasn't all that fond of the Captain Sunshine nickname. After all, he knew what it meant. But to my left right now is a wood carving of a sea captain I gave him for Father's Day some 30 or 40 years ago. He kept it until he died. Now I have it. It sits behind the medals he won in the war, the ones he kept tucked away in a drawer. The captain carving? It sat on his desk. He saw it everyday. I'm only spit-balling here, but I'm guessing it meant more to him. Until later …
Subscribe to the sports newsletter
Get the day's top sports headlines and breaking news delivered to your inbox by subscribing here.
---