News > Spokane
Spokane Valley native National Guardsman, mom graduates from EWU 18 years after starting college
June 16, 2019 Updated Mon., June 17, 2019 at 4:55 p.m.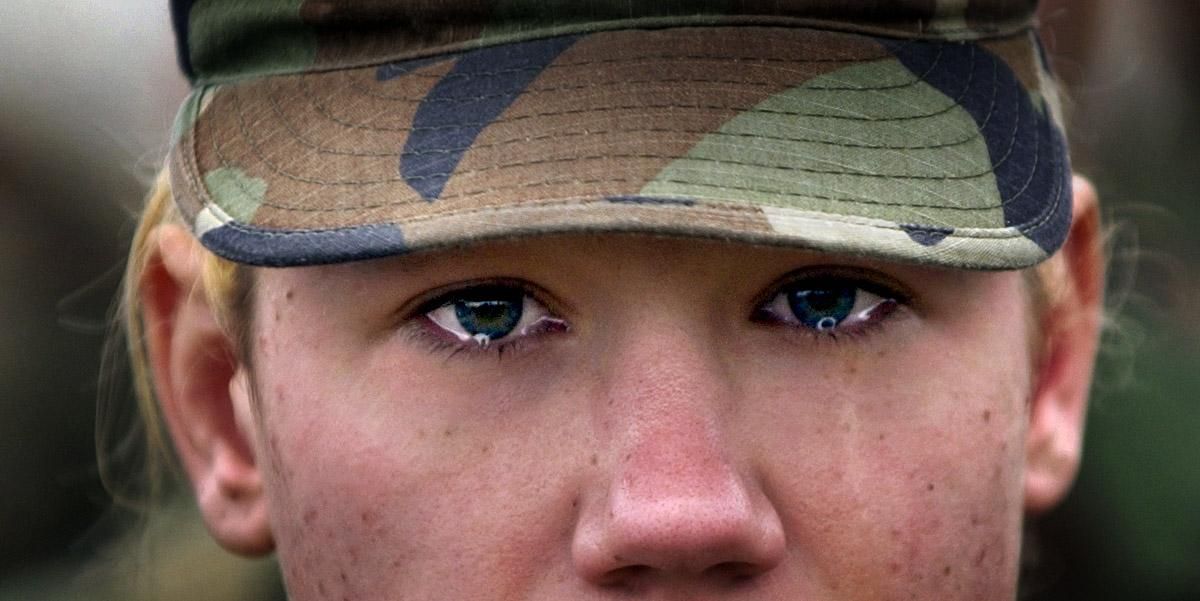 In this February 2003 photo, Ashley Cardinal, then 19, of Spokane, lets her emotions show as she and the 1161st Transport Company from Ephrata faced deployment. Cardinal graduated Saturday from Eastern Washington University on Saturday, June 15, 2019, 18 years after her first semester in college. (Brian Plonka / The Spokesman-Review)Buy a print of this photo
West Valley High School graduate Ashley Cardinal had just started her first semester at Washington State University in Pullman when the towers fell.
"To be honest with you, I didn't really fully understand," SFC Cardinal said in an interview last week. "My parents were like, 'Oh my gosh, you're going to go to war.' I said the National Guard, they're paying for my college."
Following a deployment to Iraq after 9/11, the births of four children and multiple moves across the state in the 18 years since, Cardinal walked Saturday as a graduate of Eastern Washington University. The 35-year-old is the first in her immediate family to finish college, a journey she said Friday was still incomprehensible.
"I don't really feel like it's real yet," Cardinal said. "I don't even know what to think."
Cardinal said she started basic training in June 2001 after signing up with the National Guard to pay for her college. It was a decision her mother, Jamie Wilke, said was upsetting, especially after the attacks in New York, Washington D.C., and Pennsylvania and the news her unit would be part of a deployment in Iraq.
On top of that, Cardinal gave birth to her first daughter weeks before she was shipped out.
"It was a crazy time. I had to be on blood pressure medication and I had a baby I was trying to raise in my 40s, and run a business," said Wilke, who's operated Shear Haven Pet Salon grooming service on Pines Road for 28 years.
Spokesman-Review photographer Brian Plonka captured an image of Cardinal in February 2003, a month before U.S. forces invaded the Middle Eastern country. Tears are welling in the 19-year-old's eyes beneath a camouflaged fatigue cap.
"Back then, the National Guard hadn't deployed since Desert Storm," Cardinal said. "There were a whole lot of unknowns."
Wilke said she waited by the mailbox for letters from her daughter, who worked transportation bringing supplies to and from combat areas. Rare was a phone call during the deployment, which ended in August 2004 with Cardinal moving back in with her mother and now 22-month-old child.
"When I came back, my daughter had no idea who I was," Cardinal said.
Still determined to earn a degree that would enable her to become a teacher, Cardinal enrolled first at Spokane Falls Community College, and then Eastern in Cheney. Her tuition was paid for through the GI Bill, while Cardinal continued her duties with the Guard and married her first husband. Three more children would follow, now ages 12, 10 and 9.
Cardinal completed coursework piecemeal, enrolling for as many classes as her schedule would allow each quarter. In 2006, her second child arrived a month early.
"I ended up giving birth in the middle of the academic quarter, and ended up dropping out," she said. "I had an instructor who said, 'You didn't make it to the final.' I said, 'That's because I went into labor.' "
The couple eventually moved to Western Washington, and after a divorce and Cardinal meeting her current husband, Army National Guard Spc. Cristanos Cardinal, she received encouragement once again to take up her studies. So she began taking online courses in 2014 in children's studies, in the hopes of later attaining a master's degree in education.
"My current husband was like, 'What are you doing? You have two years of school left,' " Cardinal said. "I said, 'I can't. I'm too old.' "
Adding to her desire was her professional work with the Washington Army National Guard in its education department. Starting as a temporary worker, Cardinal is now a supervisor there, assisting other students in receiving their GI education benefits. In 2017, Congress eliminated the 15-year requirement for military personnel to use their tuition benefit, but the clock was still ticking for Cardinal.
With one credit left to complete, the sergeant believed the end was near. But she couldn't sign up for the last online course she needed to take.
"My academic adviser said that's because it's an internship," Cardinal said. "I said, wait a minute, what part of all-online did we miss out on here?"
Cardinal, who'd been completing her coursework after putting the kids to bed each night following her day job, began pooling her time-off credits at her job. This year, she was able to complete that internship as a first-grade classroom assistant at Shining Mountain Elementary School in Spanaway, Washington, where her children attend, while still working half-days with the National Guard.
"It was the greatest experience," Cardinal said.
Wilke said her daughter has always been driven, but even she is surprised that her daughter will get a diploma.
"She got married, went on to have children, then moved up the ranks in the military," Wilke said. "With four kids, I thought, there's no way, she's going to lose her mind before she graduates."
For Cardinal, those children are precisely the reason it's important she finishes school now, two decades after that first semester at Washington State University. She was working hard Friday trying to coordinate a potential helicopter flight for her husband, who's in training in Yakima, to attend the ceremony in Cheney.
"I can't wait for my kids to see how hard work and dedication pays off, despite the struggles, the ups and downs," she said.
Local journalism is essential.
Give directly to The Spokesman-Review's Northwest Passages community forums series -- which helps to offset the costs of several reporter and editor positions at the newspaper -- by using the easy options below. Gifts processed in this system are not tax deductible, but are predominately used to help meet the local financial requirements needed to receive national matching-grant funds.
Subscribe now to get breaking news alerts in your email inbox
Get breaking news delivered to your inbox as it happens.
---