A&E > Art
In June at the galleries, a smattering of Spokane's veteran and up-and-coming artists
UPDATED: Thu., June 20, 2019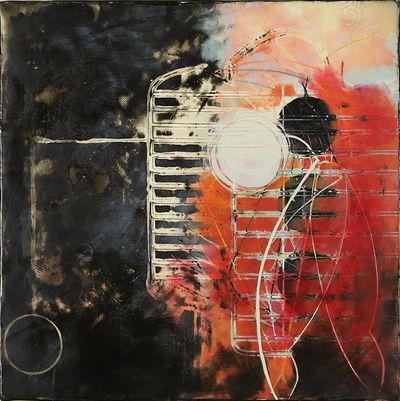 Local Spokane masters and up-and-coming artists are showing potent pieces at venues large and small this month. Having smashed glass, dripped wax and assembled found objects and images, these artists inspire with their creative explorations.
'Persistence'
Who: Wendy Franklund Miller
Where, when: Northwest Museum of Arts and Culture, 2316 W. First Ave.; through Aug. 18.
The MAC's decision to exhibit a 40-year retrospective by a giant of the Spokane art scene, Wendy Franklund Miller, seems a no-brainer. But the choice engenders hope among art supporters pushing for the MAC's new leadership to shine the spotlight on local artists rather than just bringing in national touring exhibitions.
"Persistence" refers to Miller's making of art over a lifetime and is the name of the book she published this spring. The show, and the book for sale at the MAC, spans Miller's career from the early 1980s to the present. The exhibition includes works made with the handmade paper that put Miller at the forefront of the papermaking movement 40 years ago.
She is constantly reinventing herself. In the 1990s, after meeting Seattle artist Carl Chew, Miller taught herself computer-aided design programs, which she employed to design her own rugs. The designs were then woven in Nepal. Her ability to teach herself new media attracted admirers throughout the United States, and Miller traveled widely teaching workshops.
When she became interested in encaustic painting – painting with tinted and heated beeswax – it came as little surprise how fast Miller mastered the art. By the mid-'90s she was pushing boundaries in what is a 2,000-year-old practice. She dipped in wax the old gears, gadgets and domestic objects she picked up in junkyards, developing a new visual vocabulary of forms, symbols and ideas. Her encaustics, exploring everything from feminism and aging to the life cycle itself, are featured in the MAC show.
"Persistence" has different connotations in today's current political climate, a fact the artist embraces. "Putting together this book over the last couple of years has made me more aware of just how much the political views of the world around us influence our choices and ultimately the art we make," Miller said.
'Mechanics of …'
Who: Dan McCann
Where, when: Saranac Art Projects, 25 W. Main Ave.; through June
Local assemblage artist Dan McCann's retrospective two years ago at Eastern Washington University didn't hinder the artist when it comes to creating new works. Last year was full of surprises – from a sound installation at Terrain using electric metronomes to a surrealistic graphic novel in collage format he copied and bound himself. (He also has a piece up now through Aug. 17 at Jundt Art Museum on the Gonzaga University campus.)
McCann's Saranac show uses dress pattern papers, cardboard, plastic, wires and glue to create alien machinery of unknown origins and purpose. The overarching themes running throughout his career, of arbitrary order and organic machinery, continue to hum like an electric current throughout his latest show.
"I want audiences to see that art is all around them, to look at the dress pattern paper on this work and say, 'OK, it works,' " McCann said.
The unsettling question he said that he leaves with viewers is: "Is there any one pulling the levers, or nothing but an empty chair?"
'Liminal Latitudes'
Who: Kat Smith and Jackie Treiber
Where, when: Downtown Spokane Public Library, third-floor Level-Up coworking space, 906 W. Main Ave.; through June
Poet Kat Smith made waves in 2017 with her debut poetry collection, "Book of Exodus." Known for arranging words into poems of sharp reflection and spare beauty, lately Smith has been at work arranging images. Her collages are akin to a poetic language of sorts.
Smith's collage works at the library explore physical geographies and places, playing with outdated maps and classic architecture. Her works complement the bright forms and colors in the collages being shown by Trieber, another local wordsmith. While Smith's works are geographical, Treiber's pieces explore the psychological landscapes of the mind. She uses images to transform outmoded pathways into modern terrain.
Smith also has two works currently at Terrain Gallery's "Take Pride" show. The 3D mixed-media pieces are made of carved books that incorporate insects (both real and fake), circuit boards, twigs and wires. The juxtaposition of books and insects is jarring, in a good way.
"I use books because I think they're emblematic of the power of language –the power it gives us and the power it has over us," Smith said. "Insects fascinate me in part because they have perfected the art of communication using no words at all.
"But I don't think you have to think about these pieces from such a deep perspective," Smith added. "What I really hope is that they make people want to look closely and smile."
'Garden Party'
Who: Matt Schwenk
Where, when: Dean Davis Photography, 216 W. Pacific Ave.; through June, by appointment
Dean Davis, who operates a fine arts gallery next door to the Cracker building, is showing local painter Matt Schwenk's works for the first time.
Schwenk is known for his abstracts of intense layers of resin, stone and acrylics. Architects and designers in Seattle regularly commission Schwenk to create high-end pieces to bring his signature depth and mood to modern spaces.
For Davis' current show, Schwenk broke out of his abstract mode to create figurative paintings of flowers, horses and the human form. His layers are still in full swing, though. Every painting is covered with glittery, smashed glass fragments.
"I can't tell you how many times I heard the phrase 'I've never seen anything like this,' " Davis said of the current show hanging in his gallery. "To me it reminds me of cracking open a geode and finding a painting hidden behind the crystals."
"(The pieces) beg to be touched, and I tell people it's OK," Davis said. "Just be careful!"
In addition to the sparkliest paintings in town, Schwenk has another claim to fame that sets him apart from other local artists: He has more than 87,000 followers on Instagram. The images he posts on social media evoke the same beauty and sensuality he packs into his paintings.
"I attribute (his popularity) to a combination of the quality of his work, his tenacity and his lack of fear of putting himself out there," Davis said. "It would be easy to attribute his success to his use of sexuality, but that would be selling him short."
Local journalism is essential.
Give directly to The Spokesman-Review's Northwest Passages community forums series -- which helps to offset the costs of several reporter and editor positions at the newspaper -- by using the easy options below. Gifts processed in this system are not tax deductible, but are predominately used to help meet the local financial requirements needed to receive national matching-grant funds.
Subscribe to the Spokane7 email newsletter
Get the day's top entertainment headlines delivered to your inbox every morning.
---