News > Spokane
Summer Guide: Galaxy's Edge is exactly what patient Star Wars fans have long craved
Sat., June 22, 2019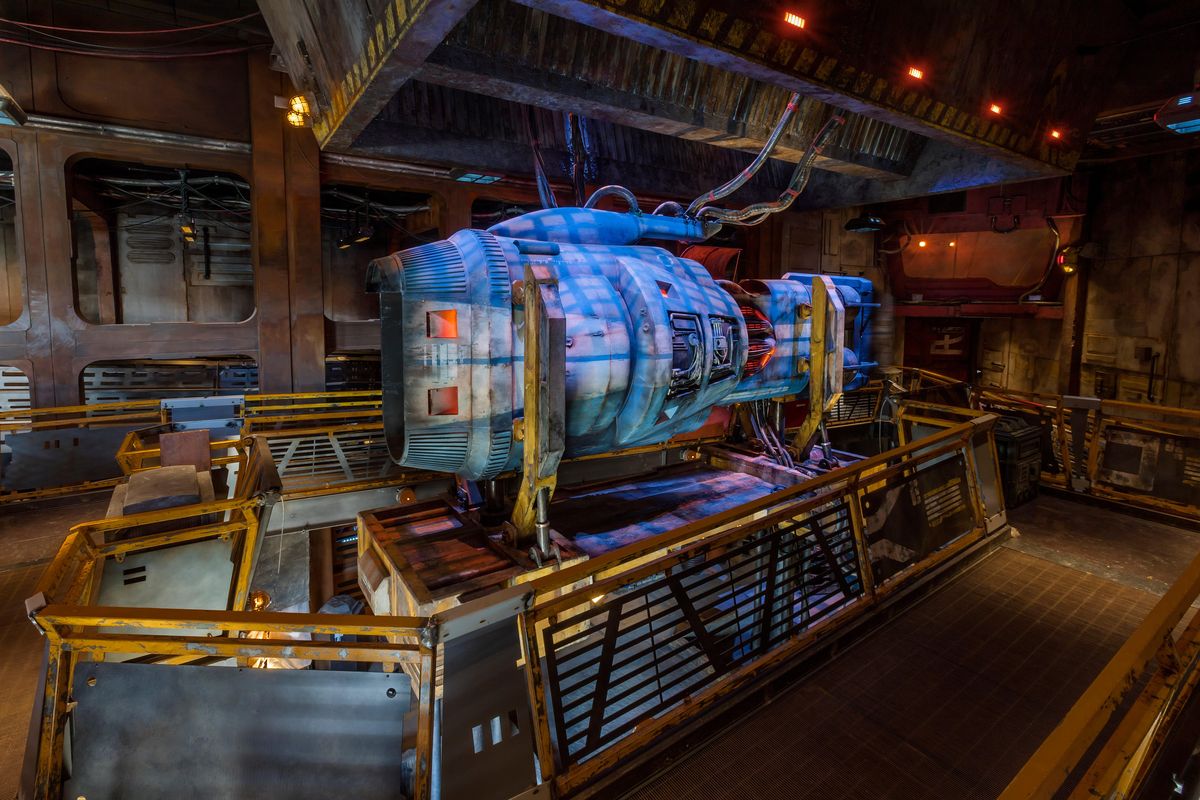 Star Wars: Galaxy's Edge - Disneyland Resort - 3/15/19. (Joshua Sudock / Disneyland Resort)
Whether you grew up with Luke, Lando and Leia, or with Anakin, Ahsoka Tano and Rey, maybe you've daydreamed about visiting the imaginary places from a galaxy far, far away.
Now you can.
With Disneyland's opening of "Star Wars: Galaxy's Edge" in late May, fans of the Force can finally pilot the Millennium Falcon, grab a drink in a cantina filled with a wretched hive of scum and villainy or even exchange helpful haircare tips with Chewbacca. The Orlando version is set to open in late August.
At 14 acres and a billion-dollar budget, a visit to Galaxy's Edge is unlike any theme-park experience in any world. And not just because of its ties to the Star Wars universe's beloved characters and stories.
What just opened in Anaheim is either a complete re-think of how an amusement park should behave or a full-circle return to Walt Disney's original vision for his signature park. That becomes clear as you walk into the resort's newest land, through tunnels that transform with subtle visuals and sounds, opening up to a place that feels like it's been hidden there forever.
Once in, you realize it's surrounded in a way that makes it so that not only can you not see the outside world, you can't even see the rest of Disneyland.
You're not in a recreation of a land from Star Wars. You're not even on a set from one of the movies. You're on the Black Spire Outpost on the planet of Batuu. That's how the people around you will behave, helping create the most immersive and surreal adventure ever built for a theme park.
In many ways — notably scale — Galaxy's Edge could literally be its own theme park. And, yes, you can treat it just like you would any other typical theme-park area by rushing to get in line for the big ride or by scouting out the newest souvenirs you want to show off back home or by looking for the characters from your favorite Star Wars movies. Galaxy's Edge can work that way. It has to.
It's just that its was designed to be much more than just "typical" – with a kind of thoughtfulness and attention to detail that rewards visitors who take things a little slower and embrace things much differently. The non-traditional nature of Galaxy's Edge likely makes Disney's long-awaited Star Wars land the riskiest bet the company has ever placed in one of its parks.
There is literally nothing else in this world like Galaxy's Edge – no easy way to compare it.
That's also why it works.
Still, this is the most anticipated theme-park attraction ever. Lots and lots of people on this planet are headed to Anaheim to see this far-away place. Galaxy's Edge was announced in 2015. Construction took more than three years. In that time, Disney had to rebuild lots of its core infrastructure and systems focused around crowd flow. Everyone knew the crowds were coming, so Disneyland re-thought lots of how it works before the out-of-this-world crowds arrived.
To really enjoy Galaxy's Edge, and see and do as much as you possibly can while there, you absolutely need to download the Disneyland mobile app. Once you have your park tickets and you are in Disneyland, make sure you pay the extra $15 to activate MaxPass on your app. It will be the best $15 you spend in the park because of how it allows you to secure reservations, make food orders and get all of the photos taken of you by Cast Members and at rides.
It may not take you to warp speed, but you'll definitely be getting around more efficiently and easily than everyone else in the park.
You also should probably download the Play Disney Parks app, which has features very specific to Galaxy's Edge, making the area even more enjoyable. This probably goes without saying, but bring a portable charger or two for your phones.
Get there early. As soon as your entire group is in the park, use the Disneyland app to get a time in the virtual queuing system to join a "boarding group" for the new Star Wars area.
You also will need reservations to get into Savi's Workshop and Oga's Cantina, which can be done through the app, as well, if you want to do those attractions. If you have a little luck, you can even make reservations for these places before you enter the park, guaranteeing your group admittance to Galaxy's Edge. Because these places are built around items and experiences that cost money, like building a custom lightsaber or ordering one of the craziest drinks you've ever seen, you will need to use a credit card to secure those reservations.
Through the first few weeks, the lines for Smugglers Run, the Millennium Falcon ride, have averaged just over 30 minutes. It hasn't had a Fast Pass option available. The queue for the ride is amazing, with lots to take in and absorb. The ride begins, or at least its story, as soon as you get in line.
Listen to the fun conversations happening around you on the speakers. Have your camera out as soon as you enter the room for Hondo Ohnaka's flight briefing because the very next room is going to be the flight cabin of Han's old ship and they let you wander around for a few minutes to take photos.
Use the Disneyland app to make the reservations you need and to order food while in Galaxy's Edge. Don't waste time on any of the things that don't really matter. There will be big crowds there and the workaround is too easy for you not to utilize it.
Then simply explore the land. Walk slowly. Always be looking up, down and around. Use the map to know where things are, because many of the coolest things to see and do are not marked in an obvious way. Remember, this is a place where these "residents" live, not a place for tourists. That's how the entire land was built.
It's also what makes it feel so real, like you're literally in a Star Wars movie.
Open things that look like doors. Don't be afraid to peer inside a crate. Flip any switch you see. Push every button. If you get a drink at the water fountain in the marketplace, make sure someone is behind you with a camera. Talk to everyone who works there, but do it as if they live there. Your conversations are going to be one of the things you remember the most once you get back to our planet.
Listen to the pipes. Even in the bathrooms. It sure sounds like there are creatures in them. One of the audio designers for Galaxy's Edge from Skywalker Sound said the creatures in the pipes were his favorite hidden detail in the entire land.
But, to be honest, it's loaded with things like that. All hidden in plain sight. And sound. That's the key to really enjoying Galaxy's Edge — have a plan, know what you want to do, then slowly enjoy the world your inner nine-year-old has always wanted to visit.
Local journalism is essential.
Give directly to The Spokesman-Review's Northwest Passages community forums series -- which helps to offset the costs of several reporter and editor positions at the newspaper -- by using the easy options below. Gifts processed in this system are not tax deductible, but are predominately used to help meet the local financial requirements needed to receive national matching-grant funds.
Subscribe now to get breaking news alerts in your email inbox
Get breaking news delivered to your inbox as it happens.
---