News > Crime/Public Safety
Contraband drugs may have claimed second life in Spokane County Jail
June 22, 2019 Updated Sat., June 22, 2019 at 11:36 a.m.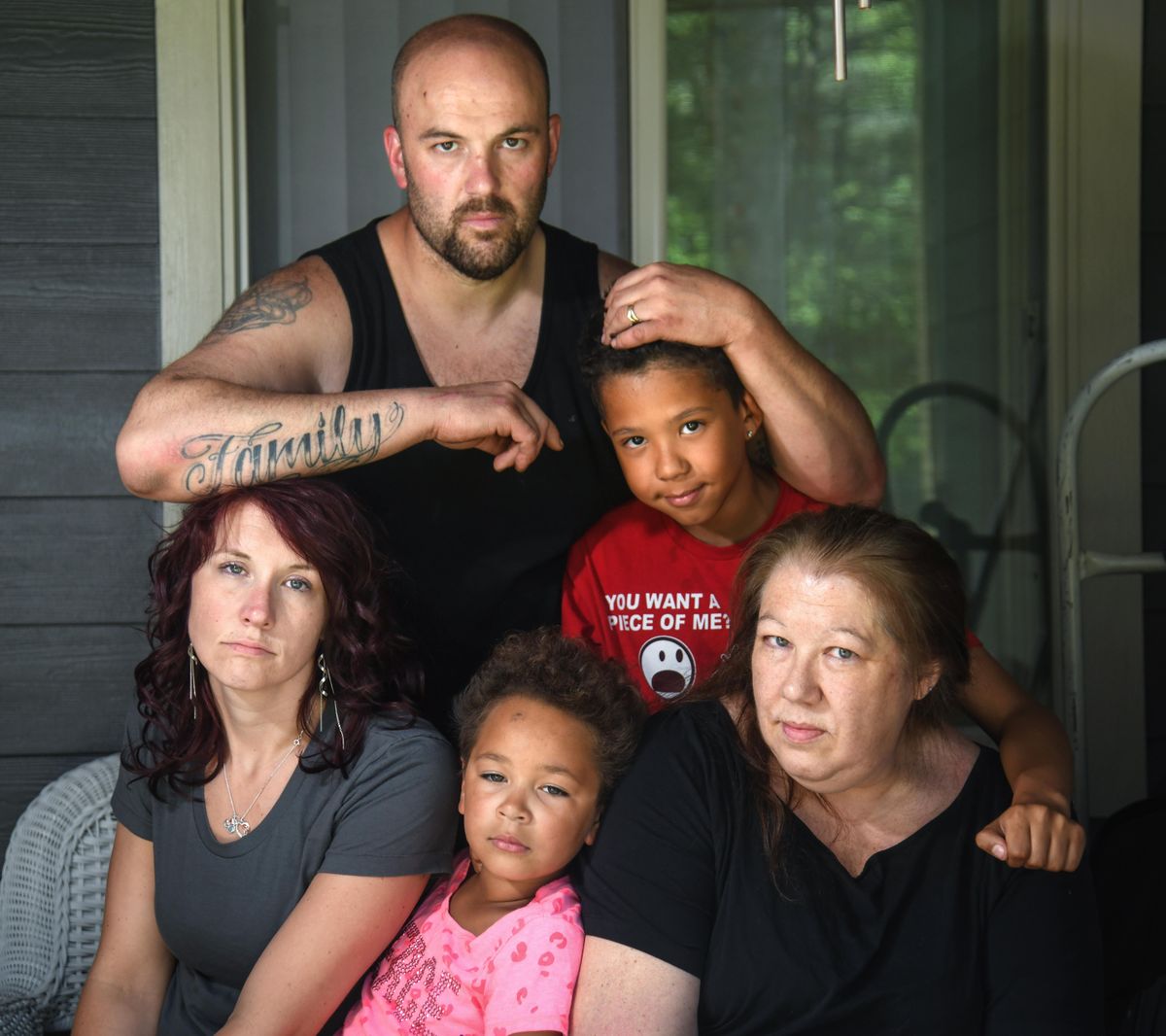 Sharona Carroll, 39, died in the Spokane County Jail on June 11, 2019. Clockwise from top, her brother Jason Carroll, son Angelo Miller, mother Jana Akins, daughter Aaliya Camps and sister Brittani Bennett pose for a family photo on June 14, 2019. (Dan Pelle / The Spokesman-Review)
Officials say a drug overdose might have caused the death of a 39-year-old woman in the Spokane County Jail.
The county medical examiner's office won't officially determine how Sharona Carroll died until it receives toxicology results from a state forensic lab.
Due to backlogs, that could take months.
Mike Sparber, interim director of Spokane County Detention Services, said nurses, corrections officers and paramedics rushed to Carroll's cell on the third floor of the downtown jail after her cellmate shouted for help in the early hours of June 11.
"The response time was fairly rapid," Sparber said.
Jail staff gave Carroll a dose of naloxone – a drug sold under the brand name Narcan that reverses opioid overdoses – but she remained unresponsive. She was pronounced dead at 3:05 a.m., becoming the 13th person to die in Spokane County's custody since 2015.
Sparber said a substance was found in Carroll's cell and would be tested as part of an investigation by the Spokane County Sheriff's Office. His description suggests the substance might have been black tar heroin.
"We do know that there was a substance that was found. It was black. It was in a baggie," Sparber said. "The roommate was present for a lot of the things that took place in the investigation and was able to give a statement to the detective."
Jail battles
drug smuggling
Carroll would not be the first person to overdose on contraband drugs in the Spokane County Jail.
Last June, Shane Carson, 31, died in his cell after overdosing on methamphetamine and some type of opioid. At the time, corrections officers believed he was "detoxing" or experiencing withdrawal symptoms, and they dismissed the concerns of his cellmate, who tried to get him help, records showed.
In March, a 24-year-old woman who had been in jail for seven weeks was caught with meth, according to court records. She had hidden it in a body cavity in the tip of a rubber glove, which she got from working in the jail's laundry room.
And in early May, corrections officers used naloxone to rescue three women who were found unconscious after ingesting a powdery white substance.
Inmates are subjected to pat-downs and strip searches when they enter the jail and when corrections officers have reason to suspect drug use, Sparber said. Officers also conduct random shakedowns and use Spokane police dogs to sniff around the facility.
Sparber said he's spoken with the Spokane County commissioners about purchasing X-ray scanners to detect items hidden in body cavities and mail. He and jail lieutenants also plan to visit facilities in other counties where that technology already is used.
Sparber said jail staff have administered at least 50 doses of naloxone, saving some inmates' lives, since the start of 2019.
"These officers are very good at what they do," he said. "They work extremely hard, and they're doing the very best with a very complex situation of narcotics. The clientele and the demographics of the folks that we're getting, they're an unhealthy bunch of folks."
Crash preceded
jail stay
Carroll was booked into the jail in October, and records indicate she would have been transferred to a state prison once several cases were adjudicated.
One of those cases involved an Oct. 21, 2015, car crash in Spokane Valley.
According to court records, Carroll was driving an old Cadillac along Sullivan Road when she veered across the center line and struck an oncoming Subaru, leaving the other driver with a broken back. Carroll's car then slid into a Mazda, while the Subaru was pushed into a Chevy SUV.
Carroll's daughter and son, who were 3 and 6 at the time, were in the back seat of the Cadillac. As a result of the crash, the boy suffered a perforated intestine that required surgery, according to court records.
A test of Carroll's blood found traces of meth and norbuprenorphine, a drug used for treating opioid addiction. She also acknowledged her license was suspended and said doctors had advised her not to drive, according to court records.
Carroll told detectives she suffered from fainting and seizures, which she attributed to prescribed medications and the battery in the pacemaker that kept her heart beating. (As a teenager, she was diagnosed with atrial fibrillation, according to her mother.)
The case dragged on. Last June, Carroll pleaded guilty to two counts of vehicular assault. In September, a judge sentenced her to two years in a residential drug-treatment program, but she quickly violated the terms of that program and was ordered back to jail or prison.
'She had
the biggest heart'
When her brother was homeless, Carroll knew how to find him. She would bring him money, hand over bags of new clothes and shoes, and make him take a shower.
Jason Carroll still regards her as his protector.
"I'm a year, one month and nine days older than her," he said. "But I'm her little brother."
"She had the biggest heart," said their mother, Jana Akins. "She'd give the shoes off her feet – and she loved her shoes."
Carroll had an extensive criminal record dating back to 1994, when she was 15, that included convictions for theft, assault, forgery, driving under the influence, possession of stolen property and drug possession with intent to deliver.
In May 2018, Carroll was arrested after admitting she stole a woman's iPhone from a room at Northern Quest Resort & Casino, and a search of her car turned up heroin and Suboxone strips, according to court records.
In June 2018, she was accused of stealing another woman's phone after striking her head with a tire iron at a motel in west Spokane.
And in August, she was arrested on suspicion of stealing $1,000 and three credit cards from another room at Northern Quest; in her purse, officers reported finding meth and heroin.
Those 2018 cases were never resolved.
Despite her history of drug use, Akins and other members of her family were reluctant to believe she might have died of an overdose. They said Carroll had complained for months about her medical care in jail, even after she was taken to a hospital to have the battery in her pacemaker replaced.
They kept dozens of request forms, known as kites, which Carroll filled out during her time in jail. Those forms were turned over to the family along with her other personal belongings. One of them includes a note from a jail nurse who denied Carroll a prescription for Suboxone, a drug used for treating opioid addiction.
Sparber said he could not discuss Carroll's medical care but it would be addressed as part of the sheriff's office investigation.
Angel Tomeo Sam said she and Carroll were close friends for years, supporting each other through addiction and other hardships.
"I was without my children. I was without a home," Sam said. "I was without anybody that I could really trust or even relate to, and she was that for me."
Sam found the help she needed and stopped using meth. She now works for a nonprofit called the Bail Project, writing checks to free people from the county jail and connecting them with local service providers, including drug counselors. She and Carroll fell out of contact several years ago.
"To lose her in the jail is really devastating to me," Sam said. "We were shoulder-to-shoulder out there. And I have no doubt, if we had chosen and been on the same path, we would be shoulder-to-shoulder right now."
Editor's note: A photo that accompanied this story was removed on Saturday, June 22, 2019. According to Sharona Carroll's mother, the photo erroneously featured Carroll's sister due to a misidentification.
Local journalism is essential.
Give directly to The Spokesman-Review's Northwest Passages community forums series -- which helps to offset the costs of several reporter and editor positions at the newspaper -- by using the easy options below. Gifts processed in this system are not tax deductible, but are predominately used to help meet the local financial requirements needed to receive national matching-grant funds.
Subscribe now to get breaking news alerts in your email inbox
Get breaking news delivered to your inbox as it happens.
---