Sports
A Grip on Sports: From the first year, Hoopfest was a well-oiled memory-building machine
Sun., June 23, 2019 A GRIP ON SPORTS • A Sunday morning in late June seems a perfect time to talk basketball. After all, the 30th Hoopfest will be taking over downtown next weekend.
•••••••
• It seems like only yesterday. Honestly. We were sitting in the first-base dugout at Franklin Park's main softball field when Steve Larson and I began talking about this new thing. It was called hoopfest. Or Hoop-fest. Or something like that.
Basketball downtown. On the city streets. A 3-on-3 tournament. Seemed perfect.
Being that Steve and I played 3-on-3 together during the fall at Spokane Falls Community College, it seemed like a no-brainer.
We needed to play. But who else could we sucker into joining us?
Steve was the high school basketball coach, so I deferred to his judgement concerning the makeup of the team. Besides, he had more friends. He felt we needed another guard – what, I wasn't enough? – so he would go on to recruit his buddy, Dave Ward, another Cheney coach who would, later in life, win as State 4A football title as Oak Harbor's head coach. At least consorting with us didn't ruin him.
But we needed some height too. Where does one find a 6-foot-4 or 6-foot-5 guy? Turns out, we had one in our dugout. Tom Bock was a pitcher with our fastpitch team. He was at least that tall. And the Grand Coulee resident overheard our conversation.
"I'll play," he said.
Great. But, Tom, we didn't know you played basketball. I really don't, he said, but this sound like fun.
It was. Even if the main memories I have from that first year downtown included Tom proving, on the court, he really didn't play basketball. Or losing, winning and then losing, ensuring we didn't play on Sunday. (Steve and I, with many other iterations of our teams, went so many years without playing on a Sunday one year we named our team "Never on Sunday." Of course, that year we played on Sunday. In the Loser King bracket. And won the coolest T-shirt of all.)
Back in 1989, who knew what Hoopfest would become? No one, not even the guys in charge, the story of whom John Blanchette shares in today's S-R.
But I'm pretty sure Rick Betts knew he was helping to create a memory-making machine.
That's what Hoopfest is, at its core. And I'm no different.
I remember that first year and the first two-point shot of the first game we played. (It was from our opponent and it was good.) I remember playing a tournament with Steve's extended family – and one with my two sons and my wife Kim. I remember losing Jack, and having to answer one of those over-the-loudspeakers announcements, "will the parents of Jack …" (Actually, that happened in back-to-back years.)
I remember the fight I was peripherally involved in. In the media division. And my boss almost getting his face re-arranged. I remember playing in two divisions a few times, and my legs getting re-arranged by the pavement. I remember answering a friend's call a couple of days before the event when I was in my 50s, wondering if I could be the fourth guy on his team.
He assured me the other three would play all the minutes. They just needed someone who could come in and play a couple minutes occasionally. I said sure. Then, in the first game, as we were losing, one of the trio that was supposed to play every minute, went down with a Kevin Durant-like injury. Guess who had to play every minute of every game? Yep.
We also kept winning. All the way through the consolation bracket to the title game. Where we finally ran out of gas. I mean, the other two guys ran out of gas. I was on empty a couple minutes into our second game.
But my Hoopfest memories? They will never run out.
•••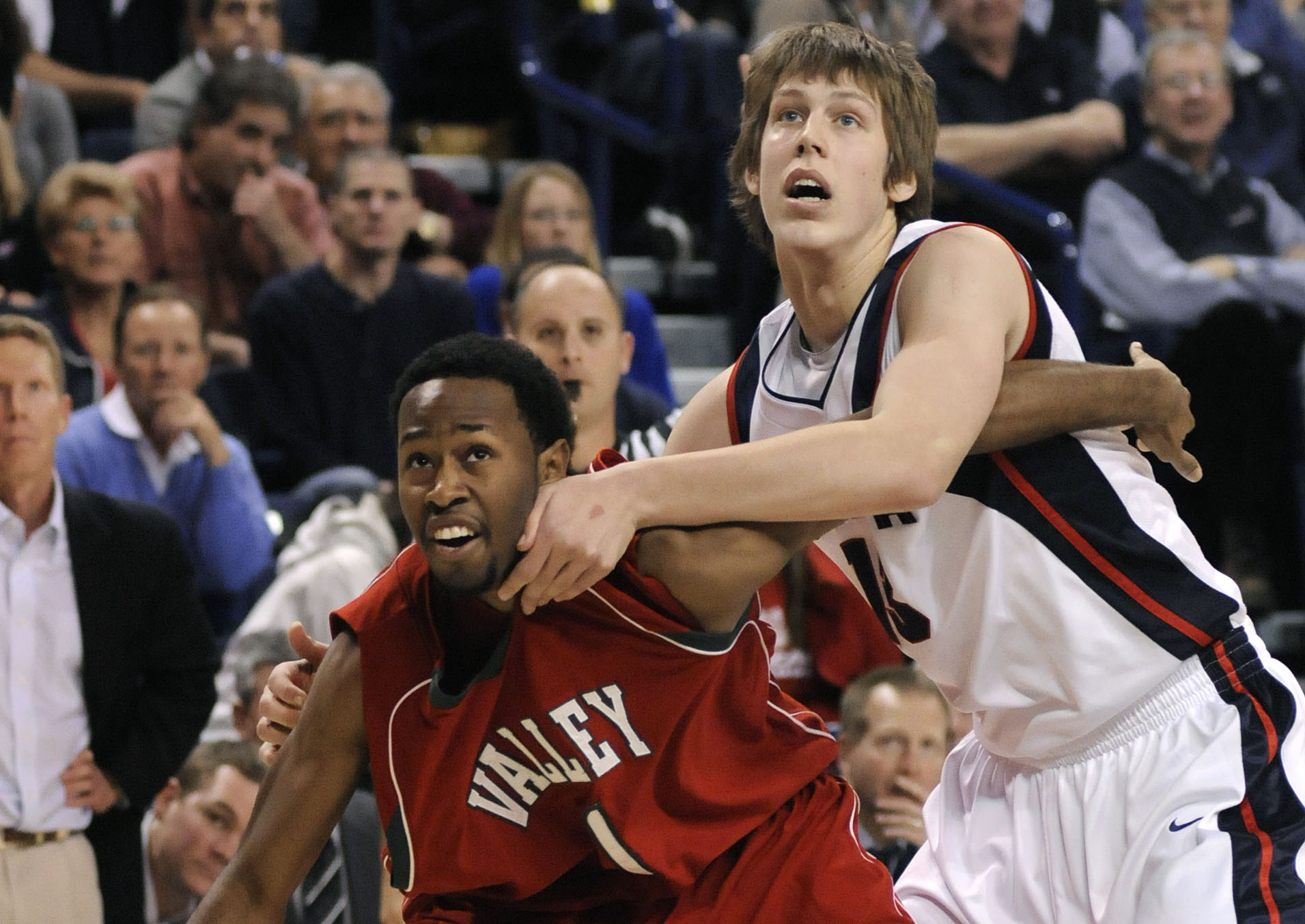 Gonzaga: With the S-R's Gonzaga Legends event coming up in less than a week, Ryan Collingwood touched base with one of the participants, Miami Heat forward Kelly Olynyk. They cover his time in the NBA, sure, but the core of the story revolves around GU. … The late Dan Fitzgerald and former Mead and WSU kicker Jason Hanson have been named to the State of Washington Sports Hall of Fame. That and more is contained in Sunday's local notebook.
WSU: Around the Pac-12, it's been 40 years since the Pac-8 became the Pac-10 with the addition of Arizona and Arizona State. … Those players who were not drafted by the NBA should be allowed to return to college if they want. Even the NCAA feels that's the way it should be. But the league and its players union didn't come together for a rule change and it won't happen this season. Sorry guys. … Colorado football is looking for a better outcome under Mel Tucker.
Idaho: Another letter writer weighs in on the doings concerning the Vandal athletic program.
Indians: One thing is sure. Spokane has started the season playing well. After last night's 5-0 win over Boise at Avista Stadium, the Indians are 7-2. Dave Nichols was there and has this story. … Around the Northwest League, Eugene's winning streak is over thanks to Tri-City. … The M's newest pitcher threw for Everett and lost to Salem-Keizer.
Chiefs: Adam Beckman heard his name called at the NHL draft but Luke Toporowski did not. Kevin Dudley has that and more in this story.
Mariners: The Orioles are better at being awful than the M's. Except last night. … Remember the Seattle Pilots? I do, thanks to Jim Bouton. … Ryan Rowland-Smith is trying a new sport. … The Mariners haven't had the best of luck with prospects. … Gene Warnick has an Out of Right Field recap.
Seahawks: You have questions? There are answers.
•••
• Some of my best Hoopfest memories revolve around our family, of course. Tyler and his buddies winning. Jack always finding his way into Boo Radley's. Kim wrangling everyone everywhere. And me complaining about sunburn and wondering why I decided to bring a chair. Actually, I played in the first 15 Hoopfests. I have the T-shirts in a drawer to prove it. And the memories. Until later …
Local journalism is essential.
The journalists of The Spokesman-Review are a part of the community. They live here. They work here. They care. You can help keep local journalism strong right now with your contribution. Thank you.
Subscribe to the sports newsletter
Get the day's top sports headlines and breaking news delivered to your inbox by subscribing here.
---