News > Spokane
Riverfront Park becomes "destination" with newly opened promenade
Sun., June 23, 2019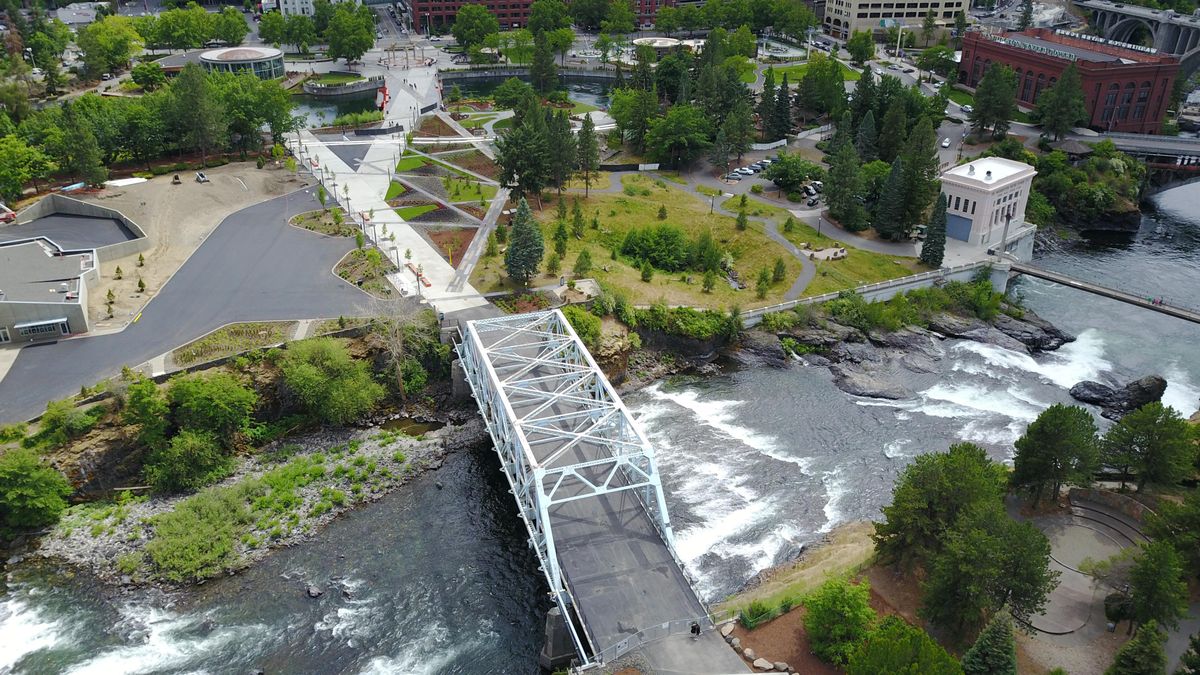 The Central Promenade walkway through Riverfront Park, including the Howard Street Bridge, foreground, is shown Friday, June 21, 2019 in Spokane. The refurbished and landscaped walk is preparing to open. The deteriorating blue bridge, once judged unsafe for use, has been modified to continue serving as a pedestrian bridge. (Jesse Tinsley / The Spokesman-Review)
Families, friends, and furry folks walked and rode from the giant butterfly feature at the north end of Riverfront Park to the Rotary Fountain at the south end on Sunday morning.
Some people stopped at the Upper Falls of the Spokane River while others sped through on their bikes. This is one of the first chances to traverse the Central Promenade in Riverfront Park after it officially opened Friday evening.
The promenade creates a direct connection between the two ends of the park linking downtown and West Central.
Kelli and Eric Jones ventured out into the park for the first time this Spring on Sunday.
The couple brought along their German shepherd, Roco.
The park didn't used to be a destination, Eric Jones said. It seemed like a waste.
"Now the park is the destination," he said.
Kelli Jones chimed in that with the new smooth paths it would be a great place to Rollerblade.
The couple, who have lived in Spokane for 10 years, agreed that the park is "friendlier" after the renovations.
The promenade connects to smaller paths and lookouts where visitors can see signs about the history of the area or local programs like the Spokane County Conservation Futures Program.
Emily Leddige brought her dog Winter, a corgi and Australian shepherd mix, out for a walk from Kendall Yards to the new promenade.
It's "more inviting" and easier to find, Leddige said.
The promenade "offers a wider pathway and light system for enhanced safety," according to a Parks and Recreation statement.
Kids jumped and splashed in the Rotary Fountain to the sounds of jazz as Jerry Willard played away on his saxophone.
Willard has played in the park every day that he can since he started over seven years ago. In that time, he has seen a lot of changes in the park.
"They did a great job," said Willard. "It's really nice."
He plays everything from the classics to gospel to rock 'n' roll.
Willard is a retired Vietnam veteran and plays for some extra money. He selects his spot "where the people are" and starts playing.
Once it's all opened up, the park is going to be really special, Willard said.
The Central Promenade is part of the Riverfront Park Redevelopment, which is funded by a $64 million bond approved by voters in 2014.
Local journalism is essential.
Give directly to The Spokesman-Review's Northwest Passages community forums series -- which helps to offset the costs of several reporter and editor positions at the newspaper -- by using the easy options below. Gifts processed in this system are not tax deductible, but are predominately used to help meet the local financial requirements needed to receive national matching-grant funds.
Subscribe now to get breaking news alerts in your email inbox
Get breaking news delivered to your inbox as it happens.
---