News > Spokane
East Valley graduate found support in Washington Drug Free Youth, but programs encouraging kids to be drug-free are struggling
June 25, 2019 Updated Tue., June 25, 2019 at 6:52 a.m.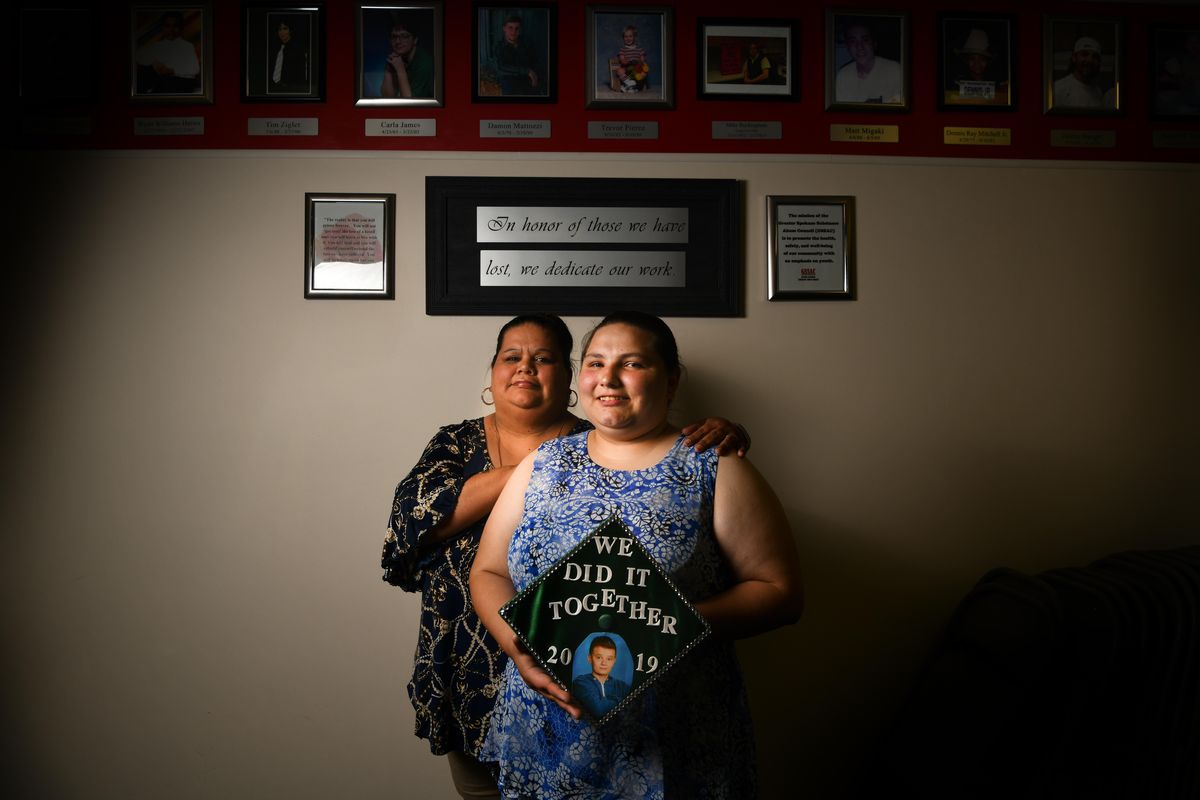 Christine Dugger, right poses for a photo with her mother, Amanda Dugger, while holding her East Valley High School graduation cap adorned with a photo of her best friend Brandon Dunkle, who died in front of her after being hit by a drunk driver in 2016 on Wednesday, June 19, 2019, at Greater Spokane Substance Abuse Council's offices in Spokane Valley. Christine Dugger was very involved in anti-drug groups during high school and plans to pursue a career in special education. (Tyler Tjomsland / The Spokesman-Review)
At 12, Christine Dugger noticed a pattern: the only time her family was getting along was when they were drinking and using drugs. The fights were about nothing and the solution – using – was always the same.
"Every time we would have family barbecues or get-togethers there would always be alcohol there, and marijuana and stuff," Dugger said. "I just remember thinking, 'I don't understand why our family does this.' "
Dugger, a recent East Valley High School graduate, wanted a different solution. Her goal was to break the cycle, and help her peers in the process. In high school, Dugger was a student leader for Spokane Valley Youth Voice; one of the issues she addressed was remaining drug free. Dugger also reached out to her younger family members.
"Most of my cousins and family members do look up to me," Dugger said. "The ones that are younger call me all the time, I hang out with them a lot. … [I'm] trying to teach them that you don't have to have drugs and alcohol just to have fun."
Luckily, Christine had the support of her parents, who both got clean in 2005. Amanda Dugger, Christine's mom, was coming off a high from methamphetamine, and she could tell something was wrong. She went to the hospital, and the doctor told her she had a stroke. Amanda was only 27, and the doctor told her if she didn't quit, she wouldn't be alive much longer.
"My daughter was 4 years old and I realized I needed to do something," Amanda said. "Unfortunately three years later my mother died of a drug overdose and alcohol so at least she got to see me sober for three years, but all of my siblings are in active addiction as of today."
Addiction for Amanda started in high school. She was using cannabis and alcohol and got in a car accident. She became addicted to prescribed painkillers.
"After that crash, I started having fears on a daily basis, plus these really bad migraines," Amanda said. "I got addicted to the pain meds which led to my meth addiction."
Christine is the second generation to graduate high school; Amanda graduated in 1997. Amanda's mother wasn't present at her graduation because "she was off getting high."
"It was very emotional to see her go across the same stage I did," Amanda said. "I was very proud to see that she was able to stay clean and sober through the high school years because in my family that's very rare to see. I was proud I was able to be there that day to do something that my mother didn't do for me."
Christine's graduation was emotional for more than one reason. In March 2016, Christine lost her best friend, Brandon Dunkle, who was run over by a driver using drugs and alcohol. Christine saw her friend run over; the incident happened in front of her home. On her graduation cap, Christine had a picture of Dunkle, with the words "We did it together 2019."
"It was completely terrible," Christine said. "It was something I will always remember, and it's just stuck in my brain."
Amanda said she was incredibly proud of her daughter for staying away from drugs and alcohol after the death of her friend. Amanda's passion is being an advocate for drug treatment and prevention. She works for Greater Spokane Substance Abuse Council as a community outreach specialist, and tells her story to victims' panels.
"I show a picture of my daughter, and how resilient she was even after losing her best friend Brandon," Amanda said. " … I was trying to show them Brandon had his life ahead of him, but unfortunately one man's choice getting behind the wheel under the influence took that from him, and the way he graduated was to be on the top of my daughter's cap."
Prevention and treatment is a mother-daughter affair. For six years, Christine was a card-carrying member of Washington Drug Free Youth. The program requires participants to submit to random drug tests in exchange for a discount card to many Spokane establishments, including discounted day passes to Wildwalls and the YMCA, reduced prices at restaurants all over town, coordinated with activity nights for the participants. The idea of the program was to normalize being drug-free.
"We're seeing the perception of harm [with cannabis] is going down," Linda Thompson, GSSAC executive director, said. " … now it seems like 'Well it's legal, it can't be harmful.' "
Thompson also attributes this attitude to the widespread marketing of cannabis and proliferation of cannabis retailers. According to the Washington State Healthy Youth Survey, 45% of Spokane high school seniors perceive regular cannabis use as not harmful. For sophomores, 37% perceived it as not harmful, and 25% of eighth graders also said it wasn't harmful.
Paige McGowan, program coordinator for the Tobacco, Vaping and Marijuana Prevention Program at the Spokane Regional Health District, said cannabis use among teenagers has been stable since 2002, but noted that tobacco and alcohol usage has gone down, and wished she saw that downward trend with cannabis.
"I think the perception has changed that people think a lot more kids are using, and youth thinks that a lot of their peers are using, when really every time we collect data, we're not seeing an increase," McGowan said.
For Thompson, a Spokane Valley City councilwoman, drug prevention is personal.
"I'm in prevention because my 3-year-old son was killed 33 years ago by a 17-time repeat drunk driver," Thompson said. "I left banking and went into prevention, and I've been a grassroots leader on this forever."
Due to lack of support, the drug-free youth program phased out at the end of this school year. Part of this is because there wasn't enough support at the school level, and it was unclear whether they would be able to continue funding the drug screenings.
"I think its something that they should reconsider because in high school, (the drug-free youth program) is not really frowned upon at all, it's kind of respected," Christine said. "Everyone in that group had their own story of why they're there."
The program also had special activity nights; Christine enjoyed when the entire group would go to the YMCA. But Thompson said they had difficulty finding advisers for the club. She said one of the biggest obstacles for teen drug use prevention is that there used to be enough funding for a student assistant specialist in every high school and middle school, and now this is funded through coalitions which do not reach every school.
"I feel that every community and every high school should have those resources because this is community, statewide, nationwide," Thompson said. "This is not just by neighborhood that the issues are coming up."
The Spokane Regional Health District received $306,842 for prevention programs that also serves Adams, Lincoln, Stevens, Pend Oreille and Ferry counties. The abuse council receives $16,000.
Those numbers compare to $120 million in cannabis taxes collected on $500 million in sales last year.
"(People) think prevention is just rolling in dough, and that's not the case," McGowan said.
In August, Christine will attend orientation at Spokane Community College, where she will focus on special education. When Christine was growing up, she got in trouble with her mom for skipping class to visit Dunkle in his special education classroom. Junior year, she found out about a class called "Yes I can," that allows students to help other students who are behind academically.
"I see past disability, I see a kid," Christine said. " … Growing up with (Dunkle), and seeing how he was, just really made me want to know more."
Local journalism is essential.
Give directly to The Spokesman-Review's Northwest Passages community forums series -- which helps to offset the costs of several reporter and editor positions at the newspaper -- by using the easy options below. Gifts processed in this system are not tax deductible, but are predominately used to help meet the local financial requirements needed to receive national matching-grant funds.
Subscribe now to get breaking news alerts in your email inbox
Get breaking news delivered to your inbox as it happens.
---