Sports
A Grip on Sports: No matter how many times the world turns, Hoopfest is one of Spokane's best weekends
Thu., June 27, 2019, 7:57 a.m. A GRIP ON SPORTS • You noticed the days are getting shorter, didn't you? Before you know it, walking the dog after work will once again occur in the dark. And cold. But that's still a ways down the road. Between now and the inevitable then, there are a few evenings to enjoy, starting downtown this weekend.
•••••••
• The summer solstice has come and gone. As my pop used to say – or was it my own inner voice? – it is all downhill from here. Next stop, Christmas. Yep, right after the days once again begin getting longer is the most revered holiday in every kid's lexicon. The second-most revered? It may be the one that occurs this weekend, just a few evenings after daytime begins to shrink.
Hoopfest may include hundreds of courts for adults – we have a story today about one of the many folks who have played in all 30 Hoopfests ­– but its core is made of children.
Not just this weekend, but all year, though we will get to that in a minute. Right now, let's talk about the pitter-patter of little feet on the downtown streets starting at 8 a.m. Saturday.
Wander around. Just about everywhere you look you will see kids playing hoop. Really young ones. Middle school girls. High school boys. All ages, all ethnic groups, all genders. Some playing to win, others playing to, well, just play. Costumes and uniforms. Parents and grandparents.
Center court is devoted to the best of the best, as it should be. There is a competitive nature to the world's largest 3-on-3 basketball tournament. But the heart beats on the kids' courts. The future too.
Jason Shoot's story on Jeremy Weaver today illustrates that.
Jeremy is a Spokane kid. And a Spokesman-Review kid as well. His dad, Dan, was once a co-worker, a friend and basketball teammate. My favorite Hoopfest memories include the Saturday night he walked into the Red Lion barbecue joint after breaking his middle finger. It was in a split, meaning he couldn't bend it. All of us there, well into our routine of fluid replenishment, held up our middle fingers as well in a show of solidarity – and a salute to his competitiveness, as he finished his game before heading off for x-rays.
And watching Jeremy play.
Even then, early in Hoopfest's run, there was a plethora of courts devoted to those yet to finish high school. It didn't matter then, and it doesn't matter now, whether you were good, bad or indifferent at basketball. It was, and is, about playing.
Winning? That's a goal, sure, but the best courts are the ones in which no one really cares. They just enjoy the chance to play on the downtown streets in front of a whole bunch of people.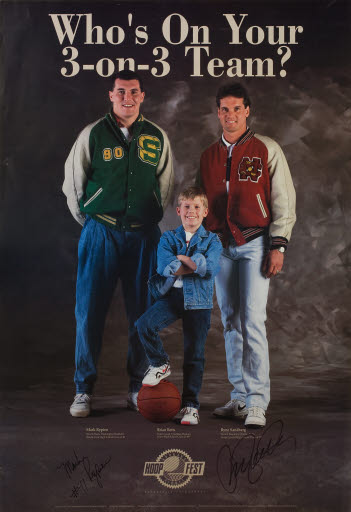 The event's 30 years corresponds with the growth of basketball in this community. There is a correlation.
Hoopfest isn't just a weekend in June. It's a year-long commitment to youth basketball. For years the organization has run the local AAU league. It also oversees The Ignite Basketball Association, a league aimed at helping students in Spokane's poorer urban neighborhoods. Hoopfest also has built more than 30 basketball courts in local parks, has a hand in helping the area's best high school players play travel basketball each spring and summer with Eastern Washington Elite (full disclosure: I help and coach with EWE) and supports youth basketball in other ways.
One weekend a year helps all that. And that weekend is almost here.
So if you're not doing anything this Saturday or Sunday, wander downtown. You can visit the main courts, sure. The elite players are impressive. But don't forget to wander around the youth courts. The younger kids are impressive too, in another way. They are joyful. And fun. And the real soul of the event.
•••
Gonzaga: If anyone asks me who my favorite all-time Zag player is, I usually hem and haw, not wanting to hurt the feelings of many folks I have come to know well over the years. But hold my typing fingers to the fire and I would scream. And then mention the subject of Ryan Collingwood's story today, David Pendergraft. I first got to know Davey when he was in high school and would drive from Brewster into Spokane to work out with former GU coach Dan Fitzgerald. Of course, it was the way he played, all out, all in, every second of every game, that endeared me to him the most. Since then our paths have crossed many times and I've always had the same conclusion: Someday he's going to be the mayor of Spokane. And our community will be all the better for it. Davey is part of the Gonzaga Legends event tonight downtown. … Hoopfest executive director Matt Santangelo talks about that and more with Larry Weir in the latest Press Box pod. … Former Gonzaga forward Johnathan Williams and the Lakers are in contract talks. Jim Meehan has more in this story.
WSU: Around the Pac-12, which position groups are the strongest, and the weakest, for each of the South's teams? … Mike Bellotti will finally take his place in Oregon's athletics hall of fame.
Indians: After a hot start, Spokane has sputtered the last couple nights. Wednesday's 5-2 loss to Tri-City can be traced mainly to defensive miscues. Dave Nichols has the game story. … Around the Northwest League, Everett won on a bases-loaded walk for second consecutive night and Boise defeated Eugene.
Chiefs: The WHL schedule is out. Spokane's first home game will be Sept. 29 against Kootenay.
Ironman: The event, shorter than it has been in the past, occurs Sunday in Coeur d'Alene. Ryan tells us, however, organizers are working to bring back a full Ironman event to the area.
Mariners: J.P. Crawford is on fire and the M's are winning. There may be a correlation. They won 4-2 in Milwaukee last night. … Larry Stone has a deep understanding of the relationship between reporters and players. … Gene Warnick has his Out of Right Field recap from the win.
Seahawks: Was Malik McDowell the worst draft pick Seattle ever made? The defensive lineman, who never played a snap for the Hawks, made another poor decision.
•••
• It's hard for me to fathom this is the 30th Hoopfest. That means I was 32 years old when I played in the first one. Basically the same age my youngest son is now. Where did the time go? Work, kids, naps, all the typical stuff. Not playing in Hoopfest anymore, that's for sure. But if I am in town, I make sure to make the pilgrimage downtown at least one of the days. Nothing is better than touching base with old friends before or after they have made fools of themselves. And, of course, watching Spokane put on one of its most inclusive community events. Until later …
Subscribe to the sports newsletter
Get the day's top sports headlines and breaking news delivered to your inbox by subscribing here.
You have been successfully subscribed!
There was a problem subscribing you to the newsletter. Double check your email and try again, or email
webteam@spokesman.com
---