Oh, give me a home: Friends share care of orphaned bison Sometimes Jennifer Kofmehl whistles "We Three Kings." Like winking, she's not a great whistler, though Baxter and Hazel don't seem to mind. She sings them their names or "Hallelujah."
"They seem to enjoy it," Kofmehl said, laughing. "They're really sweet, they really are."
Baxter and Hazel are orphaned bison, and Kofmehl helps Kevin Davidson care for them when he's away in Bonner's Ferry attending to his mules.
"I like things that are different," said Davidson, who has a carriage collection for taking out his mules. "The buffalo are unique."
Davidson's bison have origin stories. Hazel had to be bottle-fed. While her mom was giving birth, the herd spooked and Hazel came out in the sac. When the rancher brought Hazel back to the mother, the mother rejected her.
"She was always so excited," Davidson said. "She'd drink down the bottle in about a minute and a half."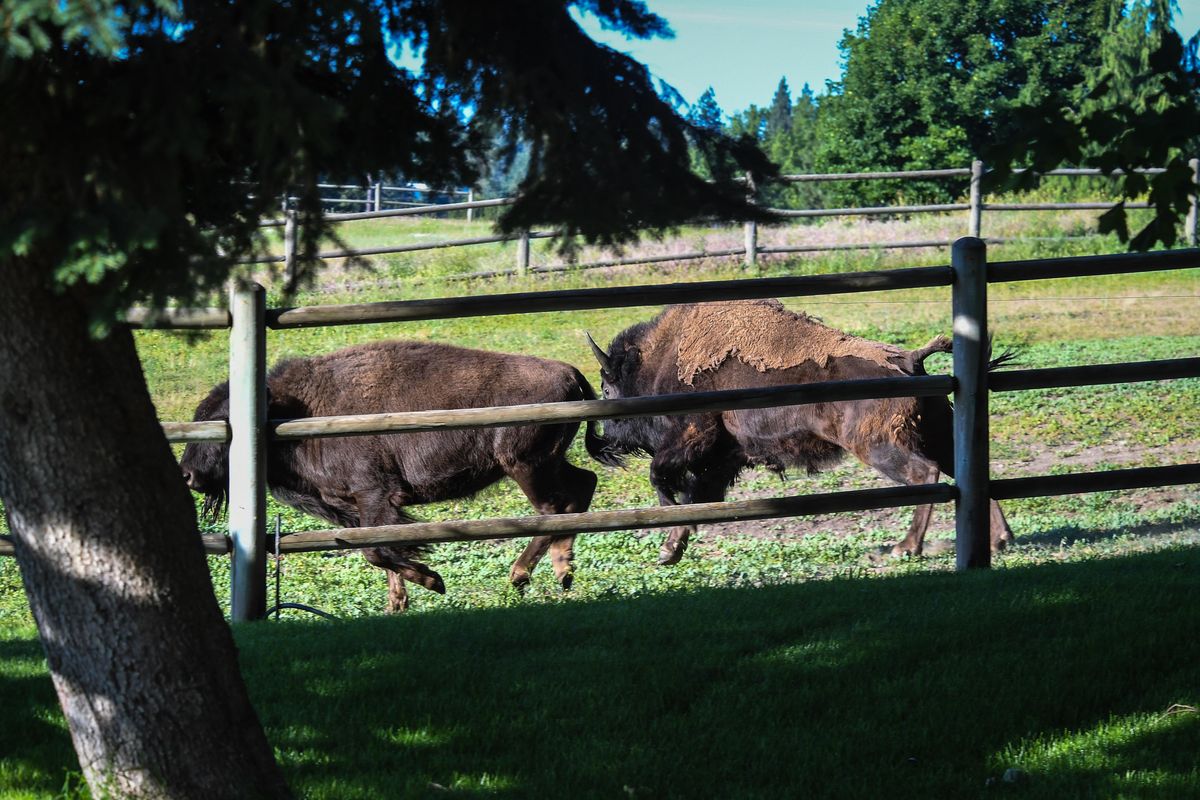 Hazel is the flower, Kofmehl said. Kofmehl lives just up the street, and she said Hazel enjoys being brushed and coddled.
"She's like a little toddler," said Kofmehl, a member of the Turtle Mountain Chippewa tribe in North Dakota. "If she doesn't get what she wants, she would poop or pee inside of her food or in the water dish – it was terrible – and then walk away."
Little might not be the typical description for Hazel. Kofmehl is not sure of her weight, but it is about one-fourth of Baxter's, who weighs about 1,000 pounds.
Baxter's mother died when he was between 4 and 6 months old and abandoned by the herd. A bison herd is called an obstinacy, and Baxter lives up to that characteristic, preferring to shed rather than be groomed, making an exception for his face.
"They're not too bad, but he's a little much," Davidson said. "He's a lot friendlier than he used to be."
Davidson got both Baxter and Hazel from George Lawrence, the owner of CAL Cars in Airway Heights. Lawrence also raises bison and elk at L3 Ranches in Blanchard, Idaho. L3 offerings are meat and hunting, but Hazel and Baxter are strictly family. Davidson said the idea of breeding Hazel and Baxter was possible, but they aren't of age, and any calves would mean more pets.
Davidson brought home Hazel first, and when he heard about Baxter, it was meant to be. Hazel and Baxter are from different family lines, but they are part of the Davidson family now: shining examples of the past not determining the future, and family being what you make it. Despite their shaky start, with 10 acres to roam on the corner of Glenrose and Carnahan roads, they have it "cush" now, Kofmehl said. She said much like dogs, they like to patrol the perimeter of their property.
"They're out on Glenrose a lot, they like to watch the workers out there, I think," Davidson said.
Kofmehl spotted construction workers tossing Baxter and Hazel a hot dog bun, and explained to them the bison – who left the bun untouched – have little interest in human food. In fact, the two times the duo escaped, food was no draw. The troublemakers were herded by three men, but mostly returned on their own accord.
"They take off running because they're excited, and they're young like a dog when he gets out," Davidson said. "They have to run out of steam first; it takes a couple hours."
More comparisons to canines could be made: Offer your hands for smelling, and if deemed worthy, the bison will give them a lick with their long, black tongues.
"They're very docile in the sense that we can go in the pen and we can interact with them," Kofmehl said.
Davidson has a day job, and most of Spokane would be familiar with his work. He builds fencing and railing, though he said he's been cutting back lately, giving more time to the animals. His railing can be seen on the North Spokane Corridor in Spokane, the footbridge in Liberty Lake and many other places.
"There's a lot of stuff around town that I've done, so that's kind of nice," Davidson said.
Kofmehl grew up watching wild bison run, which she called fascinating, scary and impressive. A field across from her aunt's and uncle's house had bison, which they had received from a farm in South Dakota.
"We couldn't get close to the fence because the buffalo were so wild they would charge up at you, so you couldn't even get near them," Kofmehl said. "To experience Hazel and Baxter being just so friendly and docile, it's just quite the experience."
Kofmehl's father calls her "Buffalo Woman."
"He's proud that I'm helping raise Hazel and Baxter," Kofmehl said.
When Kofmehl was on Facebook, she posted pictures and videos of Hazel and Baxter, and she said no one from her tribe specifically said anything about their regard for bison, but "they were just always joyed by seeing them because I was able to take pictures standing beside them or petting them or feeding them and being so close."
Davidson and Kofmehl help each other, bonded by their connection to their bison rescues, Hazel and Baxter.
"They're to be respected," Kofmehl said. "They enjoy their environment, and they enjoy their peace."
---