Sports > High school sports
Steve Christilaw: Football faces variety of challenges
Thu., June 27, 2019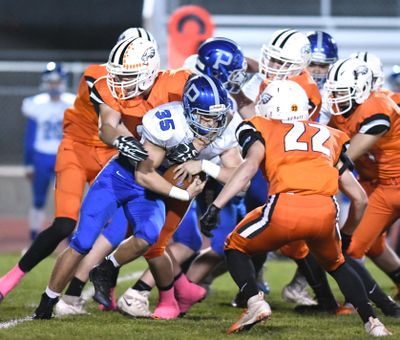 Some lessons are harder to learn than others.
A teacher once told us that the really good things in life happen when you least expect them, which explains why I continually try to least expect such things. It's hard to least expect anything.
We all have that urge to touch anything labeled "Wet Paint," and my informal, anecdotal study of signs reading "Beware of Dog" refer to a vicious attack poodle that does its barking and snarling while backing up.
A friend gave me some very good advice: If you want to maintain your sanity, he said, ignore the comment section when you read something online.
That one, too, is difficult to do.
I always seem able to convince myself to just take a quick peek. And that leads to a longer look, which inevitably leads to the bad apple that spoils the whole bunch.
I couple weeks ago I came across news item a friend had posted to Facebook about how Anacortes High School, faced with extremely low turnout, had opted to cancel varsity football this fall.
We're in the middle of a process that has the potential to change high school football – hopefully for the better. Changes that involve factoring in the number of free and reduced-cost lunches to a school's enrollment as a way of evening out competitive balance between schools that sit right on the dividing line between classifications.
Those changes could alter the alignment of leagues as teams that have trouble competing at one level have the ability to opt down.
But to see a school opt completely out was a bit of a shocker.
Anacortes, which sits on Puget Sound with a fantastic view of the San Juan Islands, is a Class 2A school that plays in the Northwest Conference. Varsity football players who still want to play will be allowed to play at nearby Mount Vernon.
To translate that into local terms, that would be the same as West Valley or Pullman, East Valley or Cheney suddenly dropping varsity football due to lack of interest.
"We have 10 total (juniors and seniors signed up to play football) and some of those are maybe," Anacortes athletic director Erik Titus told the Skagit Valley Herald. "You simply can't throw sophomores into that fire, into that situation. It's a safety risk at this level. You have to have the numbers. You have to have the kids who want to play."
That last sentence is the jumping-off point for the comment section.
A lot of readers posted about how kids just don't have the work ethic necessary to play a game like football.
I can't agree with that.
I will grant you that work ethic means something different today. It has since the day the first kid discovered the video game "Pong."
More importantly than that – work ethic is something that kids learn as they grow up. That's why playing sports is important – or playing a musical instrument or learning to debate or act or any of the many, many fascinating things kids are attracted to at young ages.
I'm not blaming video games for the lack of commitment to playing football, don't get me wrong.
It wasn't that many years ago that kids sought out sports as an everyday social outlet. Pickup games were common. When they couldn't choose up sides to play an actual game they devised the concept of "work up" games where making an out earned you a chance to pick up a bat. Since there were no flags around, they played two-hand touch football.
You were lucky if you had four television channels to choose from and three of them showed soap operas during the day and the fourth carried "Mister Rogers' Neighborhood," which was fine if you were preschool age.
My point? If you weren't an avid reader, there weren't many at-home options, which made outdoor play a necessity. You played sports because they were what the neighborhood played.
Today's kids have so many more options. They can socialize online without ever leaving the house – something that, as parents, we could probably do a better job of policing.
Those pickup games that used to be so common have become rare. And when kids do play organized sports, more often than not parents steer them into the game the rest of the world calls football instead of the American version.
And with the news over the last decade about what can happen to kids who play American football, it's little wonder that the numbers are dwindling. We're still just scratching the surface on the subject of concussions and brain trauma.
It wasn't that many years ago that football coaches would run "nutcracker" drills where players would hit each other head-to-head. A coach could get arrested for such a drill these days.
My bottom line is this: The game of football is in the process of learning how to adapt to new, important information on how to keep players safe. The popularity of the game has taken a hit in recent years – understandably so.
The coaches I know, across the board, are fully invested in making changes to the game so that it is safer and player injuries are both better understood and addressed.
I don't think it's a bad thing that kids have plenty of options when it comes to pursuing their developing creative passions.
Just so long as they find their passion.
Local journalism is essential.
Give directly to The Spokesman-Review's Northwest Passages community forums series -- which helps to offset the costs of several reporter and editor positions at the newspaper -- by using the easy options below. Gifts processed in this system are not tax deductible, but are predominately used to help meet the local financial requirements needed to receive national matching-grant funds.
Subscribe to the sports newsletter
Get the day's top sports headlines and breaking news delivered to your inbox by subscribing here.
---