Sports
A Grip on Sports: If Spokane had to pick just one, which sport would it be?
Fri., June 28, 2019 A GRIP ON SPORTS • It's a simple question, but the answer is pretty complex. What sport is the most popular in Spokane?
•••••••
• We ask, of course, because Hoopfest, the downtown celebration of basketball, is this weekend. There was also another well-attended Gonzaga Legends event at the Fox last night, sponsored by the same folks that sponsor this website. And the editor of this newspaper is all in when it comes to hoop.
He can be forgiven, however. He comes from Kansas.
But is basketball all there is in this town? Is it even at the top of the local sports pyramid?
Wander around town any Saturday morning (and most weekday evenings) when the weather is decent – and even when it isn't – and you might make a different choice. Soccer abounds at the youth level. Every park has its game going. The big facilities are packed from parking lot to parking lot with fields filled with amoeba-like packs of children racing after a ball.
It's a big deal.
There is also the plethora of runners that clog our city sidewalk and trails – in a good way. It's not just a Bloomsday thing. All summer long you see people from 5 to 95 running in the cool of the morning or evening. The original sport – back in prehistoric times, the winner of any race didn't get a trophy. They earned the right to not be eaten – is alive and well in Spokane.
The same cannot be said for baseball, which seems to have faded from the scene over the past couple decades. Where there were once backstops and stands there are more and more often more and more soccer pitches.
It's female counterpart, softball, is still going strong at the youth level, but participation in recreational adult leagues has fallen off dramatically.
There are also newer sports on the horizon, as lacrosse continues to spread from its Eastern prep school roots to our Western open spaces. And more and more parks have made accommodations for the pickleball set, a group this guy is contemplating becoming a part.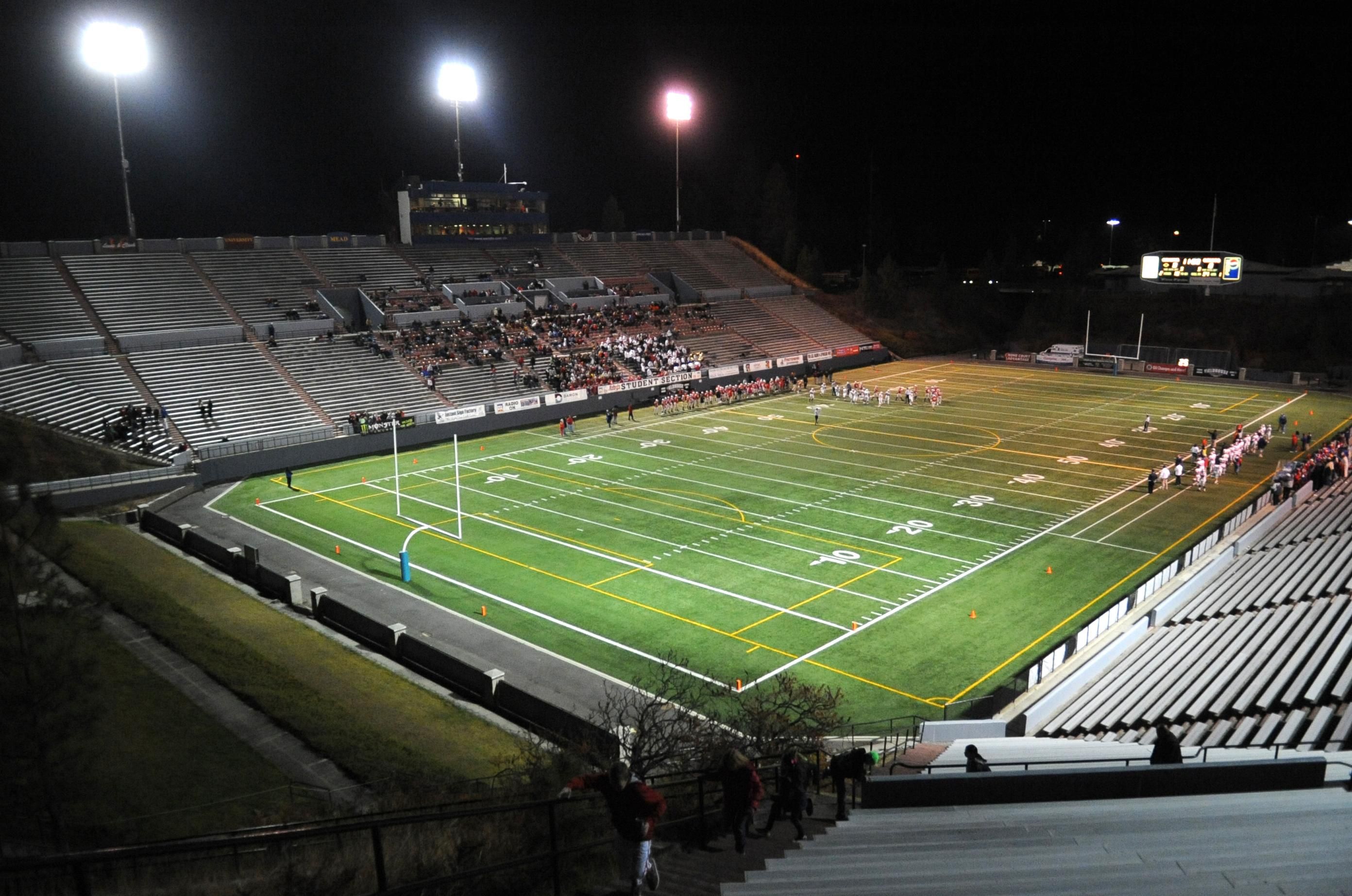 What about football? It is losing participation numbers everywhere, including here. What's worse, though, it's lost its luster as a spectator sport at the high school level. The local colleges are doing fine in that regard (and the NFL is the country's most popular professional league), but Friday Night Lights are certainly dimmer in our area than they used to be.
Playing football has never been a lifelong endeavor, though. Few who play as a child play more than an occasional pickup game of touch as they age. Other sports, like running or tennis or softball or golf, have always been the athletic choices of the middle aged.
So which is Spokane's favorite?
Maybe it's a seasonal thing. Right now it is the outdoor sports, as it should be.
As the weather cools and wearing a whole bunch of equipment and padding becomes easier, football joins the mix.
Come December, when the snow piles up against the front door, the emphasis switches to the indoor ones. People huddle in gyms throughout the area, staying warm and keeping the basketball faith alive.
And spring brings everyone out of their homes, ready to hit the road or links or fields once again.
Come to think of it, Spokane may not truly have a favorite sport. It may be in love with basketball, but it also has quite a few other sports on the side. A monogamous relationship doesn't seem to be in our nature.
•••
Gonzaga: If basketball is No. 1 in our hearts, though, it is obvious which local university we have offered our hand. Another big group showed up for the Legends event last night. Jason Shoot has the story and Kathy Plonka has photos of Heather Bowman, Steven Gray, Kelly Olynyk and David Pendergraft as they shared their stories. … Pendergraft also spoke with Larry Weir beforehand for the latest Press Box pod. … Another Gonzaga legend may be on his way. Jim Meehan has the information concerning the latest GU commitment. … A whole bunch of Bulldogs are playing next month overseas. Jim also has that story.
WSU: Summer time is recruiting season and the Cougars always take part. Yesterday, they received a commitment from a California safety. Theo Lawson has more in this story. … Elsewhere in the Pac-12, Colorado is raking in the dough from donors. … Who won college conferences' realignment game? … I found this Athlon story about Pac-12 wild-card football players interesting, though I'm not sure Max Borghi qualifies. … Finally, Lauren McCluskey's family is suing Utah.
Indians: For some reason, Tri-City seems to have Spokane's number. The Dust Devils completed a three-game sweep at Avista Stadium with a 6-3 victory Thursday night. Dave Nichols was there and has this story. … Around the Northwest League, Boise defeated Eugene for the third consecutive night and Everett finished a series sweep of Vancouver.
Chiefs: Spokane took two players in the import draft, a goaltender and a defenseman.
Hoopfest: There will be basketball at center court today, but Ryan Collingwood's story in Friday's S-R is about a woman who has had a journey unlike any other. And it began nearby.
Mariners: Mike Leake has pitched well recently. And he pitched well yesterday afternoon in a 4-2 loss at Milwaukee. There was that fourth inning, however. … Marco Gonzales turned his season around. … Daniel Vogelbach would still like to be part of the home run derby. … Despite the loss, Gene Warnick has his Out of Right Field recap.
Seahawks: With Malik McDowell in trouble again, albeit long after he left the organization, one would think the Hawks would be a bit more careful in their future draft selections. Would that be the right approach?
Sounders: There is new turf at CenturyLink Field. Now the Sounders will try to defend it.
•••       
• I have a personal preference. No, it's not baseball, the sport I played most of my life. And it certainly isn't soccer, though the world's game has grown on me over the years. Neither is it golf, the game I am still trying to master – and will be for a few more years before I give up and give my clubs to Goodwill. If you're a longtime reader of this column, you know the answer. If you are not, then you will have to figure it out. And why haven't you been reading? C'mon. Get on board. You've been missing out. Until later …
Local journalism is essential.
Give directly to The Spokesman-Review's Northwest Passages community forums series -- which helps to offset the costs of several reporter and editor positions at the newspaper -- by using the easy options below. Gifts processed in this system are not tax deductible, but are predominately used to help meet the local financial requirements needed to receive national matching-grant funds.
Subscribe to the sports newsletter
Get the day's top sports headlines and breaking news delivered to your inbox by subscribing here.
---