News > Spokane
Hoopfest team Against the Grain celebrates recovery from addiction, homelessness
June 29, 2019 Updated Sat., June 29, 2019 at 10:07 p.m.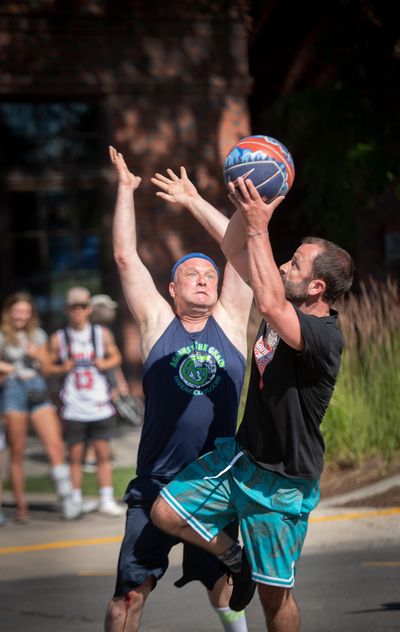 About 4 1/2 years ago, Kevin Schmeider woke up under a jungle gym that he and his wife, Jessaca, had been living under for a week.
Both were homeless and addicted to drugs, and Schmeider said he knew then that he needed to make a change.
"I saw the fear in her eyes," he said. "I knew I had to do something. She was counting on me."
Schmeider and his wife checked into rehabilitation centers, Schmeider started his own hardwood flooring business, and the two have been sober since.
On Saturday, Schmeider, 31, reflected on those accomplishments while playing basketball at Hoopfest.
"This year is a celebration," he said. "A party."
Schmeider's business sponsored his Hoopfest team, and playing alongside him was his friend from the Union Gospel Mission, Jeff Taylor, who also turned his life around after a period of homelessness.
Taylor, 48, said it was awesome to be part of a team that represented something bigger than himself.
After being addicted to drugs for 20 years and homeless for two years, Taylor checked into the Union Gospel Mission and met Schmeider there, he said.
He remembers the date: Feb. 22, 2015. He came to Spokane from Walla Walla with two bags and a bicycle.
Schmeider's team, Against the Grain, named after his business, played two games in Hoopfest on Saturday.
The team was one of more than 6,000 that crowded Spokane's downtown core to play 3-on-3 basketball in the world's largest tournament. This marked Hoopfest's 30th year.
Schmeider recalled living in Seattle and starting to use drugs at 16, which "slowly progressed into becoming my life," he said.
By age 20, he was addicted and couch surfing at friends' houses. By 27, he was living on the streets with his wife.
She, too, remembers waking up under that jungle gym, feeling they had hit rock bottom.
"I was terrified," she said.
Jessaca Schmeider knew they would be apart if they checked into different treatment centers, but Kevin made the decision that they both should commit to sobriety. They called his mother, who drove them to separate shelters.
Their relationship survived that period of separation.
"I didn't want to be separated," she said. "But we had to stick it out. We had to complete it."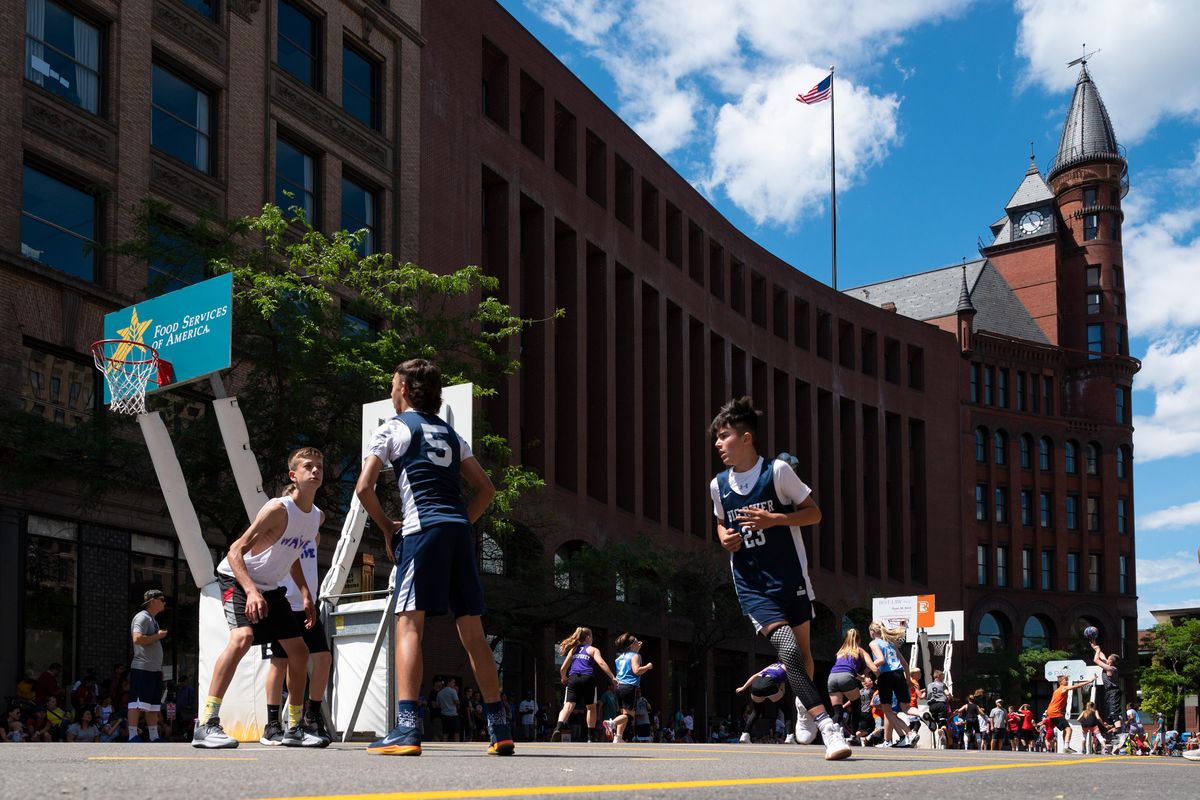 Hoopfest teams compete along Riverside Avenue in downtown Spokane on Saturday, June 29, 2019. (Colin Mulvany / The Spokesman-Review)
Local journalism is essential.
Give directly to The Spokesman-Review's Northwest Passages community forums series -- which helps to offset the costs of several reporter and editor positions at the newspaper -- by using the easy options below. Gifts processed in this system are not tax deductible, but are predominately used to help meet the local financial requirements needed to receive national matching-grant funds.
Subscribe now to get breaking news alerts in your email inbox
Get breaking news delivered to your inbox as it happens.
---