Jalen Thompson loses final year of eligibility at Washington State after committing NCAA violation, will head to NFL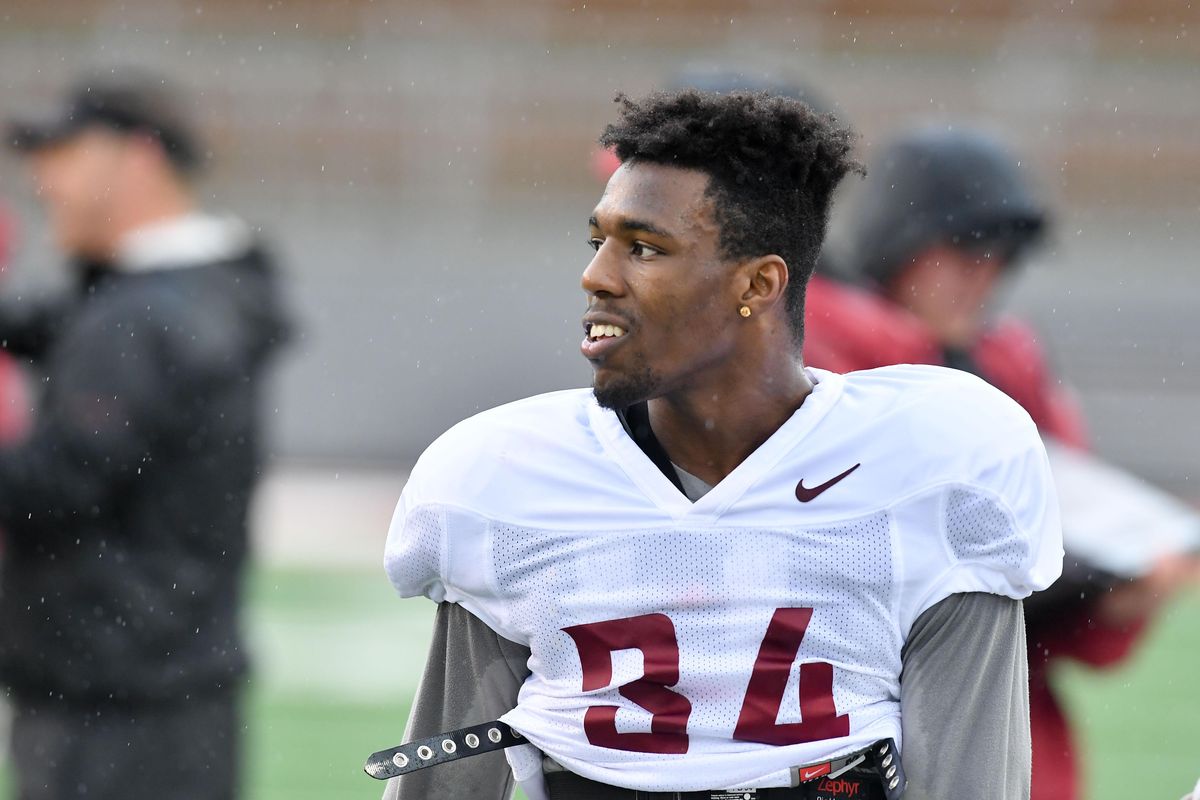 In a strange and sudden turn of events, Washington State all-conference safety Jalen Thompson has lost his final year of eligibility with the Cougars due to a violation of NCAA rules and will get a jump-start on his professional career, entering the upcoming NFL supplemental draft.
According to a source for The Spokesman-Review, Thompson's violation of NCAA rules stems from the purchase of an over-the-counter supplement at a local nutrition store, although the source made a point to emphasize it was not a steroid.
WSU confirmed Thompson wouldn't return to the Cougars this fall in a statement: "Washington State University safety Jalen Thompson will not return for his senior season after losing his final year of eligibility due to a violation of NCAA rules. Thompson has entered the NFL Supplemental Draft set for later next month."
NFL Network insider Ian Rapoport was the first to report that Thompson had been stripped of his final season of eligibility and said the player learned of the news Friday.
According to Rapoport, Thompson has already hired agent Brad Cicala of Terra Firma Sports Management. The supplemental draft, held during the second week of July every year, gives NFL teams a chance to chose from a smaller pool of college players who left, or were dismissed, from their academic institution after April's NFL draft.
Thompson, a former ESPN Freshman All-American who earned All-Pac-12 honors his sophomore and junior seasons, is projected to be selected in the supplemental draft, according to Rapoport. Many thought Thompson would've had an opportunity to turn pro after his junior season, although he opted to spend his final year of eligibility in Pullman on the heels of WSU's historic 11-win campaign.
The Downey, California, native penned a letter to the WSU fanbase on Twitter Saturday afternoon.
"I want to take a moment to thank my friends, family, Washington State teammates, coaches, staff and most of all Cougar fans and inform them that I will not be returning to Washington State for this upcoming season," he wrote. "I am extremely grateful for the opportunity the coaches provided me at Washington State and wish my teammates nothing but the best for this upcoming season. I will always be a cougar and so appreciative of the tremendous fan support we always enjoyed! It is now time for me to take the next step in my football life and I embrace and look forward to the challenges ahead of me. Thank you and Go Cougs forever!"
Thompson didn't respond to a message from The Spokesman-Review seeking comment.
A Bednarik Award watch list candidate in 2018, Thompson was expected to be one of the top safeties in the Pac-12 Conference and the nation as a senior. In three years as the enforcer in WSU's defensive backfield, he posted 191 tackles, leading the team in that category as a sophomore.
The fleet-footed Thompson also had six career interceptions, recording four during his standout sophomore year, and contributed two forced fumbles and five fumble recoveries in 39 career games.
Thompson's departure is a significant hit to WSU's defensive secondary, which now returns only two starters: cornerback Marcus Strong and converted nickel Skyler Thomas. Junior college transfer Bryce Beekman made a good impression during spring camp and projects as WSU's new starting free safety after Thomas made a recent move from safety to nickel.
The Cougars could opt to plug Thomas back in at safety, where he thrived as a redshirt sophomore, starting all 13 games and finishing third on the team with 76 tackles. Next to Thompson and Thomas, Deion Singleton would've been the only returning safety with significant game experience, although the junior entered the NCAA transfer portal and is no longer listed on the WSU roster.
Junior college transfer Chad Davis Jr. and three-star high school prospect Tyrese Ross both used redshirt seasons in 2018, although Ross made three game appearances playing exclusively on special teams.
The news about Thompson marks the end of a hectic week for the safety position in Pullman. Two high school safety prospects in the class of 2020 – California's Hunter Escorcia and Hawaii's Alaka'i Gilman – committed to WSU on consecutive days, but neither will be able to sign with the Cougars until the NCAA's early period begins in late December.
A variety of Thompson's WSU teammates wrote heartfelt messages on Twitter.
"Real soldier you got bigger things ahead of you love you from," Strong wrote.
"See you there (in the NFL) bro bro," linebacker Jahad Woods wrote.
"One of the first people to take me under their wing and make sure I was straight. You treated me like a lil brother. Gods got a play for you JT, you built for this!" offensive lineman Syr Riley wrote.
"Unfortunately you had to end your career with us this way, but you got big things ahead. Prove them wrong G! Love you bro," offensive lineman Liam Ryan wrote.
---