News > Spokane
100 years ago in Spokane: Labor backs proposed tax to pave county roads
Sun., June 30, 2019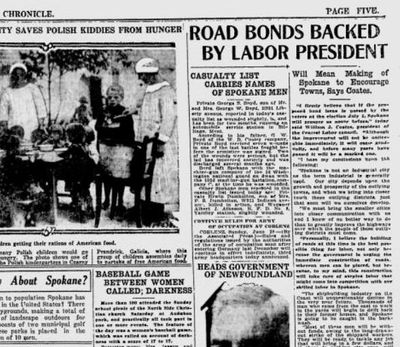 Spokane County was preparing to vote on a massive $3.25 million bond issue for paving county roads, and the city's top labor leader announced his wholehearted support.
William J. Coates, head of Spokane's Central Labor Council, supported it for three reasons:
It would be good for Spokane's growth, because Spokane "is not an industrial city, as the term is generally used." The city depends upon the growth and prosperity of outlying towns, he said. Anything that brings those towns "into closer touch" would help Spokane to develop.
A huge road-building campaign would help to employ the legions of workers coming home from the war, and from the wartime shipbuilding yards. "Thousands of the men who came from the east to work in the yards will begin to drift back to their former homes, and Spokane will be caught in the backwash," Coates said. "Road construction will give them an outlet, and our steady, home owning labor will thus, in a measure, be protected."
The taxation burden, compared to the many advantages of having good paved roads, "will be light."
The Spokane Daily Chronicle's editorial page firmly backed the bond issue as well, saying it "should pass by one of the largest majorities ever accorded a public measure."
From the sports beat: A women's baseball game at Audubon Park was called on account of darkness with the score standing at 17 to 17.
It was part of the Sunday School picnic of the North Side Christian Church, and it pitted the married women against the single women.
Local journalism is essential.
Give directly to The Spokesman-Review's Northwest Passages community forums series -- which helps to offset the costs of several reporter and editor positions at the newspaper -- by using the easy options below. Gifts processed in this system are not tax deductible, but are predominately used to help meet the local financial requirements needed to receive national matching-grant funds.
Subscribe to the Coronavirus newsletter
Get the day's latest Coronavirus news delivered to your inbox by subscribing to our newsletter.
---