Marketing > EVERCANNABIS
Canadian cannabis research may encourage efforts to kick opioid habits
Fri., March 1, 2019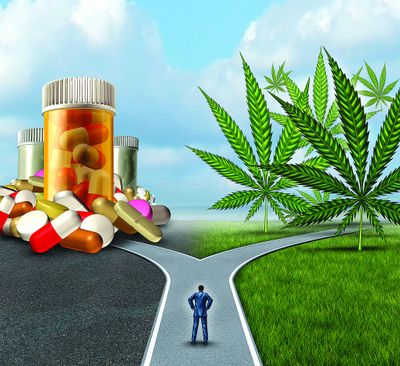 Dr. Sunil Kumar Aggarwal is one of several physicians who recently founded the Advanced Integrative Medical Science Institute in Seattle in 2018. He is a Fellow of the American Academy of Physical Medicine and Rehabilitation and chair-elect of the Integrative Medicine Special Interest Group at the American Academy of Hospice and Palliative Medicine. He has many other professional accolades including membership in the New York Academy of Medicine and the Humboldt Institute for Interdisciplinary Marijuana Research. He and other colleagues are now looking at not only the potential benefits of cannabis as a tool for pain relief, but if cannabis can be a recognized method to help with opioid addiction. "(The institute) is a dream come true," Aggarwal said. AIMS, which opened in late 2018, was created to bring the latest in science to patients especially where cannabis is concerned. While the staff doesn't track the use of cannabis to wean addicts off of other substances, he said there is robust evidence pointing at a connection to opioids. For instance, Vancouver, British Columbia, has had an opioid problem for some time, but a report in 2018 said a spike in fatal overdoses, often involving fentanyl, has led to a decline in the area's life expectancy. More than 8,000 Canadians have died from opioid related overdoses since the beginning of 2016, mostly men ages 20 to 59. Former B.C. Health Minister Terry Lake, who oversaw a public health emergency due to the fentanyl crisis, has urged more research on the effects of marijuana on opioid addiction. Lake, now vice-president of a medical marijuana company, said there is evidence that marijuana can help people with addictions reduce their use of hard drugs and ease the pain of withdrawal. Aggarwal said that street addicts in Vancouver have benefited from cannabis, which was supplied to them through a program approved by the health minister. With marijuana now legal in Canada, further research would not be hindered. Another Canadian study, published last year in the International Journal of Drug Policy, surveyed 271 medical cannabis patients. It found that 63 percent of the patients used cannabis instead of prescription drugs and 30 percent used it as a substitute for opiates. A 2014 study in the Journal of American Medical Association of Internal Medicine concluded that states where medical cannabis was legal had an opioid death rate that was 25 percent lower than states where pot was illegal. Aggarwal also cited an experiment at the University of Sydney, whereby rats were given methamphetamine. Thirty-two male rats with implanted jugular vein catheters were trained to self-administer meth via a lever press. When cannabidiol, a compound in cannabis known to boost pain relief, was introduced, it reduced the desire of the rats to use meth. The study concluded that CBD can reduce the motivation to seek and consume meth, and suggested that it might be "worth trialing as a novel pharmacotherapy for methamphetamine dependence." Aggarwal said this underscores the paradigm that CBDs can reduce the desire for opioids. Last year, Maryland state lawmakers asked medical marijuana regulators to look at whether or not cannabis could be an effective treatment for addiction to heroin, fentanyl and oxycodone. The answer was "not really," but the answer was more due to existing federal policy and legal restrictions rather than possible medical benefits. Because the cannabis is still federally scheduled as a highly controlled substance, U.S. research is difficult to conduct. However, Canadian studies have found "mounting anecdotal evidence" that cannabis "may offer an effective tool for lowering" opioid cravings and beneficial for withdrawal symptoms including nausea, diarrhea, muscle spasms, insomnia and anxiety. Additionally cannabis may be less risky than opiate-based medications that can be deadly. Chronic pain and trauma are both very common in addicts, Aggarwal said. For too long now, the remedy has been legally prescribed opiates, but it has led many people down a dangerous, slippery and life-threatening slope. With further study, and efforts towards legalization at a federal level in the United States, these studies seem to suggest that cannabis is a better way for patients to manage pain with fewer deaths.
Local journalism is essential.
Give directly to The Spokesman-Review's Northwest Passages community forums series -- which helps to offset the costs of several reporter and editor positions at the newspaper -- by using the easy options below. Gifts processed in this system are not tax deductible, but are predominately used to help meet the local financial requirements needed to receive national matching-grant funds.
Subscribe to the Coronavirus newsletter
Get the day's latest Coronavirus news delivered to your inbox by subscribing to our newsletter.
---